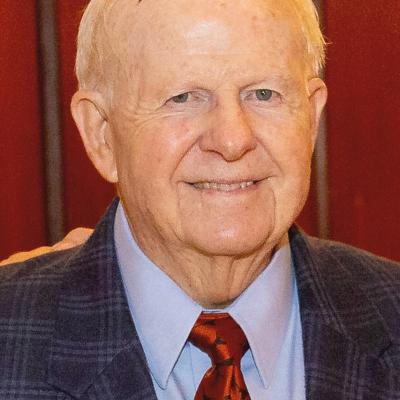 S. Griffin (Griff)
Singer
---
School of Journalism and Media
S. Griffin (Griff) Singer
Over the past 60-plus years, Griff Singer has been a printer, a reporter, editor, teacher and newspaper consultant. And even though he technically retired in 2003 after 34 years of working, he's stayed quite busy in journalism.
In his teaching career, all at The University of Texas at Austin, Singer taught courses in reporting, copyediting, newspaper layout, and design. He made the transition from hot type to computers to digital during that time and organized and team-taught the first offering of computer-assisted reporting and later sports reporting. Singer holds Bachelor of Journalism (1955) and Master of Arts in communication (1972) from UT Austin.
While an undergraduate student at UT, he was a reporter and day editor for The Daily Texan for two years. Then at 6 p.m., five nights a week, he changed from a clean shirt and pants and donned jeans, a T-shirt and printers' apron to work as a printer in the composing room of The Daily Texan.
His first journalism job after serving out his Army Reserve commitment was news editor at the Arlington (Texas) Citizen-Journal (1956-59).
A long-time goal was to work for his hometown paper, The Dallas Morning News. Singer was offered a job as a general assignments reporter in 1959. His general assignments grew into covering county government and civil and criminal courts, and in early 1961 he was named an assistant city editor.
Singer stayed with the News until 1967, when he returned to UT and Austin to teach in the School of Journalism. In 1979, Singer accepted the job of city editor and later an assistant managing editor at the San Antonio Light, the Hearst newspaper later rolled into the San Antonio Express-News. He returned to UT in 1981 and continued teaching and performing administrative duties in the School of Journalism.
He has participated in almost countless seminars and workshops conducted for state, regional and national journalism organizations — the National and Texas Associated Press Managing Editors Association, the Texas Press Association and the Society of Professional Journalists. He has been a judge in many state and national journalism competitions and in 1993 was one of 13 jurors selected for the international competition of the Society of News Design. For 17 summers, beginning in 1987, he was an assistant metro editor and newsroom consultant at the Houston Chronicle.
He also consulted with Freedom Communications, Inc., a California-based corporation that at the time had 26 daily newspapers. In 1996, he was a copy editor on the Olympics Daily published by The Atlanta Journal-Constitution during the 1996 Summer Olympics and in 1994 was on the first team of Western journalists to go to the former Soviet state of Kyrgyzstan to work with Russian-trained journalists in adapting to a free press.
The Texas Associated Press Managing Editors Association in 1998 cited Singer for his service to journalism in Texas by presenting him with the Jack Douglas Award that honors a former editor of the Fort Worth Star-Telegram. In 2003, he was awarded the title of "Wirehandler for
Life," for his many years of participating in the annual Texas Associated Press Workshops for editors and copy editors.
In 2016 he was inducted into the Texas Newspaper Foundation Hall of Fame. Two years later, he was inducted into the Friends of The Daily Texan Hall of Fame. Its members include Walter Cronkite, Karen Elliott House, Bill Moyers, and Lady Bird Johnson. That same year, former students, colleagues and friends established a fund creating the Griff and Evelyn Singer Foyer on the third floor of the Belo Center for New Media on the UT campus. This is the entry and gathering area for students of the UT School of Journalism.
The South Texas Press Association, the largest regional press group in the United States, in 2010 named its general excellence award The S. Griffin Singer General Excellence Award, noting his continued call for improvement in community journalism.
He served 17 years as director of the Dow Jones News Fund's Center for Editing Excellence at UT. His UT career was centered in the classroom, working with upper-division journalism students, helping them master professional skills in writing, editing and design. This is where he fostered long lasting relationships with many students. He also served as associate chairman and head of newspaper studies for many years.
Singer also was active in the Society of Professional Journalists and was elected to academic honor societies Phi Kappa Phi and Kappa Tau Alpha.
Among his career highlights were helping direct coverage of the assassination of President John Kennedy and the ensuing investigation and the trial of Jack Ruby for the slaying of Lee Harvey Oswald, Kennedy's assassin. And in 2001, while working at the Houston Chronicle, he served as the primary line editor and rewrite in the early days of the tragic story of Andrea Yates, the mother who drowned her five children.
While at UT, he served on the board and head of the Executive Committee of Texas Student Media (formerly known as Texas Student Publications). He helped guide the organization into the modern era of printing, transitioning from hot type to offset and digital publications. He was a member of the Student Rally Advisory Committee to the UT Athletic Department and sat on UT's Dean of Students Court.