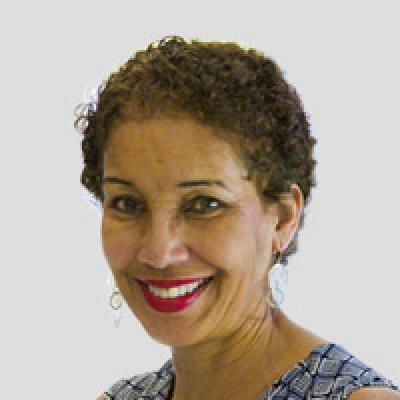 ---
School of Journalism and Media
Email:
Phone:
Office:
BMC 3.310
Paula Poindexter, who has been a manager and executive at The Los Angeles Times and a reporter and producer for KPRC-TV, the NBC affiliate in Houston, is president of AEJMC, the largest association of journalism educators, graduate students, and media and communication professionals in the world. Poindexter, who teaches journalism undergraduate and graduate courses, earned her Ph.D. degree from Syracuse University's S.I. Newhouse School of Public Communications.
Poindexter has published three books:  Millennials, News, and Social Media: Is News Engagement a Thing of the Past? (Peter Lang); Women, Men, and News: Divided and Disconnected in the News Media Landscape (Taylor and Francis); and Research in Mass Communication: A Practical Guide (Bedford/St. Martin's).  Poindexter is also the author or co-author of more than 50 scholarly journal articles, book chapters, and conference papers, and over 60 professional articles, book reviews, and presentations. 
As author of the book Millennials, News, and Social Media: Is News Engagement a Thing of the Past? and co-founder of "Millennials and News" at http://on.fb.me/Nlejee, a Facebook page with daily curated news, Poindexter not only champions the importance of an informed society and ways to encourage the Millennial generation, born in the 1980s and 1990s, to engage with news, she has channeled that passion into one of her signature AEJMC presidential initiatives:  National News Engagement Day, an event that will be held for the first time on Tuesday, October 7, 2014. (See: http://bit.ly/1dmg16J.)  
Poindexter has been the recipient of national awards and campus recognition and she has taken a leadership role on several important initiatives.  She was awarded AEJMC's Inaugural Lionel C. Barrow Jr. Award for Distinguished Achievement in Diversity Research and Education, and she received a First Place Award in AEJMC's "Excellence in Teaching Paper Competition." Additionally, Poindexter's proposed course, Journalism, Society, and the Citizen Journalist, was selected for the Carnegie-Knight Initiative on the Future of Journalism Education.  Plus, Poindexter, who directed UT's journalism graduate program for five years, was nominated for Outstanding Graduate Advisor at the University of Texas at Austin.  Poindexter continues to chair the fund-raising for the Maxwell McCombs Graduate Student Publishing Award Endowment which annually recognizes UT Journalism graduate students who published at least one peer-reviewed journal article during the previous year.  Contributions can be made to the endowment through UT's secure website at  http://bit.ly/1brJtKZ.
When she was chair of AEJMC's Standing Committee on Research, Poindexter proposed and organized the first Tankard Book Award, which has become one of the most prestigious awards given annually by AEJMC. The Recommended Ethical Research Guidelines for AEJMC members were also developed under Poindexter's leadership as chair of the Standing Committee on Research. (See Ethical Research Guidelines at http://www.aejmc.com/home/2011/03/ethics-research/.)  Serving as chair of the Faculty Council's Research Policy Committee, Poindexter led the effort for written ethical research standards and guidelines to strengthen the research core of the University of Texas at Austin.  (See Ethical Research Standards at http://www.utexas.edu/faculty/council/2009-2010/minutes/min012510/VIII.B.html.)
Links to AEJMC Presidential Columns and Statements
AEJMC President: http://www.aejmc.org/home/about/officers/president/  
What should journalism and communication students know: http://www.aejmc.org/home/2013/10/from-the-president/  
Journalism Educators Call on 60 Minutes to Rethink Benghazi Report Correction:http://www.aejmc.org/home/2013/11/pac-112513/  
Is News Engagement Endangered?: http://www.aejmc.org/home/2013/10/from-the-president/
Links for Millennials and News
Millennials and News on Facebook: curated news about Millennials, of interest to Millennials, and news Millennials should know http://on.fb.me/Nlejee/ 
Romenesko's Blog about Media: "STUDY: YOUNG PEOPLE CONSIDER NEWS TO BE GARBAGE AND LIES" http://jimromenesko.com/2012/09/10/young-people-regard-news-as-garbage-and-lies/  
SPJ Web Radio Interview at http://www.blogtalkradio.com/spj/2012/12/07/studio-spj-with-paula-poindexter  
Huffington Post: "Millennials And News Study: Youth View The News As 'Garbage,' Don't Like Being Talked Down To By It" at http://www.huffingtonpost.com/2012/09/18/millennials-hate-the-news_n_1882080.html  
Journalism in the Americas Blog: "News needs to engage millennials or risk losing them: professor speaks of new book in live panel" athttps://knightcenter.utexas.edu/blog/00-11483-news-needs-engage-millenials-or-risks-losing-them-professor-speaks-new-book-live-panel  
PR Daily: "Study: Millennials think today's news is 'garbage, lies … propaganda'" at http://www.prdaily.com/Main/Articles/12653.aspx  
UT-Austin College of Communication: "National Research Addresses Millennial Generation's Lack of News Engagement: Solutions include better news coverage and adding news literacy to the curriculum" at http://communication.utexas.edu/features/national-research-addresses-millennial-generations-lack-news-engagement  
Wisconsin Public Radio Interview at http://wpr.org/webcasting/audioarchives_display.cfm?Code=jca 
Video: "Millennials and News: What Kids Say About the News" at http://www.youtube.com/watch?v=lKS-PeKAL0o  
Dallas Morning News Q&A Point Person, April 18, 2010, Points, 5P. "The importance of the news: Paula Poindexter explains the dangers to America's future when people stop trying to stay informed." Interview conducted by 2010 Pulitzer Prize-winner Tod Robberson. An online version can be found at: http://www.dallasnews.com/sharedcontent/dws/dn/opinion/points/stories/DN-pointperson_poindexter_18edi.State.Edition1.2ae0d85.html  
Op-Ed Column for 2012 Presidential Election: "Young voters shouldn't ignore news before casting ballots," Statesman.com, November 2, 2012 at http://bit.ly/SzDUPX