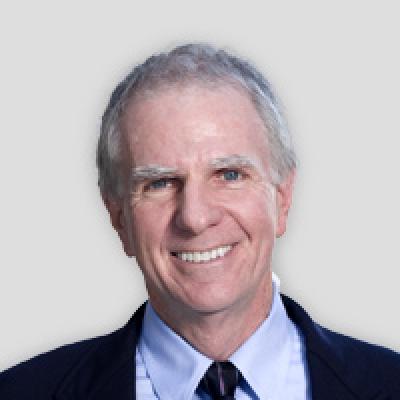 ---
Stan Richards School of Advertising & Public Relations
Email:
Phone:
Office:
DMC 4.350
Distinguished Advertising Educator Award Recognition Goes to John H. Murphy of The University of Texas at Austin 
Professor Emeritus Murphy will be honored as the 2021 recipient of the American Advertising Federation's (AAF) annual award for excellence in advertising education.  
Washington DC, May 17, 2021—John H. Murphy II, Joe C. Thompson Centennial Professor in Advertising & Distinguished University Teaching Professor Emeritus, has been selected as the recipient of the 2021 Distinguished Advertising Educator Award.
Awarded annually, the Distinguished Advertising Educator Award recognizes the best advertising professors in the country. Nominees for this award must demonstrate excellence in teaching and student advisement, a record of scholarly research, publications and professional experience, as well as active involvement in the advertising industry and its organizations, academia and the community.
When considering impact on the advertising community, it is difficult to think of someone more prominent than John Murphy. His forty-two years of teaching experience was predominantly spent at The University of Texas at Austin, but also includes time at Arizona State University, Santa Clara University, George Washington University, and American University. John inspired a generation of advertisers, and his past students include notable leaders in advertising, advertising education, politics, nonprofits, and countless other sectors. The rippling impact of Dr. Murphy's contagious enthusiasm for advertising is immeasurable.
Dr. Murphy continues his contributions to the advertising industry following his 2015 retirement from the classroom. He manages the online Stan Talks series, a collection of five-minute videos ranging over many relevant topics in advertising. Contributors have included Keith Reinhard, Laura Desmond, Lee Clow, Harold Burson, Ann Rubin, Carol Williams, Jon Steel, Stan Richards, Dan Wieden, Matthew McConaughey, Herb Kelleher, Wally Snyder, and Jamie Turner. Dr. Murphy also continues to manage the Betty Lee & Vance Stickell Internship Program, placing 344 advertising students in internships nationwide over 31 years.
Dr. Murphy has been a leader both locally and nationally. His service includes chairing the national AAF Academic Committee (now National Education Executive Committee) and induction in the AAF's Southwest Advertising Hall of Fame in 2017. As faculty advisor to the AAF, Texas Advertising Group, at the University of Texas at Austin, Dr. Murphy shepherded 12 National Student Advertising Competition teams, 8 of which won at the district level. He believes "this competition was the most effective vehicle for learning about what it takes to succeed in our business." Further he states, "these competitions were the highlights of my career as a teacher. The enthusiasm, energy and hard work my students invested in these efforts was most gratifying."
For more information about the Distinguished Advertising Educator Award, please contact Laura Roha or visit the AAF's website at aaf.org.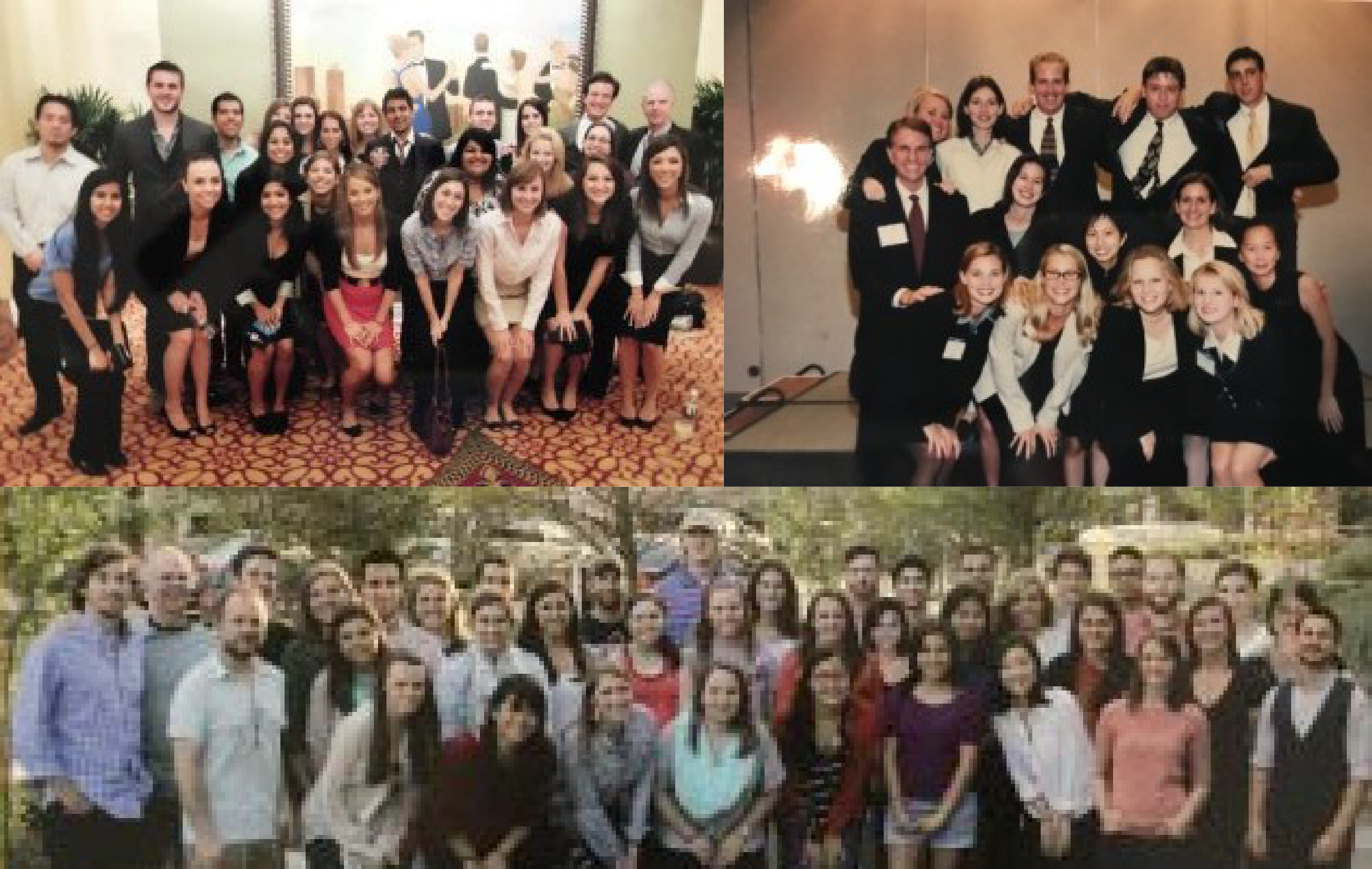 12 AAF NSAC Teams 1976-2014 Sponsored by John Murphy
My experiences as the Faculty Advisor of 12 UT entries in this competition were the highlights of my career as a teacher. The enthusiasm, energy and hard work my students invested in these efforts was most gratifying. In every case, whether we won or lost (fortunately we mostly won -- 8/12 at the district level), this competition was a most effective vehicle for learning about what it takes to succeed in our business. I offer my sincere thanks to all of these wonderful students who enriched my life through their participation in these enterprises. The 200 students who made up the 12 teams are listed in the document below. jhm
---
Scroll Through 70 Winners via the Flickr album below
Project Winners -- ADV 318J, Murphy -- 1988-2014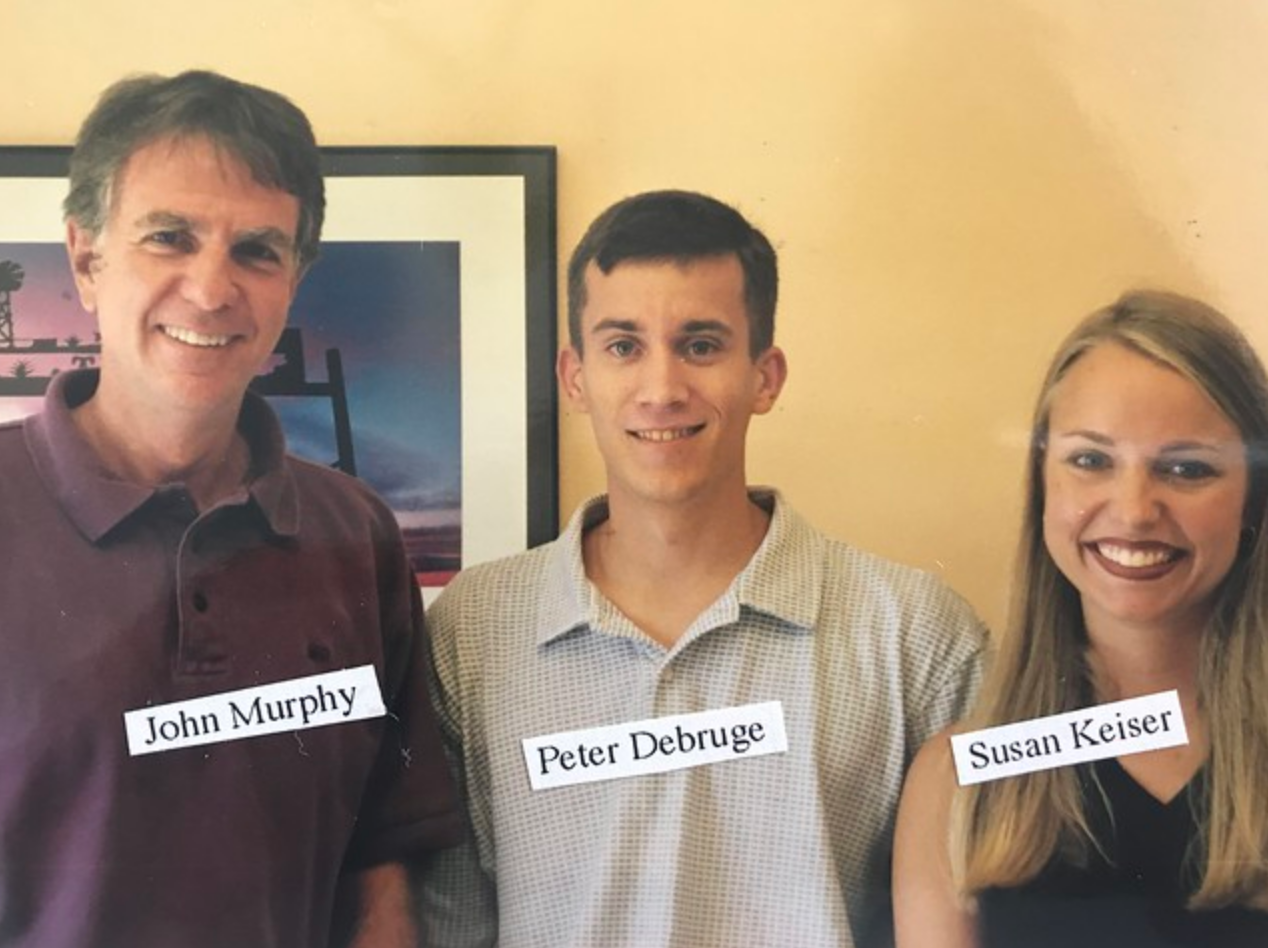 Each semester in the introductory advertising class, I assigned typically three projects that students had to complete individually against a hard deadline. These projects were each worth 10% of their grade in the course and were graded by the Teaching Assistants (TAs). The reward for having your paper selected as the "best project" was a full-buffet lunch at the UT Faculty Club with the TAs and me. Having your project selected as the most outstanding in the long terms fall and spring when class size was 400+ was a significant honor and winners were encouraged to list this on their resumes. Many of the 146 students listed in the document below went on to be stars in our program and in their professional careers. (Flickr photo album) Note that my records have been lost for the eleven years from 1978-1988. If you are one of these earlier project winners, please contact me and we will add you to your rightful place on the list. jhm
---
Joe C. Thompson Centennial Professor Emeritus & Distinguished University Teaching Professor Emeritus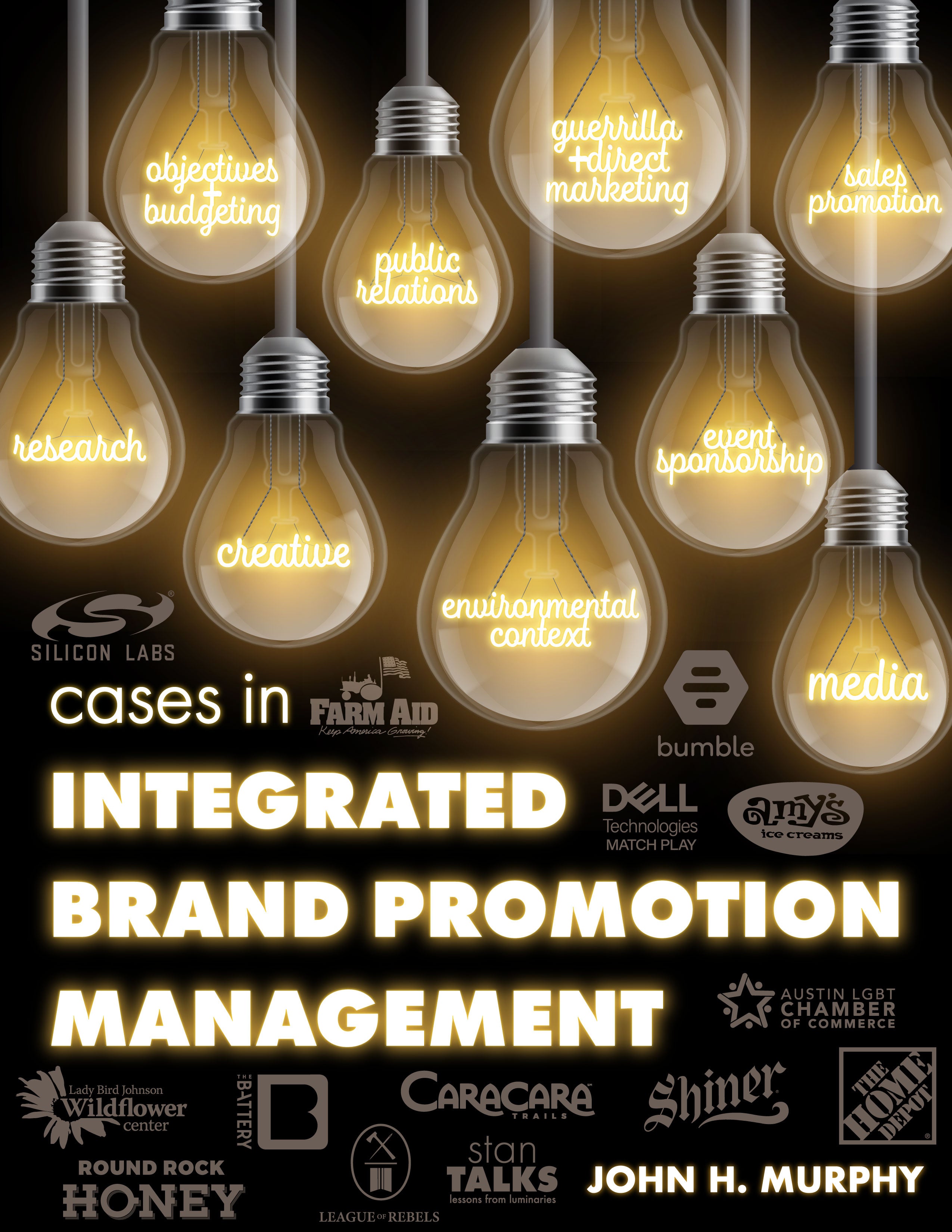 Dr. Murphy's professional experience is on the media side of the industry, where he has worked in many capacities including advertising sales, marketing research, and strategic planning. His research interests include integrated brand promotion campaigns planning and media management with an emphasis on practical applications. He has published four ad/marketing communication management textbooks, and a fifth book in 2022 titled Cases in Integrated Brand Promotion Management. This latest ebook is designed for college and university faculty teaching a course that uses the case method to provide their undergraduate or graduate students with experience in developing solutions to the opportunities and problems that face marketing communication management. His research articles have appeared in the Journal of Business, Journal of Business Research, Journal of Marketing, Journal of Advertising, Journal of Social Psychology, Journal of Experimental Education, Journal of Marketing Education, Journal of Consumer Affairs, and Journalism Quarterly, among others.
Dr. Murphy has served on the Board of Directors of the American Advertising Federation, the Board of Directors of both the American Advertising Foundation and the Austin Advertising Federation. He has served as a member of UT's Faculty Council, the University of Texas Press Advisory Committee, the Texas Union, and Texas Student Media. He presently serves as a consultant to the Austin Independent School District focusing on their social and emotional learning initiative and the Tapestry Foundation (an Austin-based non-profit focused on supporting early childhood enhancement programs).

Dr. Murphy is the Program Coordinator of the Vance and Betty Lee Stickell Honors Student Internship Program. Established in 1988 by the American Advertising Federation (AAF), the program matches outstanding honors students from universities around the country with host companies for 10-week internships. The program's permanent endowment was moved to The University of Texas at Austin in 2003. In 2020, as a result of a mutually agreeable split with the AAF, the sole responsibility for the program was moved to UT Austin.  The program is now housed in the Stan Richards School of Advertising & Public Relations at UT which is responsible for the stewardship of the program. The program has placed 340+ honors students in internships over the past 30+ years. 

In the fall of 2016, Dr. Murphy developed the concept of an online video library designed to provide university faculty teaching advertising and public relations access to the insights and views of leaders in the industry. He pitched the idea of such a library to be called "Stan Talks" (https://www.youtube.com/c/StanTalks) to Stan Richards. Mr. Richards immediately liked the idea and set up a three-person group inside his agency to help guide the development of the library. The library of five-minute videos went public with 20 videos in August 2018. The library now has over 50 videos, it has had thousands of views and subscribers to the YouTube channel world-wide. 
Dr. Murphy has received 19 awards and recognitions for outstanding teaching. He was elected to UT's Academy of Distinguished University Teachers in 1998 and was recognized with a $25,000 UT Systems Regents' Outstanding Teaching Award (ROTA) for excellence in undergraduate teaching in 2014. In 2017, he was inducted into the Southwest Advertising Hall of Fame, the first and only academic to be so honored.
Professional Interests
Dr. Murphy's professional experience, consulting and academic research interests center on integrated brand promotion planning and media management issues. This includes the operation of both on- and off-line media and advertising agencies plus the adaptation of both to changing opportunities. Dr. Murphy has served as a consultant to numerous business enterprises, operated his own ad agency plus has worked as an expert witness across a range of marketing disputes.
Personal Background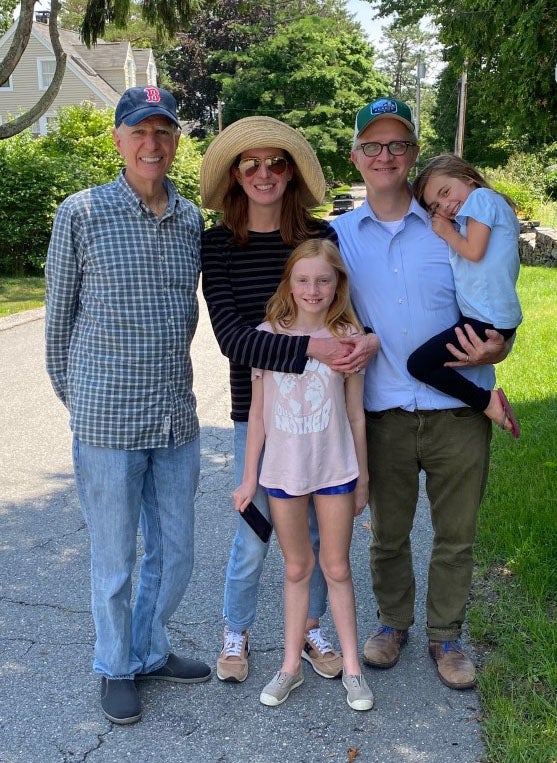 Dr. Murphy's professional experience includes work at the Houston Chronicle (in ad sales and strategic planning) and the Atlanta Journal-Constitution (in the marketing research department). He has a BBA (1968) and MBA (1969) in marketing from Texas Tech plus a PhD in marketing and social psychology from UT, Austin (1974). In addition, his interests and hobbies include:
Family
Ping pong (full contact)
Bicycling
Gardening
Hiking and camping in the wilds
Travel
Understanding how things natural and mechanical work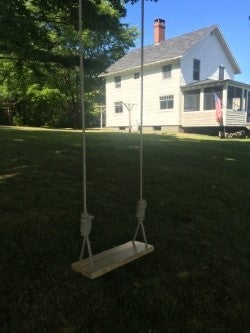 In 2007, Dr. Murphy and his wife Sue purchased a second home in Belfast, Maine. The cottage was built in 1929 as a fishing camp and they are in the process of restoring it to its original condition. The house is on the water on the Maine coast on Penobscot Bay. View more photographs and learn more about their ongoing restoration.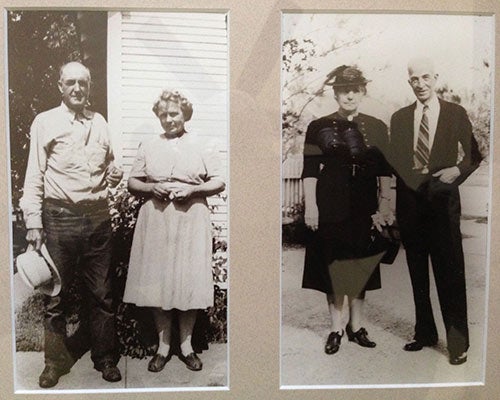 Forrest and Bess Lampson                   Linnie and Joshua Murphy
My Country versus City Grandparents
Although I never thought about it when it was happening in the 1950s, in the rearview mirror I now realize how fortunate I was to have had two widely divergent pairs of grandparents.  My parents were both born in 1913, but into quite different households.
My mother was born on a farm in the country in northeastern Oklahoma and my dad was born in a house in the city of Galveston, Texas. I grew up and went through public schools in Houston, but each summer we made a pilgrimage to stay with my country grandparents. During the summers of my late elementary and middle school years I would stay on after the rest of my family returned to Texas and work for my country grandfather for 35¢ an hour on his farm.
From my city grandparents, whom I was around frequently, I learned about crossword puzzles, reading a city street map and generally about how to do city stuff. What I learned from them really was about fitting appropriately into an environment about which I was already familiar.  This setup a contrast with what I learned from my country grandparents.
My country grandmother had a large garden in which she raised vegetables that we ate fresh-off-the-vine. She also taught me about feeding and caring for the animals that provided us with eggs, milk and meat. Most of this education happened because I asked, as a city boy fascinated by the back-story of where items came from that were found in the city in a supermarket. 
Working for my country grandfather, a character of the first order who was born in a sod house in the Oklahoma Indian Territory in 1890, I was able to observe and participate in the operation of a farm. Driving John Deere tractors grandpa called Johnny Poppers, loading hay into barns, hoeing weeds, looking for cattle in the dark after a long day working in the hay field, helping "pull a calf" out of the womb with the aid of a horse and a rope. Now, 60 years later, much of this experience is vivid in my memory. As a 12- years-old, after I wrecked a hay rake by turning a tractor too tightly so that the rake caught on the big rear tire, grandpa shouted in frustration, "You can't work a kid!" That hurt.'
It was an earlier, simpler time when I worked in the fields and barns along side of Albert, the primary hired hand (paid 75¢ an hour), his three oldest children and Charles Wolf a full-blooded Cherokee Indian. Albert and his wife Sylvia, who had nine children, went to beer joints every Saturday night and drank heavily. Many years later I realized why two of their children were mentally slow, spoke with thick tongues and had crossed eyes -- fetal alcohol syndrome. Albert rolled his own cigarettes, deftly tapping loose tobacco from a tall, thin red metal tin into cigarette papers. He developed an open sore on his nose that turned out to be cancerous, and he died an early death from the disease.
I learned that to run a farm you had to be your own mechanic and vet and that success depended on the weather and that necessity was indeed the mother of invention. Practical problem-solving to get tasks done was the order of every day.
Looking back, I realize that I was able to experience small town America in the 1950s. There were many cousins, aunts and uncles, and everybody knew about everybody else's business. A town of 500, with a downtown that was one block long with everything right there: a post office, a coin laundry, grocery and hardware stores.
I was fortunate to have two sets of grandparents. Especially the country grandparents, who taught me about the operation of a farm that was more 19th century than 20th and who exposed me to a simpler way of life that was a slice of America that is gone forever. I now realize that lessons gleaned from my country grandparents influenced my own attitudes and approach to life in profound ways.
{This story was submitted to the New York Times Sunday Magazine for possible publication. Seems unlikely, but hey, I enjoyed writing it and you need to be out there. jhm}
Marketing Ph.D. The University of Texas at Austin