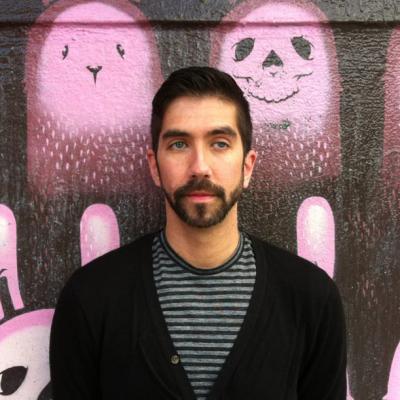 ---
Department of Radio-Television-Film
Email:
Office:
CMA 6.128C
Curran Nault is a scholar of grassroots queer trans*media artivism. His intersectional work on "underground" formations brings queer, feminist, trans and critical race theories—and the possibilities they conjure—to bear on the cultural artifacts, practices and politics of D.I.Y. (do-it-yourself) QT(POC) communities and creativities. His scholarship has been published in such journals as Transgender Studies Quarterly, Jump Cut, Feminist Media Studies, The NeoAmericanist and the Journal of Film and Video, and has been anthologized in several collections, including Mediated Girlhoods II, Queer Love in Film and Television and the upcoming Oxford Handbook of Queer Cinema and Oxford Handbook of Punk. Curran is a Faculty Affiliate of the Center for Women's and Gender Studies and the Center for Asian American Studies.
Curran's first book, Queercore: Queer Punk Media Subculture (Routledge, 2018) considers the histories, politics, and practices of queercore: a queer punk trans*media subculture that surfaced in the 1980s, in part, as a dual response to the decade's rise in anti-QT(POC) violence and the mainstreaming of "respectable" gays and lesbians via emerging politics of marriage and the military. A formative text on grassroots queer artivism, Queercore employs ethnographic methods and queer/media theory insights to establish the oppositional values and aesthetics central to queercore's subcultural distinction, as well as its paradigmatic DIY political economy, asserting an alternative model to the dominant media industries and a corporatized gaystream.
More recently, Curran is developing a project on the performative "space of death" within contemporary QT(POC) trans*media creations (tentatively titled D.I.Y. Death). Building upon recent queer/trans, necropolitical and post-colonial theories (and their intersections), this project theorizes a node of resistant potentiality in the hauntological inhabitation of spectral subjectivity within queer and trans D.I.Y. artivisms that aim to unearth the stakes for bodies and communities that continue to be consigned to the coffin. This project arose in tandem with Curran's role as co-producer of the multi-award winning, Guggenheim-funded documentary, Call Her Ganda (Raval, 2018), chronicling the story of Jennifer Laude, a Filipina transwoman who was murdered by a U.S. marine. Curran's essay on Call Her Ganda and the afterlife of trans* activism, "Documenting the Dead," appears in the Winter issue of Transgender Studies Quarterly.
A public-facing scholar, in addition to being a documentary producer, Curran is an arts and community organizer. Curran is the Founder and Artistic/Executive Director of OUTsider, a queer trans*media non-profit that serves as an incubator for his scholarly pursuits, and as a means of sharing his scholarship in an accessible manner with a wider public. Via OUTsider's annual five-day festival and academic conference, Curran has introduced Austin to such luminaries as Zackary Drucker (Transparent), Silas Howard (Pose), Cassils (Carving) and Xandra Ibarra (La Chica Boom). In 2018, OUTsider was nominated by the Austin Critics Table as Austin's "Best Independent Arts Project." Curran also serves on the Board of Directors of Fantastic Fest and is the Co-Founder, and former Director of Programming, of the Austin Asian American Film Festival, and is the former Artistic Director of aGLIFF (Austin Gay & Lesbian International Film Festival).
Media Studies
Identity and Representation
Industry/History/Criticism
Producing
Documentary filmmaking