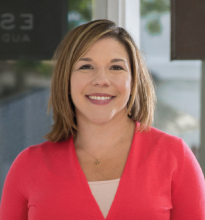 Soriya Estes, AuD has extensive experience in the field of Audiology and co-manages Estes Audiology Hearing Centers as well as Senior VP of Brand Strategy for Alpaca Audiology, LLC, the largest independently owned group of Audiology practices in the US.
She received her Master's Degree in Audiology from the University of Texas at Austin and her Doctorate of Audiology from Salus University. Dr. Estes lectures as a guest faculty member for the UT-Austin Moody College of Communication Speech Language and Hearing Science Department and also has participated on several committees for the American Academy of Audiology.
She has spoken at regional and national forums relaying Best Practices for Audiologists in hearing healthcare clinics throughout her professional years. In 2005, Dr. Estes started her first practice in New Braunfels, Texas with the philosophy of providing superior hearing healthcare services for all patients. The philosophy of service to others resonates throughout her character.
Dr. Estes is highly motivated to serve her local communities in Central Texas. Estes Audiology has been the hearing service affiliate provider for the Health Alliance for Austin Musicians (HAAM) since 2008. She also has been called to participate in healthcare efforts in Haiti to support, staff and fund hearing and health centered mission trips annually for Haiti Deaf Academy.
Outside of Audiology, Soriya serves as President of the Board of Trustees for 89.5 KMFA classical public radio and is the past-chair of the St. Austin's Catholic School Board. She is also a past Blue Coat for the New Braunfels Chamber of Commerce and was awarded the Small Business Person of the Year in 2015 from the New Braunfels Chamber.
Education:
Doctorate of Audiology, Salus University June 2009
Master of Arts, Audiology, University of Texas 1999
Bachelor of Science, Speech Pathology & Audiology, Oklahoma State University 1997