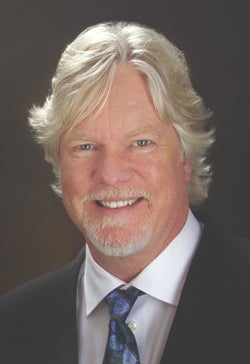 Villarreal Society
Littlefield Society
Life Member
Neill Walsdorf, Jr. ("Gobie") is President of Mission Pharmacal Company, a full-service, family-owned pharmaceutical corporation, headquartered in San Antonio. He is the third generation Walsdorf to lead the company that was founded in 1946. In addition to his corporate position at Mission, Walsdorf currently serves on the Board of Directors and as President of BioComp Pharma, Mission's generic drug marketing subsidiary.
In 2015, Walsdorf was named to the "PharmaVOICE 100," an elite group of the 100 most inspiring people in the life sciences industry.
Prior to becoming the Mission President in 1998, Walsdorf held various positions at the company, working in production as well as sales and marketing. In these areas, he was responsible for building the company's branded products, most notably the premier Citracal®, calcium citrate, Urocit®-K, a leading kidney stone treatment, and CitraNatal for prenatal care.
In addition to his corporate responsibilities, Walsdorf served as the Chairman of the Advisory Board of the School of Communication for the University of Texas and the University of Texas Development Board. He is a member of the Young President's Organization (YPO) and World President's Organization (WPO).
Walsdorf is active in Mission's support of the March of Dimes Foundation. He is a member of the Golden Circle for Southwest Research Foundation and serves on the Board of BioMed in San Antonio.
Walsdorf lives in San Antonio and has two children. In his free time, he enjoys the arts, tennis, cooking, traveling, and drinking wine with family and friends.