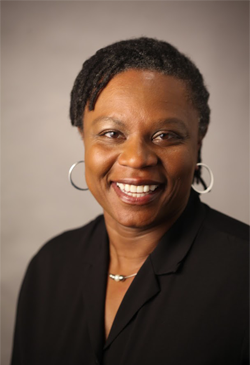 Katina Johnson earned a Bachelor of Journalism in 1995 and started her career with the intention of becoming a sports reporter. She worked as a reporter at the Houston Post, The Cleveland Plain Dealer, and The Tennessean. Her fascination with technology led her to transition to a copy editor to work on Austin360, the Austin American-Statesman's online publication. In 1997, at the height of the dot-com boom, she moved to Silicon Valley and joined the San Jose Mercury News.  
At that time, search sites relied on curated content rather than algorithms and recruited heavily from local newsrooms. Her news background and editorial experience led her to Yahoo!, where she served as a product manager for one of its leading products, Yahoo! Message Boards.
In 2002, she joined Google, where she played a role in the launch of some of its early products, including Google Answers, Google News, Google Shopping and Gmail.  While working on Gmail, Katina gathered a group of expert users, who became the founding members of Google's Top Contributors Program -- a collection of thousands of passionate Google product enthusiasts who share their knowledge on social media and Google's help forums.
The Top Contributors program has allowed Google to scale so that it can provide quality support to millions of users.
Katina moved to Hyderabad, India in 2006 to manage one of the company's search quality evaluation teams. When she returned from India, she managed another search quality evaluation for a short time before taking over the Top Contributors program and managing all of the company's community guides and liaisons.
In 2007, Katina earned two of the company's highest employee honors -- the prestigious Google Executive Management Google Award and the Google Founders' Award for entrepreneurial achievement -- for her scaling innovations.
After leaving Google, she served as a project manager and writer for Wordsmithie, a start-up content management firm created by one of her fellow Google co-workers. For the last three years, Katina has held several roles at Stripe, a payments infrastructure tech company.
She has been a member of the Office of Community Investment and Infrastructure Citizens Advisory Committee (OCII CAC) since 2013. The OCII CAC reviews development proposals, infrastructure plans and contracts for public improvements in San Francisco's newly created Transbay area.
To improve the quality of life in her Downtown San Francisco neighborhood, Katina worked with several neighbors to form a partnership between the city, private developers and local communities in the form of a special assessment district (Community Benefit District). She took over as president of the formation committee during one of the four years it took to get the CBD on the election ballot.
The creation of the CBD was approved by voters in 2015.
Now, she serves as the Vice President of the East Cut CBD, which is San Francisco's largest special assessment district. Katina has been an advocate for creating more parks in San Francisco and is a member of the CBD's parks committee.
Katina is from Houston. Although her parents are still in Houston, she's fortunate to have her brother and his family nearby in Napa. Her brother, Arthur Lee Johnson, also attended the University of Texas and played on the baseball team. He has used the know-how he learned at McCombs Business School to become a vintner. His rosé, Le Artishasic, can be found on the menu at the French Laundry.
Katina still loves sports. Her circuitous route from journalism to tech means that she can attend a Golden State Warriors game without keeping stats, taking notes, filing an LTK draft or sprinting to the press conference room to get quotes.