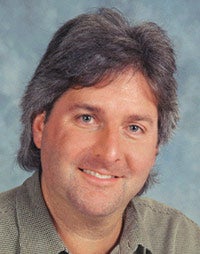 Jonathan Dern is the President and co-founder of Sabella Dern Entertainment, a property development studio owned by Jonathan Dern and Paul Sabella, former co-heads of MGM Animation, specializing in creating branded entertainment that connects with audiences and consumers on every screen. While at MGM, Jonathan produced multiple films, TV series and videos, including the All Dogs Go to Heaven franchise, The Pink Panther, RoboCop, Rainbow Fish, the Beginner's Bible and many others.
Sabella Dern Entertainment has produced television series and movies with a long list of brand partners, including Hasbro, HIT Entertainment, MGA, Disney, Hallmark, American Greetings and Chorion. SD produced " Bob the Builder in 3D/4D" for Legolands worldwide, the PBS series, " Angelina Ballerina", and multiple features and television series for American Greetings' re-launch of the Care Bears franchise in 2002, generating over $2 billion in revenue. Among other projects, Jonathan executive produced the Make Way for Noddy series for PBS, Action Man, Tonka, Candyland, My Little Pony, Transformers Armada, Dinotopia, and Heidi & the Hightops for Skechers.
Jonathan is also the co-founder of the innovative digital distribution company, The Bigger Picture and its family theatrical matinee program, Kidtoon Films, which was sold to Cinedigm Digital Cinema Corp and operated for five years as Cinedigm's Entertainment Group under Jonathan's direction. As the head of CEG, which released more than 200 independent films and alternative content events, Jonathan executive produced the first ever LIVE 3D cinecasts with the BCS College Championship Game and the NBA All Star Saturday Night in 2009, the NCAA Men's Semi-Finals and Finals games and the FIFA World Cup Final in 2010, and the Ultimate Fighting Championship in February 2012.
Jonathan was the executive in charge of production of the ground-breaking 3D capture of eighty hours from 5 live music festivals (Mile High, All Points West, Lollapallooza, ACL and the Phish Halloween show), culminating in the theatrical release of " Larger Than Life 3D" (Dave Matthews Band, Ben Harper and Gogol Bordello) and " Phish 3D" The team also produced and distributed the " Foo Fighters Wasting Light" LIVE 3D performance from the band's private recording studio to 3D theatres around the world.
Jonathan is currently developing entertainment for The Saturday Evening Post, Gecko Hawaii, Coach John Wooden, and Kids in Faith.
Dern and his partners helped conceive, create and establish the first North American 3D film program at the University of Texas at Austin, and currently serves on the Advisory Council to the Moody College of Communications.  Jonathan won multiple California State awards for his investigative journalism and entertainment writing as an Editor of the Daily Sundial, at Cal State University Northridge.