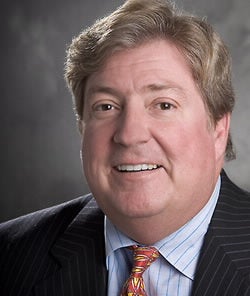 Villarreal Society
Littlefield Society
John R. Fleming (Austin, TX) is the principal of Vision Corporation, a company he founded, which makes early-stage investments in communication and media technologies, services and hardware.
Some of the investments include MediaXstream, LLC and Voxpath Communications. Fleming currently is developing a digital media platform that services both production and digital transport for the movie and TV industries.  Voxpath RS is a patent IP aggregator dealing primarily with new digital technologies.  Fleming is also chairman of ATSI Communications, which is a next generation communications services company that specializes in international communications.
Prior to establishing Vision Corporation, Fleming was one of the founders and a principal at IXC Communications, where he most recently served as the president of the company's international subsidiaries. In this capacity, he managed IXC's two international operating subsidiaries, MarcaTel S.A.C.V. based in Latin America and Storm Communication based in London.
At IXC, Fleming was one of the architects of the "carrier's carrier" concept, which led to IXC becoming the first exclusive wholesaler of digital broadband capacity.
In 1999, Fleming was involved in the merger of IXC with Broadwing, which subsequently became Level 3, one of the nation's premier digital transport communications providers, which created a powerful local and national force for offering end-to-end broadband and data solutions for businesses throughout the country.
For several years Fleming oversaw all sales and marketing for IXC. In addition, Fleming presented the company to the investment community and secured the necessary funding for charting IXC's all-digital fiber network to coast-to-coast status in 1999. The network currently consists of 18,000 miles representing one of the largest fiber optic network systems in the country.
Fleming was with several network communication concerns before staring IXC in 1992. He held sales management roles at these firms, which included IBM and MCI.
At IBM, he helped establish the early digital telephony era with the introduction of a Ku band-based digital satellite systems. He also managed the business applications of several Ku band satellite earth stations for SBS/IBM.
Prior to IBM, Fleming assisted the development of the first back-office support systems as well as early sales and marketing plans for MCI, where he started his career in 1978.
Fleming has been involved with the School of Architecture's Solar D Decathlon Project that rolled out in October 2005. Fleming also serves on the Advisory Council for the College of Communication at The University of Texas.
Fleming is an honors graduate from The University of Texas with a bachelor's degree in Organizational Communications.
Fleming resides in Austin, Texas.