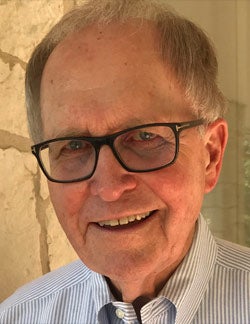 Villarreal Society
Littlefield Society
John Barnhill (Brenham, TX) is the former executive vice president of Blue Bell Creameries where he worked in sales and marketing for 40 years. His first assignment was introducing Blue Bell to Houston, the company's first big city market. One of his earliest accomplishments was encouraging management to replace the long-time use of "B-B Ice Cream" on the company's trucks, signs and cartons. In addition to selling, he wrote radio spots to create an image about "the little creamery in Brenham" and it's country heritage. At the time, Blue Bell was only sold in a dozen counties around Brenham.
As the Houston market grew, Barnhill moved back to Brenham, his hometown, to become Blue Bell's first general sales manager, responsible for planning and executing the annual sales and marketing programs.  During his tenure the company expanded into other major markets in Texas and seven other southern states. Today Blue Bell sells in 20 states from Phoenix to Miami and is the third best-selling ice cream in America. Now retired, Barnhill remains on the board, where he has served for 43 years.
Barnhill feels that much of Blue Bell's marketing success was due to his recommending the hiring of Houston's Metzdorf Advertising. Again, he convinced management that it was time for some fresh identification. It was Lyle Metzdorf who developed the classic cow and girl logo and many of the company's popular signature lines, such as "We eat all we can and sell the rest" and "Blue Bell Ice Cream is so good because the cows think Brenham is heaven." The latter one actually came from a consumer letter.
Involved in many university activities, Barnhill spent six years as a UT System Regent, was president of the Texas Exes, chairman of the Chancellor's Council Executive Committee, served two terms on the Men's Athletics Council and in 2011 was recognized with the Distinguished Alumnus Award.
While working on his Bachelor of Journalism degree at the university, he served as an assistant to George Christian, then press secretary to Texas Governor Price Daniel, writing proclamations and speeches. After graduation he became a reporter for the former Scripps-Howard Houston Press, working for a UT alum, city editor Tommy Thompson, covering the weekend police beat, politics and general assignment news.
In the summers of his high school years, he had worked at the original Blue Bell plant making ice cream sandwiches by hand, painting watercolor signs about Blue Bell on rural grocery store windows and making hot-shot deliveries to local stores. It was this background that in 1960 brought a call from Blue Bell asking him to try his hand at selling and promoting ice cream, rather than staying in the newspaper business.