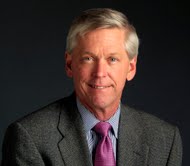 Life Member
Shenkkan Society
Littlefield Society
Jim Moroney is the Founder and General Manager of Sixmilebridge Vineyards, a winery located in Paso Robles,  California  and established in 2013.   Moroney served as publisher and chief executive officer of the Dallas Morning News until February 2018,  a position he held since June 2001.  In addition, he served as Chairman of the Board, President and CEO of A.H. Belo Corporation (the parent company of The Dallas Morning News)  from 2013 until 2018.   He served as president of Belo Interactive, Inc. since its inception in May 1999 until 2001. He served as EVP, Belo with responsibilities for all of its television stations from 1997 to 1999.
He presently serves on the boards of the State Fair of Texas, the Associated Press, the Advisory Board of the Moody College of Communication at the University of Texas, The Dallas Foundation and The Bishop's Finance Council of the Catholic Diocese of Dallas.  
He was named "Publisher of the Year" by Editor and Publisher magazine in 2003. In 2012, he received the Frank W. Mayborn Award from The Texas Daily Newspaper Association for Community Leadership. 
Moroney graduated from Stanford University in 1978 with a B.A. in American Studies. In 1983 he received his M.B.A. from the University of Texas at Austin. 
He has been married to Barbara for 36 years and they have five children.