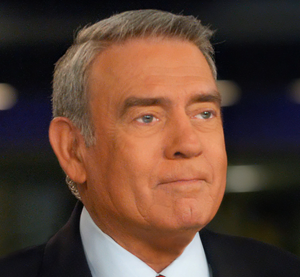 Littlefield Society
Life Member
Dan Rather (New York, NY) Given his distinguished record and his long exposure on television around the globe, Dan Rather may be the best-known journalist in the world.  He has covered virtually every major event in the world in the past 60 years.  His resume reads like a history book, from his early local reporting in Texas on Hurricane Carla to his unparalleled work covering the assassination of President John F. Kennedy; the civil rights movement; the White House and national politics; wars in Vietnam, Afghanistan, the Persian Gulf, Yugoslavia and Iraq.  From his first days as the Associated Press reporter in Huntsville, Texas, in 1950, Rather has more than earned his reputation as the "hardest working man in broadcast journalism."
In 2006 Rather founded the company News and Guts and became anchor and managing editor of HDNet's DAN RATHER REPORTS, which specializes in investigative journalism and international reporting.
Over the many years of his career, Rather has regularly landed the biggest interviews with the world's most important and compelling figures, from the famous to the infamous.  Rather's passion for the news, for getting the story and for taking on the most challenging assignments in journalism is unmatched. He has dedicated himself to delivering to the American public coverage that is fair and accurate, no matter the size and scope of the story.  He has interviewed every United States president from Dwight D. Eisenhower to George W. Bush and Barack Obama, and virtually every major international leader of the past 30 years.  He landed two world exclusive news-breaking interviews with Saddam Hussein, in 1990 and in 2003.  In 2004, as a correspondent for 60 MINUTES II, Rather also broke what was arguably that year's biggest story—the abuse of prisoners at Iraq's Abu Ghraib prison. More recently, his "Dan Rather Reports" for HDNet has been honored with three Emmy's for war and investigative reporting.  The program was also honored with 2 "front page" awards for stories concerning the plight of women abroad.
Among the landmarks of his illustrious career was his tenacious and critically acclaimed live reporting on the terror attacks of Sept. 11, 2001.  Rather spent 53 hours and 35 minutes on the air over less than four days beginning the morning of the attacks.  In 2000, he anchored Election Night 2000, a marathon that kept him on the air continuously from 6:00 PM on Tuesday, Nov. 7, to 10:00 AM on Wednesday, Nov. 8.
Rather served as anchor and managing editor of the CBS EVENING NEWS from March 9, 1981 to March 9, 2005, the longest such tenure in broadcast journalism history.  He helped to found 48 HOURS, a broadcast he anchored and reported for from its premiere on Jan. 19, 1988, through September 2002.  He was a correspondent for 60 MINUTES from October 1975 to September 1981, and again from March 2005 to the summer of 2006.  Rather also helped to found and served as a correspondent for 60 MINUTES II from its debut on Jan. 13, 1999, to its final edition in September 2005.  His regular contributions to CBS News Radio included "Dan Rather Reporting," a weekday broadcast of news and analysis on the CBS Radio Network from March 1981 to November 2004.
During his forty-four years with CBS News, Rather held many other prestigious positions, including anchor of the documentary series CBS REPORTS and of the weekend editions of the CBS EVENING NEWS.  He served as the CBS News bureau chief in London and Saigon and was the White House correspondent during the Johnson, Nixon and Ford administrations.
Rather joined CBS News in 1962 as chief of its Southwest bureau in Dallas.  In 1963, he was appointed chief of the Southern bureau in New Orleans, responsible for coverage of news events in the South, Southwest, Mexico and Central America.  During that time, he reported on racial conflicts in the South and the crusade of Dr. Martin Luther King Jr., as well as the assassination of President John F. Kennedy.  He and the CBS News team he put together in Dallas broke the story of JFK's death well before any official announcement.   Rather began his career in journalism in 1950 as an Associated Press reporter in Huntsville, Texas.  Later, he was a reporter for United Press International (1950-52), KSAM Radio in Huntsville (1950-53), KTRH Radio in Houston and the Houston Chronicle (1954-55).  He became news director of KTRH in 1956 and a reporter for KTRK-TV Houston in 1959.  Prior to joining CBS News, Rather was news director at KHOU-TV, the CBS affiliate in Houston.
He has received virtually every honor in broadcast journalism, including numerous Emmy and Peabody Awards and citations from critical, scholarly, professional and charitable organizations.
Rather has also authored or co-authored nine books, six of which have become New York Times bestsellers, most recently What Unites Us: Reflections on Patriotism released in November 2017.
In 1994, Rather was honored by his alma mater, Sam Houston State University in Huntsville, Texas, which named its journalism and communications building after him.  On a more personal note, 1997 also saw the dedication of Dan's birthplace as part of the Wharton County Historical Museum.
Dan Rather was born Oct. 31, 1931 in Wharton, Texas.  In 1953, he received a bachelor's degree in journalism from Sam Houston State Teachers College (now Sam Houston State University), where he spent the following semester as a journalism instructor before joining the U.S. Marines.  He also attended the University of Houston Law School and the South Texas School of Law.