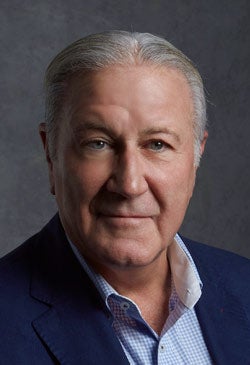 Chuck Carlberg (Houston, TX) founded his agency with three other young turks and a media director who doubled as the agency receptionist. Those small beginnings led to Houston's premier creative advertising agency and to the natural evolution of a creative brand called Richards/Carlberg.
Chuck's work has been recognized by every major advertising competition from Houston to New York. He was named to Adweek's Creative All-Stars and "Best Creative Director of the Southwest." In 1999, he was awarded Houston Advertising Federation's (AAF-H) Silver Medal for outstanding work in advertising and in the community. In 2012, he was inducted into the Southwest Advertising Hall of Fame. In February 2017, he was presented the Media Alliance of Houston Silver Star of Excellence Award for his true leadership in advertising and in the community. And in June 2017, the recipient of the AAF-Houston Living Legend Award.
Chuck has worked on airlines, restaurants, higher education, hotels, newspapers, radio and TV companies, energy businesses both upstream and downstream, packaged goods, soft drinks, cell phone service, healthcare, automobiles, tractors, bayous, parks, flood control, anti-graffiti, anti-trash – and he even helped elect Houston's former mayor.
He loves his city, serving on The Houston Parks Board; and serving as a founding member of The Quality of Life Coalition, Chair Emeritus of The Buffalo Bayou Partnership, and board of the Memorial Park Conservancy.
Chuck married his wife and business partner, Gayl, on April Fool's Day, 1978, and loves working and living with her every day. He has three children; two who are also in the ad business. When he's not working (which he loves), Chuck is a very active outdoors kind of guy. He is training for his 14th MS 150 Bike Ride from Houston to Austin, and also became a "Fourteener" when he climbed the 14,000-foot Mt. Sneffels near Telluride, CO. He still refuses to let his children win at tennis.