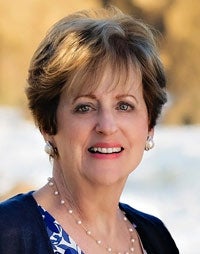 Carrie Woliver (Houston, TX) has enjoyed her career in television and radio since her graduation from UT in communications in the sixties.  But her path always included performing as a singer in many musical theater productions.
As a child, she studied piano, then voice in college and was subsequently cast in many shows in Dallas, Houston, and Brussels, Belgium, where she resided for five years with her husband, Ron.
In the broadcasting area, she worked for the ABC affiliate KTRK-TV and later the independent KHTV-TV in Houston.  But it was with a singer/friend that she became a producer of a nationally syndicated health radio talk show called "America Talks Health."  She thrived on the administrative details of being producer of a daily two-hour show.
The next venture was producing a television documentary series, The Brutal Truth, about child abuse prevention, which won several Emmy's.  In August, 2014, she co-produced a documentary tribute to George P. Mitchell, the visionary oil man and founder of The Woodlands, TX, with Studio W, Inc.  It was entitled  George P. Mitchell – A Difference Maker and was broadcast on Houston Public Media.
Besides her work in television production, Carrie has put her talents to work volunteering.  She has served on numerous non-profit boards in Houston:  Theater Under the Stars, The Country Playhouse, Houston Achievement Place, Homes of St. Mark, and recently Music Doing Good. She is an active member of the Houston Women in Film and Television organization and sings in her church choir.
In 2011, Carrie tried her hand as an author, and penned an historical memoir called The Train Stopped in Orange, about the 1917 diaries of her grandparents and her childhood memories growing up in Orange, TX, in the fifties.  As a result of the book, her latest project with her husband is to help save the historic Southern Pacific Depot in Orange.  In May 2017 the renovation was completed and received rave reviews. The next phase of the project is underway to fund the museum exhibits. She served as founder and president of Friends of the Orange Depot, leading a volunteer group numbering 50 passionate supporters.
Besides her work, Carrie enjoys being with her grandchildren, Nick and Conrad Bennett, spending time with them at her family's farm in Bellville.  She plays a mean game of tennis and you can still find her at her piano quite often.