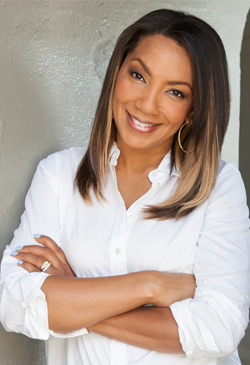 Arthel Neville is the weekend anchor on the Fox News Channel covering breaking news, foreign policy, politics and international headlines. America's News Headquarters (Sunday 12pET) is the only traditional newscast, consistently in the top ten rated shows, in all of cable programming for the day.
Before returning to Fox News ten years ago, Arthel helped launch a newly acquired Fox affiliate in San Diego. The station had only been airing programming from Los Angeles and Mexico. With Arthel at the helm, the morning show shot to #1 - overtaking market mainstays.
Arthel began her career as a reporter in highly respected local newsrooms. Seven years in, she got her national break and forged an unmatchable career. She became the nation's first high-profile African American female entertainment reporter. Arthel hosted and produced a one-on-one celebrity interview show on E! Entertainment Television. Next, Arthel launched EXTRA - a nationally syndicated entertainment news show broadcast to millions of viewers nightly.
Other professional highlights include: Being hand-picked by the legendary Dick Clark as his co-host for the Miss Teen USA Pageant, co-hosting the Miss Universe Pageant to over 60 million viewers worldwide, and being selected as the third African American female to be inducted as a Distinguished Alum at the University of Texas at Austin. Arthel is proud to have had iconic journalist Ed Bradley as a career-long mentor.
Arthel started her career while still a junior in college. She was a full-time journalism student at UT Austin and a full-time reporter at KVUE-TV (ABC). What started in Austin, changed Arthel's world.