Join the Civic Engagement Alliance Today!
​Facilitated by TX Votes, the CEA is a network of organizations, institutions, and departments on campus, partnered to increase voter registration and education on campus. Our goal is to aid each member organization in registering their members to vote, provide nonpartisan election information, and support any events centered around civic engagement. We have an array of member organizations, some politically-inclined, some not. Along with student organizations, the CEA also includes institutional programs, like schools, official UT athletic teams, honors programs, etc.
Join the CEA or update your student organization's 2020-2021 membership information by simply filling out the following form: https://bit.ly/CEAJoin. Email CEA Chair, Mahi Perla, at mahiperla@gmail.com if you have any questions!
---
Upcoming Events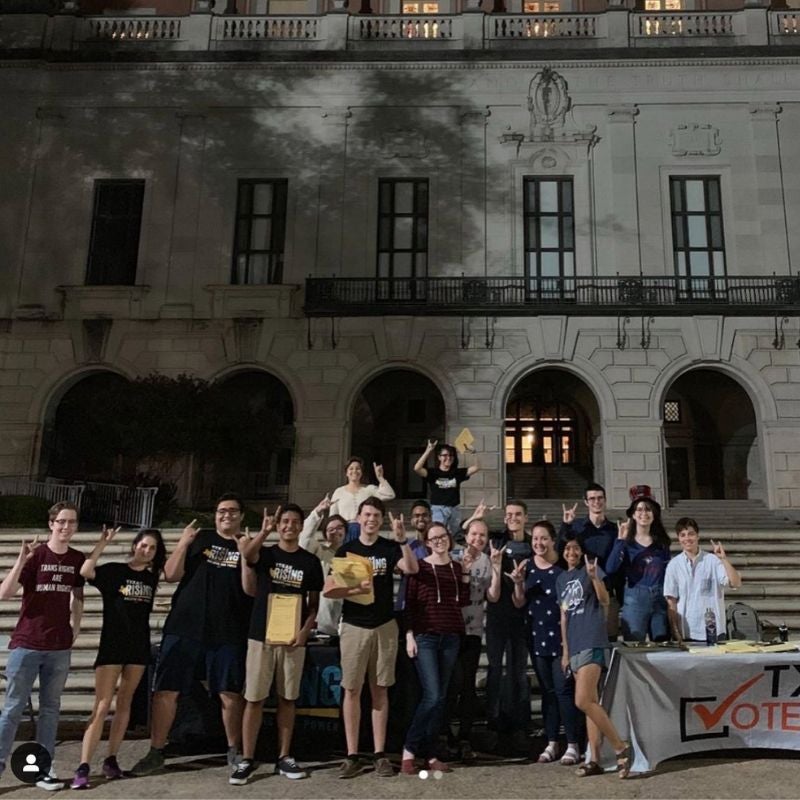 Civic Engagement Alliance Meeting 
Meet to discuss plans leading up to and including the March Primaries and think ahead to the 2020 Presidential Election in November. As always, pizza will be provided. VDR trainings will follow each meeting. Please RSVP, so we are able to purchase pizza for everyone.
General Election
Election Day for the General Election is Tuesday, November 3 with early voting from Tuesday, October 13 to Friday, October 30. During early voting, polls are open in Travis County, where campus is located, from 7am to 7pm every day except for Sunday which opens from 12pm to 6pm.
Polling locations on campus at The University of Texas will be located at the Flawn Academic Center and Gregory Gym. 
---
UT Austin Voting Data & Campus Plan
---
News
---
Check out the CEA on social!
---
CEA Members*

 include:

314 Action at UT Austin, ADPAC, Alpha Phi Alpha, American Library Association & Texas Library Association, American Medical Student Association, Amnesty International, Asian Business Student Association, Association of Black Psychologists, Austin Collegiate DECA, Austin's Bright Future, Black Student Alliance, Campus Environmental Center, Carribean Student Association, CLUTCH, CNS Honors, College Republicans, CommSGC, Communication Council, CRPSO, Dance Action, Dean's Scholars, Delta Epsilon Mu, Euphoria ATX, Feminist Action Project, Feminist Latinx Organization Empowering Society, Feminist Policy Alliance at LBJ School, Generation Citizen, Voting Graduate Student Agency (GSA), Graduate Women in Computing, Health Advocacy Student Coalition, Hindu Students Association, Hockey Horns, Honors Quad RHC, Hook the Vote (Student Government), IGNITE, Jolt at UT Austin, Kappa Rho Pre-Medical Honor Society, Keep Austin Wizarding, Lambda Alpha Nu, Liberal Arts Council, Liberal Arts Refugee Alliance, Longhorn Band Student Association, Longhorn Kiva, Longhorn Legislative Aides, Longhorn LULAC, Longhorns for Voting Reform, Minority Women Pursuing Law, Mixed Martial Arts at UT Austin, Multicultural Engagement Center, NAACP at UT Austin, Natural Sciences Council, Net Impact, Nueces Mosque, One Note Stand A Capella, Orange Jackets, Oxfam at the University of Texas at Austin, Pi Beta Phi, Residence Life, Secular Student Alliance at UT Austin, Senate of College Councils, Seva Charities, Sigma Delta Tau, Society of Hispanic Engineers, Socks for the Sole, Student Council for Exceptional Children, Student Engineering Council, Students Expanding Austin Literacy, Tejas Club, Texas Belles Event Planning Organization, Texas Blazers, Texas Bluebonnets, Texas Circle K International, Texas Electronic, Texas Freedom Network, Texas Friar Society, Texas Girl Gang, Texas Health Promotion Club, Texas Hillel, Texas International Affairs Society, Texas Ladybirds, Texas Nutrition, Texas Political Union, Texas Public Health, Texas Spirits, Texas Tower PR, Texas Water Ski, Texas Women's Rugby, The Language Campaign, The Student Association of the School of Information (SASI), The Texas Orator, Theta Tau, TX Votes, University Democrats, Undergraduate Business Council, UT National Association of Black Journalists, UT Service Scholars, UT Ukes, Women in Foreign Affairs, and Young Invincibles.

*List may not always be up to date.
We have a new website! 
For more information about TX Votes or answers to questions about how to vote on campus, visit tx-votes.com.
---
Become a CEA Member
Your group can help make a difference! To apply to become a CEA member, fill out this short form:
Email CEA Chair, Janae Steggall at jstegg99@outlook.com or TX Votes Program Coordinator Krista Gehlhausen at krista.gehlhausen@austin.utexas.edu if you have any questions.
---
F.A.Q.
Why should your student group join the CEA?
The CEA is an opportunity for your student group to join a great community-building activity.
This provides more leadership opportunities within your organization.
Deputization and other voter registration training are completely free to your group. And we provide pizza!
The top performing groups will be recognized by the Annette Strauss Institute for Civic Life and awarded at the end of each school year for their hard work.All CEA member groups will be featured on the TX Votes website.
---
Why do we need the CEA?
UT has a campus of over 50,000 students and over the past five years students have increase voter turnout in a remarkable manner. It would be impossible for one small groups to register each student, but through the alliance, we can reach so many more students! There are also many groups on campus who do civic engagement work, so the CEA acts as a way to coordinate efforts between all groups to have the most effective outreach on campus possible.
---
Why is a CEA important during remote learning?
Social distancing has changed the social fabric of our campus. This fall, students are adjusting to online, remote learning and are trying to facilitate social connectedness - all during a semester that includes an incredibly important election. The Civic Engagement Alliance is important during a time of social distancing and remote learning to facilitate and share election and voting information to make sure no students are disenfranchised or left with questions. 
---
What is a Texas Volunteer Deputy Registrar?
In the state of Texas, you must be a volunteer deputy registrar (VDR) to register voters. The VDR provides a voter registration application; assists in completion of the application; accepts and reviews the completed application and gives receipts; informs the applicant when he or she will receive the voter registration certificate and submits the application in person within five calendar days of registration. See if you qualify.