Right now, we are witnessing a transformation in the field of communication. We face a new era of media convergence, in which new forms of media are reshaping how ideas are delivered, and how students learn. Students pursuing careers in communication – whether in industry, service, education or research – face a dramatically different landscape, where the same rules no longer apply.
Many people think that The University of Texas, and thus the Moody College of Communication, is rich because of revenue from the state-owned Permanent University Fund (PUF). But, no matter how romantic the notion of the University as oil baron and wealthy institution may be, the facts tell a different story.
Jay M. Bernhardt
Dean, Moody College of Communication
The University of Texas at Austin
---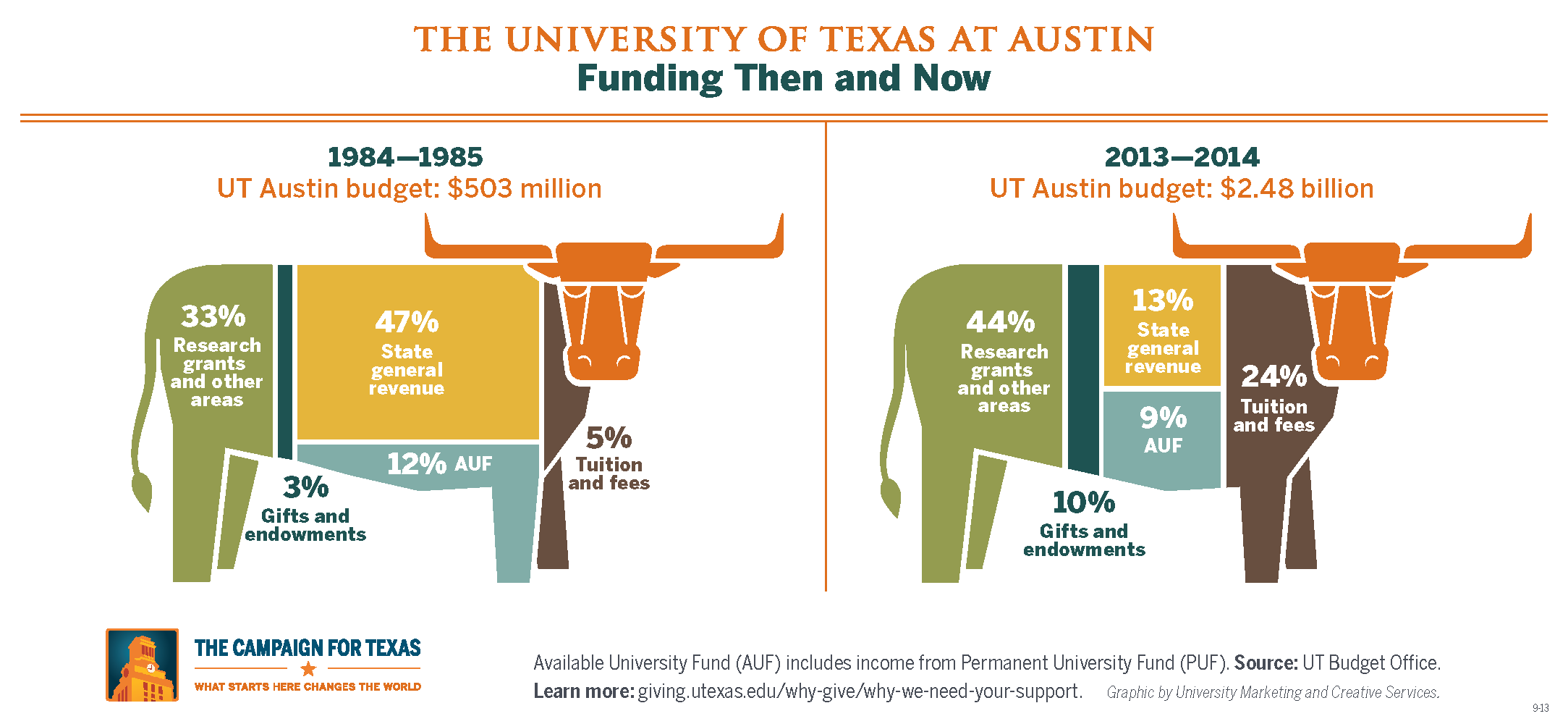 The revenue from the PUF does not go exclusively to UT-Austin, but to 17 institutions in the Texas A&M and University of Texas Systems. UT-Austin's share (the Available University Fund, or AUF) for fiscal year 2012-13 is $199 million out of the University's $2.35 billion budget. That's 9 percent, compared with 12 percent in 1984-85.
Additionally, the state share of the University's budget is shrinking even as it pursues its most ambitious goal yet – to be the best public research university in the nation. For example, in 1984-85, the state of Texas contributed 47 percent of the University's budget. Today, that share is only 13 percent.
The majority of funding for the University and the College comes from sources other than the state of Texas. State funding alone is not what makes The University of Texas a university of the first class; but, thanks to private support, the University drives economic, social and cultural progress as one of the world's most powerful centers of learning, research and creativity.
One of the extraordinary strengths of the Moody College of Communication is our exceptional, diverse student body. But as tuition and expenses continue to rise, many of our students are graduating with crushing debt, and many are unable to take part in study-abroad and internships programs vital to a communication education. Our students need your help!