Student Stories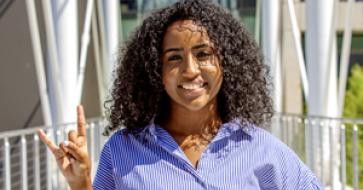 Jochebed Fekadu
Stan Richards School of Advertising & Public Relations - Public Relations
My mom and dad, Meseret Mengistu and Fekadu Altabachew, are both from Ethiopia and came to America to start their life together. They have three daughters, and I am the youngest.
I get my drive from my parents. Coming to a new country, and building their life from the ground up, is not something I believe I could have done at their age. They are my biggest inspiration and motivation.
Growing up, I don't ever remember my dad taking a day off. To provide for a family of five, he was working crazy hours, but he was always there for church, for breakfast – he was very present and there for the things that mattered.
He's a hard worker, and he did the work for what my family has now. In Ethiopia, my dad went to school to be an engineer, but that education wasn't accepted here. It was a shift I think he struggled with, but having to put money on the table, and provide for his family, going back to college wasn't really an option for him.
His way of making it an option for my sisters and me is the most inspiring thing I've ever seen.
I am a first-generation college student. My parents haven't gone through these certain experiences, but they are rooting for me, and that's my driving force.
Probably the biggest struggle was that I didn't get into The University of Texas the first time I applied. I went to UT-Arlington and got into UT through CAP, or Coordinated Admission Program. I kept my GPA up, got what I needed to get done and got into UT as fast as I could.
Once I got here, it was a pushing factor to make sure I had internships, was involved in the college environment – just making sure I was getting the whole experience and not sitting back that first year.
I had to figure out how to make groups and communicate with fellow students. You have to put in the work to make sure you are making genuine connections with people. Go across boundaries that you might be scared to cross, and make sure you're using every single resource that is available at UT.
People have crossed my path, and the trajectory of my life completely shifts because of it.
One thing that is really cool, when I finally start interviewing for internships and positions, I had a chance to talk through my resume. It was like a mental checklist of all the pieces I'm putting into place, because when you're in the middle of it, grinding it out, getting the work done, you don't really stop and think, "This is substantial."
I have a lot of family still in Ethiopia. They're in college and going to school, but the opportunities aren't the same. That keeps me humble. The opportunity I have, and the place where I'm at – it's where they wish they could be.
A lot of people wish they could be at The University of Texas, and I'm blessed as far as that goes.