Student Stories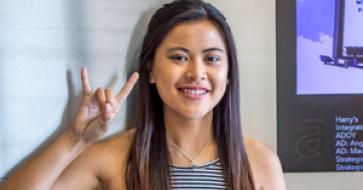 Karen Lai
Stan Richards School of Advertising & Public Relations - Advertising
I was convinced I was going to be a doctor. I guess that's just the idea I had ever since I was young.
My ninth-grade biology class – that was my first real science class, and I knew that was not for me. What's the point in memorizing all those facts and numbers?
My brother, Charles, went to The University of Texas for business, so I figured I'd follow in his footsteps. I applied to the Moody College of Communication, and my whole thought process was that I would transfer to business after my freshman year. Then I took calculus and microeconomics, and those were the hardest classes I'd ever taken, mostly because I was not interested or motivated to learn about the particular topics. When I struggled to bring myself to study the material, I realized business was also not for me.
I originally started at Moody as a corporate communications major, but I transferred to advertising. I talked to my brother, once I knew business was not supposed to happen, and he suggested advertising because I was already at Moody. He knew the Stan Richards School was highly ranked.
When the application came out for TexasCreative, my friend and I applied on a whim, but we ended up getting in. That's when things clicked for me.
I trust my brother. I talk to him about big life decisions, and even my small ones. He encouraged me to see advertising through, because he knew there was potential in the industry where I could find something where I fit. He was happy that I found a career path I enjoyed.
This summer, I interned at R/GA Chicago, a big agency. I worked as a strategist there. It was interesting to see a different side of the industry and work with professionals in the agency life. The whole experience confirmed that I want to go to a big agency after I graduate.
I'd like to blend the creative side and the strategic side. I think you can be open to different paths in advertising.