Student Stories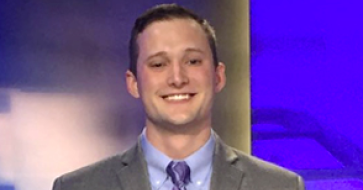 Mark Skol
School of Journalism and Media - Journalism and Media
As a young kid, I dreamed about playing baseball for the Chicago Cubs, or basketball for the Chicago Bulls. Once I realized that wasn't a possibility, I decided talking about sports professionally would be the next best option.
At UT there are so many hands-on practical experiences that were extremely beneficial to me, and they all started right on campus. My first day of college on the Forty Acres, I joined Texas Student Television, and I also joined The Daily Texan. Through those experiences I was able to do so many things, like cover football games at UT and throughout the NCAA.  At TSTV I was also able to host a weekly sports debate show called "College Crossfire." 
One time we took that show on site to Gregory Gym on UT's campus, and we had an exclusive interview with Shaka Smart, the men's basketball coach. You don't get these opportunities anywhere else, but at Texas, these opportunities happen all the time.
The best part about all these student organizations is they give you real-world experiences. There aren't many places students can shoot football games from the sidelines or go cover a press conference after a basketball game -- all while still a first- or second-year student.
Those opportunities on campus lead to internships in Austin and throughout the country. I interned at the NBC affiliate in Austin, the NBC affiliate in Houston and ESPN's Longhorn Network in Austin. Those internships mimicked exactly what a job would be like in a newsroom, which has made my transition into a full-time position so much easier.
I heard when I was younger that "if you love what you do, you'll never work a day in your life." That's what really made me know I wanted to do something I loved, so it wouldn't feel like work when I went into my job every day.
My best advice to anyone wanting to be a journalist it to make sure you love it. I've only been a working professional for a short time, but I can't tell you how much fun I'm having. It never feels like I'm going in to do work, but instead I'm having the best time doing my job.
Mark graduated in May 2018 and is now a weekend sports anchor at WNDU in South Bend, Ind.