Student Stories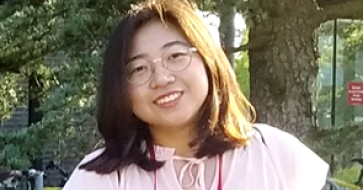 Hwa Jin Chung
School of Journalism and Media - Journalism and Media
When I was younger, I dreamt of becoming an author. I liked the idea of sharing my thoughts in a way that could connect with others. I also loved to read, which influenced my passion for writing. 
I decided to major in journalism because I wanted to learn how to understand and tell the stories of people in our communities. I added government as a second major because I wanted to learn what systems are in place to support our communities.
As a journalism major at UT, I had tons of opportunities to combine my passions for telling stories and focusing on communities. In my first year of college, I did an internship at Project Vote Smart in the Annette Strauss Institute, which is housed in the Moody College of Communication. I was a legislative intern and researched key votes in legislation that passed and failed in the U.S. What was most interesting to me was seeing the patterns in legislation and how a small change in one state could start a movement across the nation. It got me thinking about the power that we all have to influence change.
I also interned at Austin City Hall, where I learned the inner-workings of the city. I also worked as a contributor for a food safety blog and worked as a writing coach at the Moody Writing Support Program. I am glad for my different experiences, because they helped make my time at college memorable. There was always room for me to grow and learn, and it was great to do some of the learning outside of the classroom.
The skills I learned as a journalism major made me confident to set new goals and apply to law school. After graduating from UT, I'll be attending Harvard Law, which is another dream come true. I am so thankful I had the opportunity to study at The University of Texas. The relationships I built here with my peers and faculty have shaped my outlook on the world – there are so many great people doing great things! Everyone can be a contributor to the greater good.