Student Stories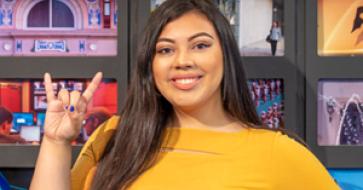 Brianna Rodriguez
School of Journalism and Media - Journalism and Media
As a child, I thought I would be a bunch of different things. They all had one thing in common, though: I would tell stories.
I had a teacher in high school who had studied journalism. She was extremely inspirational, but I was nervous going into it because I had never done anything like it. I just knew I loved to write. I figured I would just try out the major and would switch to something else if I didn't enjoy it. But I did. I remember going to my first journalism lecture, hearing my professor speak and just breathing a sigh of relief because it felt like all the pieces fell into place, as though I just knew I was where I am supposed to be.
Being at Moody gave me the opportunity to get started right away with student experiences, and I started working at Texas Student Television. TSTV, specifically the news department, has given me ample opportunity to learn how to write, shoot, edit and produce my own stories. And that is something I'll have to do when I start out in my career.
The summer, after my second year of school, I got my first internship, and it was the opportunity of a lifetime -- I went abroad to CBS News in London. My duties varied depending on the day. Sometimes, I would use the wires or social media to track and break stories. I also assisted with producing segments (interviews, live shots, etc.)  for CBS This Morning, CBS Evening News, CBSN and Newspath. I learned what it is like to work in a real newsroom, for starters. I also learned how to produce American news from a foreign country and what all goes into the selection of news and what comes with it.
As a low-income, minority and first-generation student, I have had to overcome a lot of obstacles that were put in place long before I was even born. Coming to a predominantly white institution from a majority-minority public school system in Houston, I was met with always feeling nervous about why I got into UT. As silly as it sounds, I've struggled with that a lot. But I have learned to turn that into fuel for me to push forward without fear of failure, or with as little fear as I can muster. Newsrooms are typically still predominantly male and white, but I cannot let that deter me from doing exactly what I want.