Sports and the Communication of Identity
February 22-23, 2013
Struggles concerning identity have been around a long time in the United States, and over the last century have become a prominent feature of the American and global landscape as succeeding waves of immigrant and civil rights movements roll across the social landscape. Understanding themselves as being primarily of an identity that is demographically or culturally defined, people struggle for power and resources based on those identities.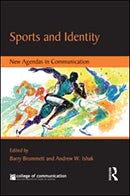 Movements to enfranchise and empower women, racial minorities, those of varying sexualities, immigrants, and others are as much social as they are political in the recent history of the United States. Globally, identity is central to social struggles involving mass migrations due to war and economics. Nations entering a global market may struggle with balancing chances for prosperity with local categories of identity. In sum, identity and how it is managed symbolically is globally significant. These identities are often expressed and encoded in signs and symbols of sports.
People develop passionate attachment to soccer and other sports teams that "mean" their local, national, and even ethnic identities. Domination of certain Olympics events comes to be aligned with one nationality or another. The African-American presence in basketball, whether NBA, college, or street, is overwhelming dominant, while it seems to be receding in baseball. Table tennis is widely regarded as an "Asian thing." Tiger Woods attracted global attention not only for his skills but also for his entry into what was a largely caucasian world of golf. Conversations continue as to whether certain sports tend to attract or nurture gay and lesbian athletes while issues of sexual identity are also in flux. This conference sought to identify and explain the communication avenues used in conjunction with sports that have given individuals, groups, regions, and nations their identities.
Editors: Barry Brummett (Ph.D., Princeton University) is the Charles Sapp Centennial Professor in Communication and chair of the Department of Communication Studies at The University of Texas at Austin. Brummett's research interests concern epistemology and rhetoric. His recent studies include the rhetoric of popular culture and he's developed a general theoretical basis for understanding this rhetoric based largely on symbolic forms. Brummett has published a textbook, "Techniques of Close Reading" (Sage, 2009) and a third edition of his popular textbook, "Rhetoric in Popular Culture" (Sage, 2010). He is author of six scholarly book monographs and edited an additional five books on rhetoric. He is now at work on an edited anthology called "The Rhetoric of Steampunk," scheduled for publication in 2014 by the University of Mississippi Press.
Andrew Ishak is a lecturer in the Department of Communication at Santa Clara University in the College of Arts and Sciences. Ishak received a bachelor's of science in managerial economics from University of California, Davis, in 2004, an M.A. in Advertising from The University of Texas at Austin in 2005, and a Ph.D. in Communication Studies from The University of Texas at Austin in 2012. He mainly teaches public speaking and elective courses, including a course on sports and communication. Ishak conducts research on organizational and team training, sport communication, and communication of action and performing teams.