Tess Johnson
[inner_rail]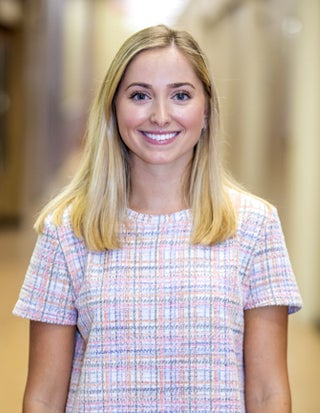 [/inner_rail]
I started running cross country when I was 8 years old. It helped me become the person I am. To run distance, you have to be persistent. The grind of training and racing I found to be rewarding and encouraging.
I learned to be able to take on a challenge and endure.
Discipline and focus, I think, have always been strengths. In high school, I focused on running smart races and competing against myself to better my times. I was also focused on getting into The University of Texas and meeting all those requirements.
My main weakness was that I doubted myself. When I started at UT, I remember sitting in the classroom thinking that everyone around me probably knew more than I did. Of course, that wasn't the case. It was an introductory class. We were all in the same situation.
I had to work on knowing that I was enough and knowing that I can always get better because I'm here to learn. I could have sat back, taken it easy and still passed my classes, but I was set on making As, doing research and volunteering.
Educationally, the this major is very challenging. It's also exciting. The people in the major are driven and competitive, but they are approachable and willing to help out. We all want each other to succeed. I feel prepared to be where I am right now, and that also helps my confidence.
[inner_rail float:"right"]
[/inner_rail]
While I can endure, I'm also an impatient person. I like results, but research, like training and racing, has taught me to appreciate the process. It's a discovery.
In the Lang Stuttering Institute, I've learned how to not only conduct research, but learn from it. The beauty behind research is we can apply it in a clinical setting. Then I get to see the research I helped create in use, helping people we see for treatment.
I found my passion for helping people when I was younger. My great grandmother lived in an assisted living facility, and my family visited her often. I loved doing any little thing I could to make it easier on her, but I was also inspired by the people who worked at the facility and the way they cared for her. 
My mom inspires me too. She's a teacher, a great mom, a friend, a daughter -- she does it all. I've always looked up to her, in that sense, and I get my helping hand from my mom. During my junior year of high school, I asked her about my career path.
"Is it teaching?" I asked. "What about physical therapy?"
She's the one who suggested the idea of Speech-Language Pathology. She thought it would be a good fit, and she was right.
At the end of every day, I know I helped someone reach their goals and become who they want to be.