What You Will Study. How You Will Learn.
The undergraduate degree plan is simultaneously comprehensive and customizable.
The curriculum does not have required tracks or course sequences, but instead allows students to "choose their own adventure" and discover new areas and skills of interest. There are suggested course pathways based on a student's interest, but the flexibility of the major gives students opportunities to experience a wide array of content related to media.
Curriculum Overview
The Bachelor of Science degree for Radio-Television-Film requires 120 hours of coursework for graduation, which includes 36 to 48 hours of RTF coursework.
To learn more, please review the undergraduate degree requirements or consult the degree catalog checklist.
Foundations Courses
All students take the same four foundational courses, providing an introduction to various aspects of an expansive field, allowing students to hone their areas of interest and determine what additional courses they find interest.
Media and Society: Examine the context and significance of film, electronic and digital media
Development of Film and Media: Study the historical development of the media industries from the 1890s to present
Narrative Strategies in Media Design: Survey story structure in this critical introduction to storytelling
Introduction to Image and Sound: Attain fundamental production concepts and techniques, as well as your own voice as a storyteller
Class Spotlight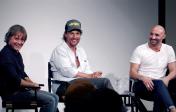 Script to Screen
Script-to-Screen is an upper-division film production course that looks at the production decisions and script changes that are made before a film ends up on the big screen. It gives students insights into the workings of the film industry as they follow a project from start to finish.
This class is co-taught by faculty members Scott Rice and Matthew McConaughey, who has described it as putting "science to the magic of how a script gets to the screen."
Pathways
The flexibility of the RTF curriculum offers students the opportunity to choose the courses that best suit their interests and career goals.
Students interested in media studies have dozens of course options available, based on four content areas – Digital Media, Global & International Media, History & Criticism, and Identity & Representation.
Course offerings include:
The Business of Hollywood
Video Game Culture & Criticism
Latina/os & U.S. Media
Globalization & Social Media
Race, Class & Gender in American Television
Comedy in Film & Media
Animation Studies
Students who are interested in pursuing the production side of media can mix and match production and studies courses to design an individualized curriculum that truly serves their interests and goals.
Production courses include:
Multiple levels of narrative (fiction) production, including Undergraduate Thesis productions
Introductory and advanced screenwriting classes, including Undergraduate Thesis for screenwriters
Directing classes, plus Acting for Filmmakers
Introductory and advanced editing classes
Introductory and advanced directing classes
Introductory and advanced cinematography classes
Sound Design & Mixing
Motion Capture Studio
Introductory and advanced 2-D animation classes