Allyson Waller
Allyson Waller seeks more than traditional journalistic skills, but the insight and empathy to navigate life.
Brianna Rodriguez
As a child, I thought I would be a bunch of different things. They all had one thing in common, though: I would tell stories.
I had a teacher in high school who had studied journalism. She was extremely inspirational, but I was nervous going into it because I had never done anything like it. I just knew I loved to write. I figured I would just try out the major and would switch to something else if I didn't enjoy it. But I did. I remember going to my first journalism lecture, hearing my professor speak and just breathing a sigh of relief because it felt like all the pieces fell into place, as though I just knew I was where I am supposed to be.
Being at Moody gave me the opportunity to get started right away with student experiences, and I started working at Texas Student Television. TSTV, specifically the news department, has given me ample opportunity to learn how to write, shoot, edit and produce my own stories. And that is something I'll have to do when I start out in my career.
The summer, after my second year of school, I got my first internship, and it was the opportunity of a lifetime -- I went abroad to CBS News in London. My duties varied depending on the day. Sometimes, I would use the wires or social media to track and break stories. I also assisted with producing segments (interviews, live shots, etc.)  for CBS This Morning, CBS Evening News, CBSN and Newspath. I learned what it is like to work in a real newsroom, for starters. I also learned how to produce American news from a foreign country and what all goes into the selection of news and what comes with it.
As a low-income, minority and first-generation student, I have had to overcome a lot of obstacles that were put in place long before I was even born. Coming to a predominantly white institution from a majority-minority public school system in Houston, I was met with always feeling nervous about why I got into UT. As silly as it sounds, I've struggled with that a lot. But I have learned to turn that into fuel for me to push forward without fear of failure, or with as little fear as I can muster. Newsrooms are typically still predominantly male and white, but I cannot let that deter me from doing exactly what I want.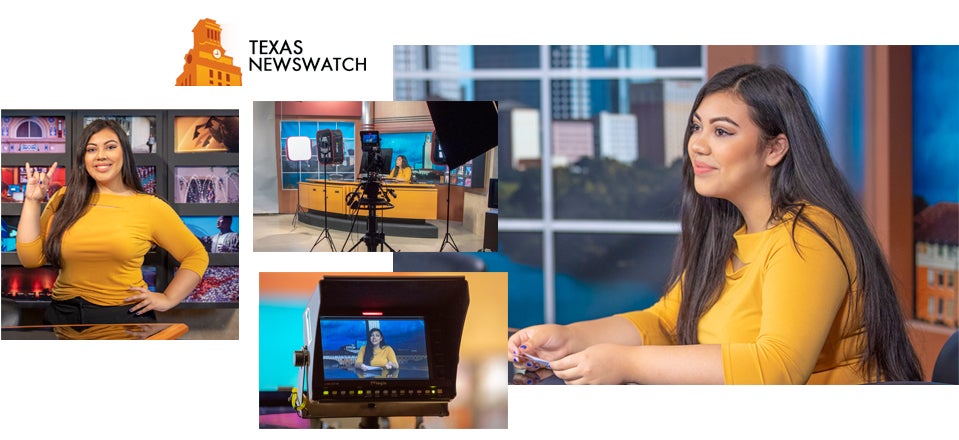 ---
Mark Skol
As a young kid, I dreamed about playing baseball for the Chicago Cubs, or basketball for the Chicago Bulls. Once I realized that wasn't a possibility, I decided talking about sports professionally would be the next best option.
At UT there are so many hands-on practical experiences that were extremely beneficial to me, and they all started right on campus. My first day of college on the Forty Acres, I joined Texas Student Television, and I also joined The Daily Texan. Through those experiences I was able to do so many things, like cover football games at UT and throughout the NCAA.  At TSTV I was also able to host a weekly sports debate show called "College Crossfire." 
One time we took that show on site to Gregory Gym on UT's campus, and we had an exclusive interview with Shaka Smart, the men's basketball coach. You don't get these opportunities anywhere else, but at Texas, these opportunities happen all the time.
The best part about all these student organizations is they give you real-world experiences. There aren't many places students can shoot football games from the sidelines or go cover a press conference after a basketball game -- all while still a first- or second-year student.
Those opportunities on campus lead to internships in Austin and throughout the country. I interned at the NBC affiliate in Austin, the NBC affiliate in Houston and ESPN's Longhorn Network in Austin. Those internships mimicked exactly what a job would be like in a newsroom, which has made my transition into a full-time position so much easier.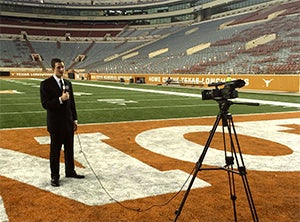 I heard when I was younger that "if you love what you do, you'll never work a day in your life." That's what really made me know I wanted to do something I loved, so it wouldn't feel like work when I went into my job every day.
My best advice to anyone wanting to be a journalist it to make sure you love it. I've only been a working professional for a short time, but I can't tell you how much fun I'm having. It never feels like I'm going in to do work, but instead I'm having the best time doing my job.
Mark graduated in May 2018 and is now a weekend sports anchor at WNDU in South Bend, Ind. 
---
Hwa Jin Chung
When I was younger, I dreamt of becoming an author. I liked the idea of sharing my thoughts in a way that could connect with others. I also loved to read, which influenced my passion for writing. 
I decided to major in journalism because I wanted to learn how to understand and tell the stories of people in our communities. I added government as a second major because I wanted to learn what systems are in place to support our communities.
As a journalism major at UT, I had tons of opportunities to combine my passions for telling stories and focusing on communities. In my first year of college, I did an internship at Project Vote Smart in the Annette Strauss Institute, which is housed in the Moody College of Communication. I was a legislative intern and researched key votes in legislation that passed and failed in the U.S. What was most interesting to me was seeing the patterns in legislation and how a small change in one state could start a movement across the nation. It got me thinking about the power that we all have to influence change.
I also interned at Austin City Hall, where I learned the inner-workings of the city. I also worked as a contributor for a food safety blog and worked as a writing coach at the Moody Writing Support Program. I am glad for my different experiences, because they helped make my time at college memorable. There was always room for me to grow and learn, and it was great to do some of the learning outside of the classroom.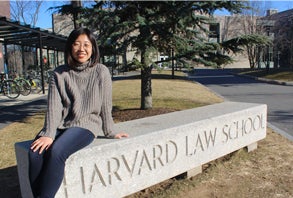 The skills I learned as a journalism major made me confident to set new goals and apply to law school. After graduating from UT, I'll be attending Harvard Law, which is another dream come true. I am so thankful I had the opportunity to study at The University of Texas. The relationships I built here with my peers and faculty have shaped my outlook on the world – there are so many great people doing great things! Everyone can be a contributor to the greater good.
---