Practical, hands-on learning is essential to sharpening real-world skillsets in the next generation of entrepreneurial-minded communications leaders. Communication Studies students at the Moody College of Communication have a variety of experiential learning opportunities as part of their degree plan.
In the Classroom
Teaching faculty understand the importance of building a network of professional relationships, and they proactively engage students with the community through in-the-field projects like event management and planning.
Faculty and undergraduates also collaborate on research and methods. Research is a valuable skill that translates to any enterprise; individuals who can analyze situations and determine viable solutions stand out.
A career-preparation component of the degree plan helps to align students, their skills and professional aspirations. You are also encouraged to seek internship opportunities for credit; students have previously pursued credit-based internships with companies like Merrill Lynch, ESPN, CASA of Travis County and many more.
On Campus
Student Organizations
Involvement in student organizations is a great way to explore career options, develop your network and make an impact on the college, the campus and the community throughout your college experience.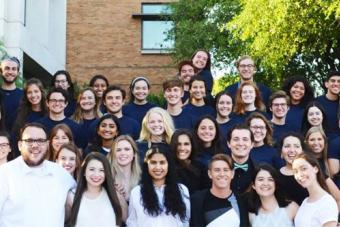 The Communication Council represents the Moody College in UT's Senate of College Councils. These student leaders represent all majors and range in classification from first-semester freshmen to graduating seniors.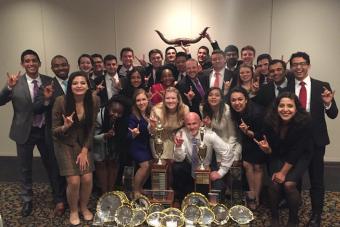 Light the Tower with Texas Speech. The national champion UT Speech Team is the university's official competitive speech organization.
Around the World
In addition to enrichment and cultural exchange, study abroad programs assist students as they fulfill degree requirements.
UT in Los Angeles
The UT in Los Angeles (UTLA) program is a semester-long immersive student experience. Students live, work and study in LA as they complete course requirements and pursue professional interests in the entertainment industry.
UT in New York
Make it there, make it anywhere. Live, work and learn in New York City and experience an internship program designed to launch your career in the newly-announced UTNY program
UT in DC program at the Archer Center
The UT in DC program at the Archer Center takes highly-motivated and accomplished students to Washington D.C., for internship opportunities and classes focusing on policy, economics and persuasion.