Shaping the stories we tell
Public Relations senior explores creativity in strategic field
As a high school student in Dallas, Therese Castro developed an interest in managing publicity for musicians. So when it came time to choose a Moody College major, public relations seemed the perfect fit.
Yet Castro's simple choice opened the door to an expansive world of purposeful, professional opportunity.
"Finding PR was kind of like a happy accident," said Castro, a senior in the Stan Richards School of Advertising & Public Relations.
She now imagines a dream job to work in the entertainment industry and promote diversity and inclusion. That passion was ignited after taking Kate Pounders' course, "Advertising and Public Relations Laws and Ethics."
"She talked about how advertising and public relations affects society and the psychological consequences,'' Castro said.  
Castro is currently interning with SXSW as part of the film publicity team, and this signature internship experience caps a college career full of choices that have advanced Castro's dream into a reality.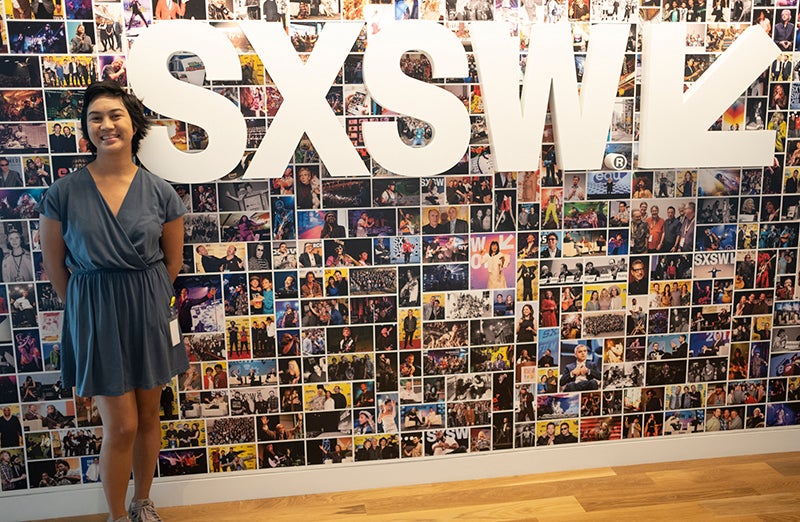 She has been a member of TSTV's Austin Underground, a music entertainment show, since freshman year and is now an executive producer. Castro is also Vice President of Special Events for Public Relations Student Society of America (PRSSA), a student organization that focuses on career development in PR.
In August, the Plank Center for Leadership in Public Relations announced that Castro is one of eight students selected from a competitive field of applicants nationwide to receive a full scholarship to attend the 2019 Summit on Diversity & Inclusion, scheduled for Chicago in November.
"It's really exciting because the summit is about diversity and inclusion. I get to meet professionals in that industry," Castro said. "I just want to be working towards that goal of helping people get better representation (for) having the opportunity to share their stories in a genuine way."