Jay Bernhardt was appointed Dean of Moody College on March 1, 2016. To reflect on five years leading the college, he addressed the Moody community in the first-ever State of the College Address, which was streamed virtually on Tuesday, March 23, 2021.
He shared observations on Moody's many accomplishments during this period, and explored opportunities and priorities for the years ahead.
You are invited to watch the speech online, read or download the complete text.
Welcome to the 2021 State of the College address, for the Moody College of Communication, at The University of Texas at Austin. As all of you know, here in Austin, we've faced some unprecedented challenges during the last month, and all of us have faced enormous challenges over the past year. Many in our community have struggled, and many have experienced loss, and together, we offer them our deepest sympathy and strongest support. During good times and bad, we are fortunate to lean on our Big Moody Family, while we hope and plan for better days ahead.
---
It's been 138 years since the founding of The University of Texas at Austin, and 122 years since the first communication program was established. Sixty-six years later we became a School of Communication and fourteen years after that, a College. But it was only eight years ago that things really changed, when we all became Moody.
But as I look back, and think about the recent history of our amazing college, my own timeline starts about five years ago, when we underwent another major transition. No, I'm not talking about becoming the sixth dean of our college, although that did happen about five years ago, on March 1st, 2016. My major milestone from five years ago, was the installation of Moody Bridge, spanning Dean Keaton Street and connecting our newest building with our three original buildings. An amazing new bridge, using a sophisticated Fink Truss design, connecting the historical and traditional, with the modern and cutting edge, literally, figuratively, and metaphorically.
Today, Moody College consists of five schools and departments, seven majors, 14 graduate programs, 11 centers and institutes, and multiple media channels and platforms. We are hundreds of faculty and staff, thousands of students, tens of thousands of alumni, and countless partners and friends. And together, most importantly, we all make up our Big Moody Family, strongly bound to one another, even during today's crises, growing closer together every single day.
---
So, let's talk a bit about bridges. There are many reasons why bridges are a common metaphor in storytelling. Are you struggling to get from one place to another? Build a bridge! Bridges provide safe passage between two otherwise disconnected places, allowing people to flow across barriers and boundaries.
In a way, bridges represent the very best of humanity, demonstrating ingenuity and craftsmanship for thousands of years, and our inherent ability to overcome difficult problems.
But bridges can do more than just move people and products across physical divides, and that's where Moody comes in.
Are you facing troubled waters? Be the bridge! As communication scholars and practitioners, our job, and our talent, is to create bridges between people, to span differences and close gaps that exist between every person and every community.
This work isn't easy. In the words of Mahatma Gandhi, "It is easier to bridge the oceans that lie between continents than it is to bridge the gap between individuals or peoples."
But it can be done, indeed it must be done.
---
Our world today faces a wide range of monumental challenges. Problems, politics, and platforms are pulling us further apart in countless ways. Our best hope for solving these challenges, is by building bridges, that are grounded in the scholarship, science and practice of communication.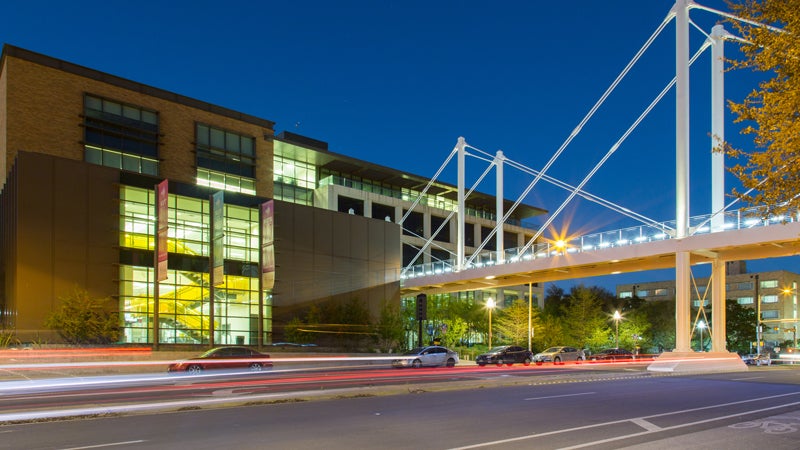 We need bridges between experts and audiences. Bridges between like-minded communities and those who disagree. Bridges between those who won't talk to each other and cannot hear each other, let alone stand and sing together.
We need bridges of truth and fact in a world increasingly filled with disinformation, Bridges to humanity and ethics in a time when machines and algorithms are growing more prominent and more biased. And bridges to a community and world that is more diverse, welcoming, and inclusive.
And all of these bridges cannot be temporary passages. They must leverage the power of communication to create systems and structures that can truly change the world.
As we all know, building bridges isn't easy, but I believe that no one is better prepared to take on this task than Moody College, because we are bigger, stronger, more innovative, and more impactful than we have ever been before.
Back in 2016, we symbolically crossed Moody Bridge, to come together as a community of collaborators, and to prepare for the next chapter of our College's history.
Now, in 2021, as we approach the end of the COVID crisis, let's take a moment to reflect on our remarkable collective accomplishments over the last five years.
---
At the beginning of my tenure as dean, we adopted three strategic imperatives that would shape our effort and our priorities.
The first was to grow diverse talent among our faculty, staff, and students, and I'm delighted to share that we've made significant progress.
Since 2016, we've hired more than 60 new full-time faculty, increasing our overall tenured and tenure track faculty headcount by about 10 percent and our professional track faculty headcount by about 20 percent. We've recruited leading and emerging experts in critical areas such as misinformation, data and analytics, media representation, digital storytelling, and health disparities.
During this time, we've increased our female faculty from 47 to 55 percent, and we've seen a 36 percent increase in Asian faculty, a 60 percent increase in Black faculty, and a 50 percent increase in Hispanic faculty, all now at their highest levels in Moody College history.
At the same time, we've made great strides with our students. The total number of undergrads grew by 20 percent from 2016 to 2020, and our four-year graduation rate has risen to 80 percent, one of the highest rates on campus. Undergraduate student diversity has increased as well, reflected by our recent increase of 40 percent more Black, and 45 percent more Hispanic, first-year students in Moody.
Among graduate students, we level-set stipends for TA and AI positions across the college, and some graduate students saw their stipends increase by 33 percent. The average nine-month funding for doctoral students at Moody is now more than $26,000, making us a leader among our national public peers.
In addition, we've rebranded and reimagined our Moody Career Center, to help all our students on their path from their academic lives to their professional careers.
Under the leadership of our first-ever associate dean for diversity, equity and inclusion, we're working to ensure that our culture, climate, and curricula are inclusive, reflective, and welcoming for everyone in our college.
To that end, we've strengthened our Diversity Statement to reflect our commitment to a climate of inclusion that is anti-racist, anti-sexist, and anti-bigotry of all kinds. We've launched training for all faculty, staff, graduate students, and search committees, and established online modules for creating more inclusive courses and syllabi. We established the Moody Student Emergency Fund and created inclusion and equity officers in each department.
And, we will continue to confront challenges and incidents as they arise in our community, gathering all the facts and listening to all our voices, while we pursue solutions that move us forward toward a more representative, inclusive, equitable, and just community.
---
Which leads us to strategic imperative number two… increasing interdisciplinary innovation in all areas of performance, and we have made enormous progress in this area as well. Each of our departments and schools are among the very best in the world, with innovative faculty, staff, and students, and increasingly interdisciplinary offerings that link across the college and the campus.
Over the last five years, we've established new college-wide academic programs that are now prospering, including Moody College's first-ever Four-Year Honors Program, and our first-ever interdisciplinary bachelor's degree in Communication and Leadership. This year our honors program had more than 900 applicants for 30 available slots. Our Comm and Leadership major also continues to grow, with applications up 13% this year over last.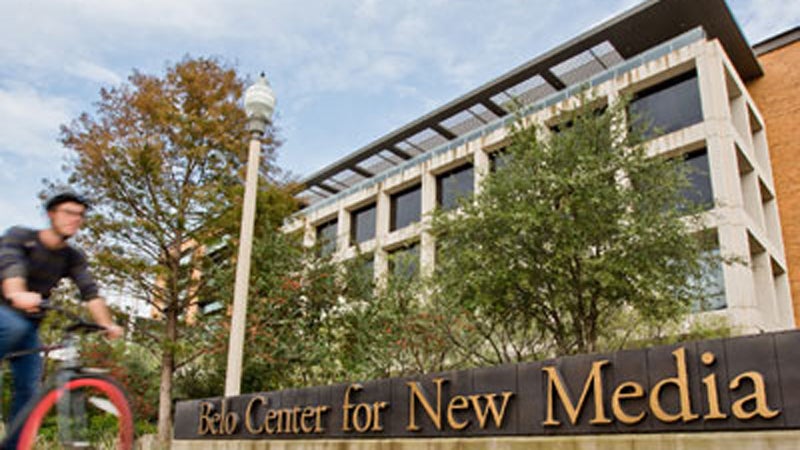 Beyond Austin, we fulfilled a long-time college goal, by launching the UTNY "study away" program in New York City, in partnership with the McCombs School of Business, the College of Fine Arts, and, more recently, the College of Liberal Arts. We also significantly expanded and improved our program and our footprint in Los Angeles, now called the "Wofford Denius UTLA Center for Entertainment and Media Studies." In addition to their place-based curricula, both UTNY and UTLA offer real-world, hands-on experiences and internships, in two of the most vibrant cities in the world.
Since 2016, we've also established many new centers, institutes, and programs, that are each making a major mark on their respective fields. Along with our long-time centers, these cross-cutting units bring together leading experts, to advance important issues and solve some of society's most critical problems. To that end, we recently received a $10 million gift to establish a new Institute for Sustainability and Leadership, in partnership with the McCombs School of Business. And more recently a $20 million legacy grant to establish the new Arthur M. Blank Center for Stuttering Education and Research, which will truly change lives throughout the world through its groundbreaking work. With respect to extramurally-funded research, we increased our grant funding last year by more than 160 percent over our 2017 levels, to an overall total of more than $27 million across 100 active grants.
And our progress as a College isn't limited to our shores. There are more than 75 countries where our faculty teach and study, and we host dozens of international faculty and visiting scholars. We appointed our first-ever Director of Global Engagement and have made major strides to increase our international presence, partnerships, and programs.
---
More than ever, Moody College is known across campus for our outstanding and innovative teaching.
Our faculty are regularly recognized with every major teaching award offered by UT Austin and the UT System, and all our faculty treat teaching as a priority and a privilege, and not as an afterthought.
As the COVID crisis hit, we made the most of the difficult situation by leaning into the work-from-home and the learn-from-home revolutions, piloting new ideas and breaking new ground on the changes and innovations that will ultimately reshape higher education. Despite the rapid pivot to online teaching, our faculty have continued to excel in the virtual classroom, through instructional creativity and student-centered learning. Thanks to the resilience of our faculty and our students, and the expertise and resources from our new Center for Advancing Teaching Excellence, online and hybrid courses have been very successful in Moody College, and our students have continued acquiring the knowledge and skills they will need to change the world and shape its future.
In addition, we continue to increase experiential learning across our curricula with real-world experiences within and beyond the classroom, to ensure that our students are industry-ready upon graduation. One of the newest experiential learning programs will be our student-led, full-service advertising and public relations lab, where students will work on projects with real-world clients under the guidance of faculty and industry experts.
I'm also pleased to share that all new Moody students in every major will now graduate with fundamental communication knowledge and skills, as a result of our innovative new communication foundation courses.
---
During the COVID crisis, we've leveraged the rapid shift to digital media to grow and transform our own media platforms, including our award-winning public radio stations, KUT and KUTX, two of the highest rated and most respect stations in the country, and essential pillars of our community. We stabilized revenue for Texas Student Media and its many channels, including The Daily Texan, which has continued its important student journalism, despite the challenges of the pandemic. We've established new media platforms as well, including Bevo Video Productions in collaboration with UT Athletics, and Texas Moody Media, our college's digital-first platform for all of our streaming events and resources. In addition, we recently launched the popular Orange Tree podcast series as part of our new podcast production channel, called The Drag.
Taken together, our growth in diverse talent, our increase in interdisciplinary innovation, and our investments in digital media, have established Moody College as one of the highest-ranked and most-respected colleges of communication in the world, and has positioned us for even greater growth and impact in the years ahead.
---
Our third strategic imperative is also central to our success, and that is to strengthen our community and culture, with the goal of making Moody the best place at UT Austin to work and learn. This is no small challenge, but I believe we've made major strides. Through all our college activities, we seek to model our core values of knowledge, innovation, collaboration, diversity, creativity, and integrity.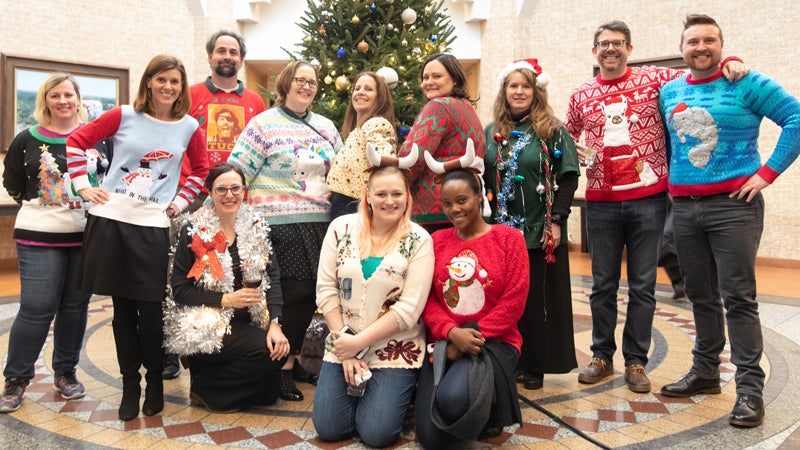 We also focus on supporting our professional staff to show how much we value and respect their countless contributions to our college. Our actions include flexible work arrangements, promotion-in-place opportunities, awards and recognitions such as the Impact Staff Awards, and college-wide events and social activities, all designed to show our staff how much they are appreciated and valued by college leadership.
With respect to fundraising and development, I'm very pleased to share that, for the fifth year in a row, we far exceeded our annual goals. We've raised more than $100 million since 2016, including more than $3 million toward student support. This is a huge achievement, which clearly demonstrates that our alumni and supporters trust us with their investments, and their legacies.
---
All of these accomplishments are remarkable, and they reflect the collective efforts of our Moody Family, and our progress is definitely being noticed, around campus and around the world.
In fact, we just moved up one spot, to number four in the world, and number two in the US, in the 2021 QS World Rankings for schools of communication and media.
We can and should celebrate our successes, but not for too long, because there is still much work to be done. We must prepare to bridge from the last five years, and this past year of significant crises, to the new world that awaits us in the years ahead.
Our enormous challenge, and our major opportunity, will be to leverage our hard-earned experience and expertise, to cross the chasm between the pre-COVID world and the new reality we will experience as the COVID pandemic recedes.
We've already witnessed how our new world will be more virtual, digital, and complex, and we know that these changes will accelerate as we move forward. The pandemic has sped up the shift to automation and digital-first engagement, and has revealed that the power and potency of communication will become even more critical to humanity. If we want an equitable and just society where everyone has a voice, where information is accurate, and science informs decisions, then it is up to us, here at Moody, to define what that means, and to help make it happen.
---
As we enter a fresh five-year period, at this unique inflection point, I want to highlight our priorities going forward. We will remain committed to our three strategic imperatives, of growing diverse talent, increasing interdisciplinary innovation, and strengthening our community and culture. And we will build on our COVID-era investments by adding a fourth strategic imperative, to expand our digital media assets and expertise. Over the next five years, we will again review and update our courses and curricula, to ensure our students are prepared to cross their future bridges, and to sharpen our focus on accessibility, inclusion, scholarships, and success.
We will widen the bridges between all parts of Moody College, to develop and launch new cross-cutting majors, new option-three graduate programs, and other future-oriented academic initiatives that help bring us together and move us forward. We'll keep building bridges to other colleges and schools at UT Austin, UT System, and beyond, forming new partnerships, building new programs, and creating new pipelines for diverse students into our world-class programs. And we will significantly expand our bridge building into the Austin community, fostering partnerships with the many new industries and investment opportunities that our fast-growing city has to offer.
We will also keep improving our facilities and infrastructure, to keep pace with our changing fields and technological innovations, and we will keep renovating our existing spaces, like the incomparable Studio 6A in the CMB building, which officially becomes part of our college for the first time since it opened in 1975.
And finally, we will also keep talking about bridges, until everyone is really sick and tired of the bridge metaphor. And even then, we'll probably keep using it anyway.
---
We've made outstanding strides over the last five years, but achieving our new goals will require even more dedication, innovation, and collaboration, and all the genius and courage that characterizes our Big Moody Family. The Japanese philosopher and peace advocate Daisaku Ikeda put it beautifully when he said: "Effort and hard work construct the bridge that connects your dreams to reality."
I know everyone at Moody has dreams that will make our college, our campus, and the world a better place. And I know that we are fully capable of realizing the vision, the effort and the hard work that will make these dreams a reality.
I cannot wait to see the future, and cross the bridge, that we will all build together.
Proud to be Moody, and Hook 'em, Horns!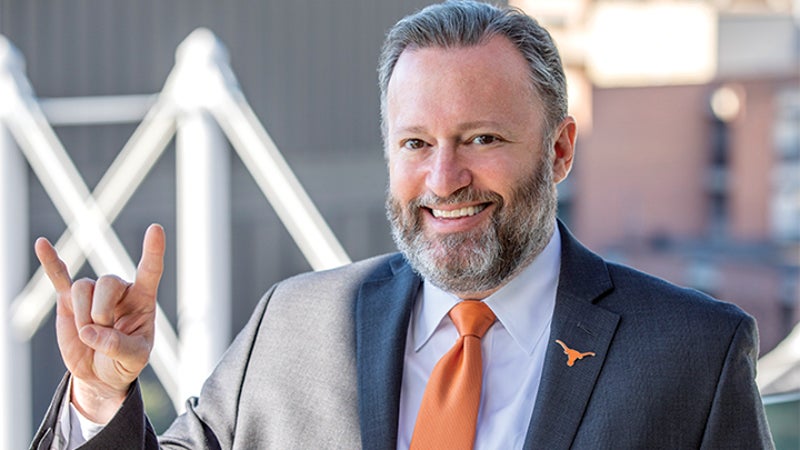 ---
I want to know YOUR hopes for Moody. Please share your thoughts and ideas with me directly at moody.dean@austin.utexas.edu.
Special thanks to the many people who made the State of the College Address possible, including: Virginia Anderson, Keefe Boerner, Shannon Brinkley, Amanda Buchanan, Lizzie Chen, Allison Dawson, Natalie England, Jeremy Gruy, Susanne Kraft, Kevin Lincoln, Kathleen Mabley, Mike Marsello, Shawna Renold, Mark Rogers, Marc Speir and Kai Tran.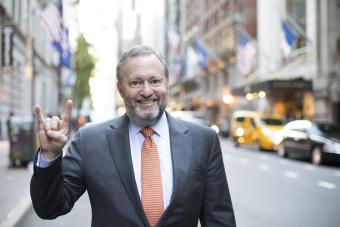 Jay Bernhardt
Jay M. Bernhardt is a health communication scholar, public health leader, professor and college administrator. Prior to serving as dean, he was the founding director of the Center for Health Communication at UT Austin. Bernhardt is a digital health innovator with industry experience in communications, marketing, partnerships and new media.
Moody Milestones
2016-2021
Remarkable accomplishments reflect the collective efforts of our Moody Family.
Install the Moody Bridge
Launch Communication and Leadership undergraduate degree
Expand UTLA, Unveil UTNY
Celebrate Five Years of Livin' Moody
Welcome first student cohort for four-year Honors Program
Re-imagine Moody Career Center
Establish Office of Diversity, Equity, and Inclusion
Initiate Moody Student Emergency Fund to help with extreme hardship
Create Bevo Video Productions with Texas Athletics
Form Texas Moody Media as college's digital-first events platform
Mitigate COVID threat with rapid work- and learn-from-home response