Past and Current Student Activism at the University of Texas at Austin
Created by the inaugural cohort of the Moody Media Scholars for Social Change, this website aims to serve as an archive and informational resource about past and present student activism at the University of Texas at Austin. On this website, you'll find information about the history of student activism at UT Austin (including protests around the Vietnam War, segregation/integration and more), current moments of activism and student organizing (including the Eyes of Texas, affirmative action, graduate student protests and more) and lastly, ways you (as a UT student, faculty or staff member) can get involved in community organizing and activism at this university.
In creating this website, we hope to encourage UT Austin community members to learn about and get involved in activism, amplify activist voices as best we can, and to move toward necessary change on campus.
Moody College Media Scholars for Social Change, 2020-2021 Cohort

– Alexandra Trujillo / Ariel Juarez / Faith Castle / Julia Ukattah / Meghan Nguyen – 
A Project by the Moody Media Scholars for Social Change
A. Vietnam War protests
The Students for a Democratic Society (SDS) formed a chapter at UT in the early spring of 1964. In mid October 1965, SDS held a death march protesting U.S. policy toward Vietnam. This protest, which coincided with the international days of protest, was apparently the first antiwar demonstration on the campus during the 1960's. Reaction to the anti war march was quick, the Young Republicans formed a Committee to Support U.S. Policy in Vietnam to show that the SDS position was not representative of the student body. The group was able to collect 3700 signatures on its petition (ibid.). Also that month, Regent Frank Erwin threatened to abolish the editorial page of the Daily Texan after it printed an editorial criticizing the killing of Vietnamese children. In March, some faculty members began to oppose the more brutal goings-on of the Vietnam War. Twenty percent of the UT faculty signed a letter to President Johnson urging an end to the bombing of North Vietnam. Although this was a clear minority, it was the first time that UT faculty members had taken a collective public stance on this issue. UT students continued to protest the Vietnam War in the fall, holding a large protest at the state Capitol in mid-October 1967. 
Source: History of Student Activism at the University of Texas at Austin by Beverly Burr
B. 1960 protests for racial equality and integration
The segregation and eventual racial integration of faculty and students at the University of Texas at Austin has a deep history, dating back to 1885, three years after the University was founded. The first attempt at integration took place on August 1, 1885 when a Black man applied for admission and was denied solely based on his racial identity. However, this was the beginning of the fight for an integrated campus. In 1939, the second attempt was made when George L. Allen, Sr. enrolled in business classes at the university and shocked both faculty and students when he attended his first day. While he was kicked out after 10 days of classes, Allen was still the first Black man to be enrolled at the University of Texas at Austin, making history forever. In 1946, Heman Marion Sweatt applied for admission to the all-white University of Texas School of Law, and while he was qualified, he was rejected due to segregation laws at the time such as Article VII, Section 7 of the Texas Constitution that stated: "Separate schools shall be provided for the white and colored children, and impartial provision shall be made for both." Backed by the National Association for the Advancement of Colored People (NAACP), Sweatt filed a lawsuit against the school in May 1946 addressing the lack of a Texas law school he could receive his degree from. The University of Texas responded to this lawsuit by creating the Texas State University for Negroes, now Texas Southern University. However, Sweatt declined his offer for admittance at the new university and appealed the dismissal of the lawsuit, to which the Court agreed that the education was unequal and a violation to the Equal Protection Clause of the Fourteenth Amendment. Sweatt was admitted to the University of Texas Law School in 1950 and was one of the first Black students to graduate from the University. The Sweatt V. Painter's decision made national headlines and later influenced Brown V. The Board of Education. Sweatt's admission was monumental for the racial integration fight at UT, but also for equal education for all students throughout the United States. Following 1950, the first group of African American students began applying for on-campus housing, joining student activities, and challenging the pace of racial integration, leading to the integration of multiple businesses near campus. However, there were still many restrictions for minority students such as a strict floor-to-floor basis for on-campus living and segregated sports teams. In April 1964, students and members of the community protested this slow desegregation for six days led by the NAACP. This movement consisted of daily pickets and filibusters and helped create the he City of Austin Human Rights Commission that protects unlawful discrimination that continues to exist today.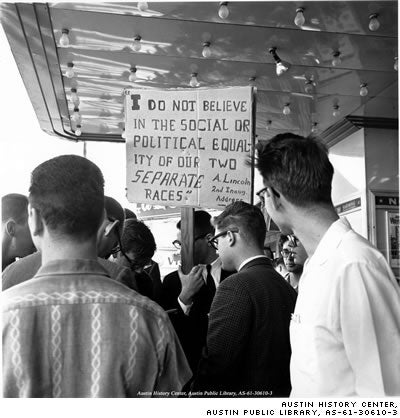 C. Creation of Asian American studies program; 10 students were arrested
During the 1990s, a student group called the Asian Relations Committee (ARC) and later, the Asian American Relations Group (AARG) worked to bring an Asian American Studies program to The University of Texas at Austin. In response to the activism of students and faculty, administrators put in place a search committee to find a director to head the program. Tensions arose between students, faculty, and administration during the selection process, which led to a sit-in at the West Mall Office Building and the eventual arrest of ten students. Those ten students were named the "UT 10" and were instrumental in pushing for the creation of the Center for Asian American Studies and the hiring of a permanent director.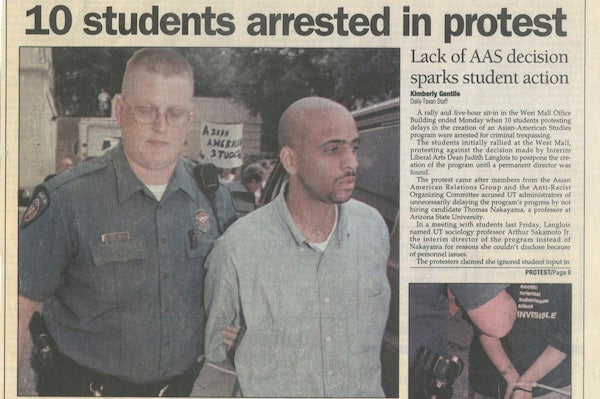 A. Eyes of Texas- Black President's Leadership Council, Rewrite not Reclaim
Last summer, the Black President's Leadership Council reunited to meet with administration addressing the Eyes of Texas and other Black student requests. After a report was completed on March 9, finding that the Eyes of Texas was not "overtly racist" even though it was written in a racist setting, BPLC called the report incomplete. On March 24, history professor Alberto Martinez, found different results of the Eyes of Texas in his own report stating, the song was written for a minstrel show and should not be the school song. In a letter written to the UT System Board of Regents, BPLC asked for the following demands to be committed to by May 1:

​​​​​​

Increased Wages for Entry Level Support Staff to $18/hr and student Workers on Campus to $15/hr

Commit to developing an Affordable Housing Plan for UT Students.

Increasing scholarships, financial aid and internship opportunities for Black students.

A student activity center in East Riverside.

Funding for departments that focus on marginalized communities through research.

Increase transparency between the UT administration and students. 

Monthly check-in meetings detailing progress towards completion of outlined objectives

Developing affordable housing for students.

UT must build additional on-campus housing to ensure students have affordable options in the future, especially as housing on Riverside is destroyed for luxury development.

Completing the official Black UT Community demands. (Information via BPLC List of Demands )

The co-directors of this council is led by Communication and Leadership and Government Major Brianna McBride and Muhammad Muhdhar. 

There are other groups against the Eyes of Texas. Rewrite not Reclaim, is a group of alumni and current students last year who made waves after taking to social media to stand out against the Eyes of Texas. Differently from BPLC, they took a creative approach to call out the administration for their lack of work to address the song in the 2020 fall semester. They made a video gathering various Longhorn band members and Black student leaders and student athletes across campus to not only educate but take a stance against the song's racist ties. The video gained a combined 60,000+ views on their Twitter and Instagram platforms. Most importantly, in addition to their videos, Rewrite Reclaim created a petition to boycott the song. The petition has over 1750 signatures. 

Rewrite Reclaim also has created a

list

of resources and information regarding the school song's history.
B. Cops Off Campus- Protests of Daunte Wright's murder, April 2021
In the aftermath of George Floyd's murder by Minneapolis police officer Derek Chauvin, UT Austin students, staff and faculty widely circulated a petition titled "

Defund the Police at the University of Texas at Austin

". An organization named

Cops Off Campus

was also formed. 

Cops off Campus UT is an organization dedicated to getting cops off of campus at UT. Daunte Wright, a 20-year-old Minneapolis Black man who was shot and killed by police officer Kim Potter on April 11, 2020. Wright was stopped for an expired registration tag and air freshener hanging from his window. When police noticed his outstanding arrest warrants, they attempted to arrest him, but he was fatally shot by Potter who claims she mistook her gun for a taser. On April 14, the UT organization formed a protest on campus to call attention to Wright's murder. The organization sent out emails and used social media to spread awareness. On April 19, the group protested at the tower to call justice for Adam Toledo, a 13-year-old murdered by a police officer in Chicago, IL. Since these protests the organization has continued to meet and plan changes to get cops off of campus. On May 3, 2020, the national charter of the organization called for a

campus wide work stoppage

to bring awareness to racial injustice and the abolition of campus police. They created a

pledge

to get students and workers to commit to the National Day of Refusal.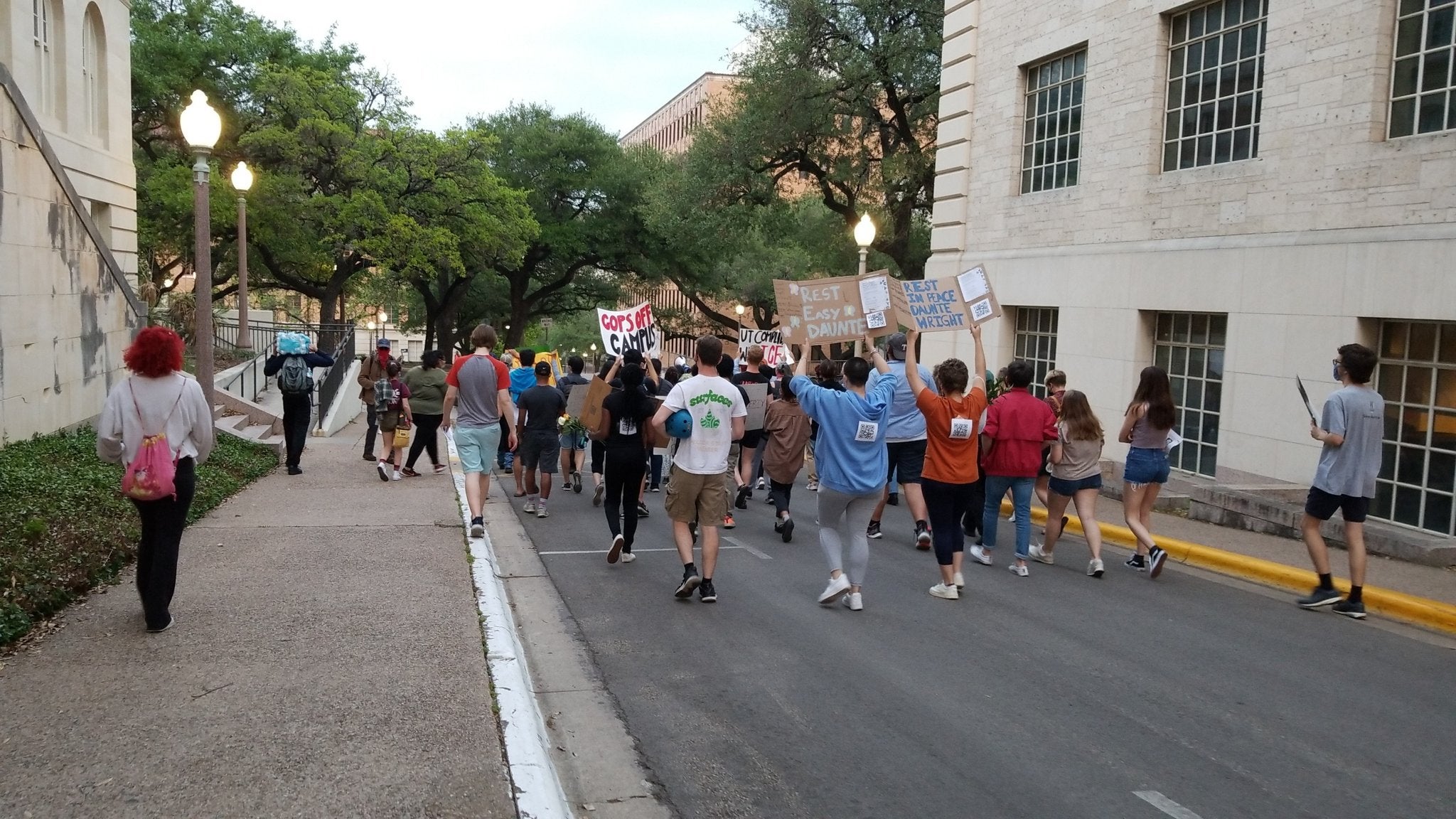 C. Palestine Solidarity Committee
The Palestine Solidarity Committee is an Austin organization (comprised of mainly UT students) dedicated to standing in solidarity with Palestinians in their struggle for justice and self-determination. The organization has historically and presently organized for "resistance against Israel's settler colonialism and ethnic cleansing of Palestinian people".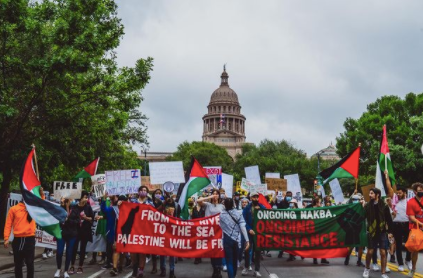 D. Underpaid at UT
In April 2019, hundreds of UT graduate students and supporters of the advocacy group Underpaid at UT protested throughout campus to call for living wages and fair working conditions. Underpaid at UT is a graduate student worker advocacy group that is committed to ensuring equitable access to quality education by demanding the university to raise stipends, create accessible child care, housing, and a fully funded year-round health and mental health care. The advocacy group's research shows that 65% of graduate students receive stipends $7,000 below what the university considers a living wage, creating a critical financial barrier for graduate students to continue their roles as teaching assistants and assistant instructors alongside their studies. While many other universities waive tuition for teaching assistants, Underpaid at UT is asking UT to address this disparity through better conditions and has accumulated over 3,000 petition signatures since the 2019 protest.  You can learn more and support the movement here.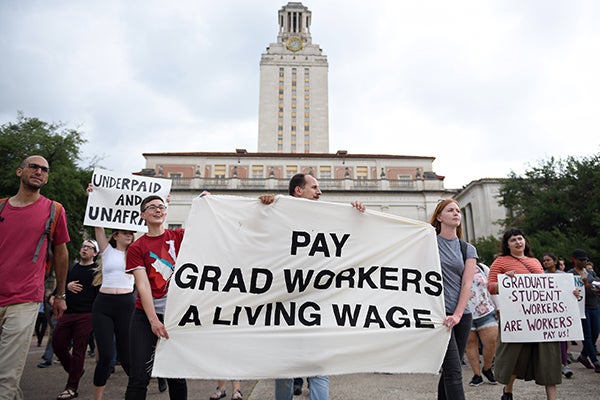 E. Protests against sexual misconduct and Title IX ( CASM (Coalition Against Sexual Misconduct))
In the fall semester of 2019, students formed a coalition to demand transparency and accountability from the University regarding professors guilty of sexual misconduct. Coalition Against Sexual Misconduct, or CASM led several Sit-ins outside the Provost's office, had more than 1,300 students sign a petition, and demand for the university to be transparent and push tougher penalties for sexual misconducts. Also during the fall semester a group of students, in a now deleted video, stormed the classroom of professor Sahotra Sarkar, whose sexual misconduct cases were reported. In January the university agreed to the release of reports documenting known sexual misconduct committed by UT staff/faculty between November 2017 to December 2019 and a few more dating back to 2013 taking some actions to fire On January 27, 2020, CASM led the Survivors Speak Out event, a student-led forum that was live streamed,  with President Fenves, Provost McInnis, and Dean Lilly.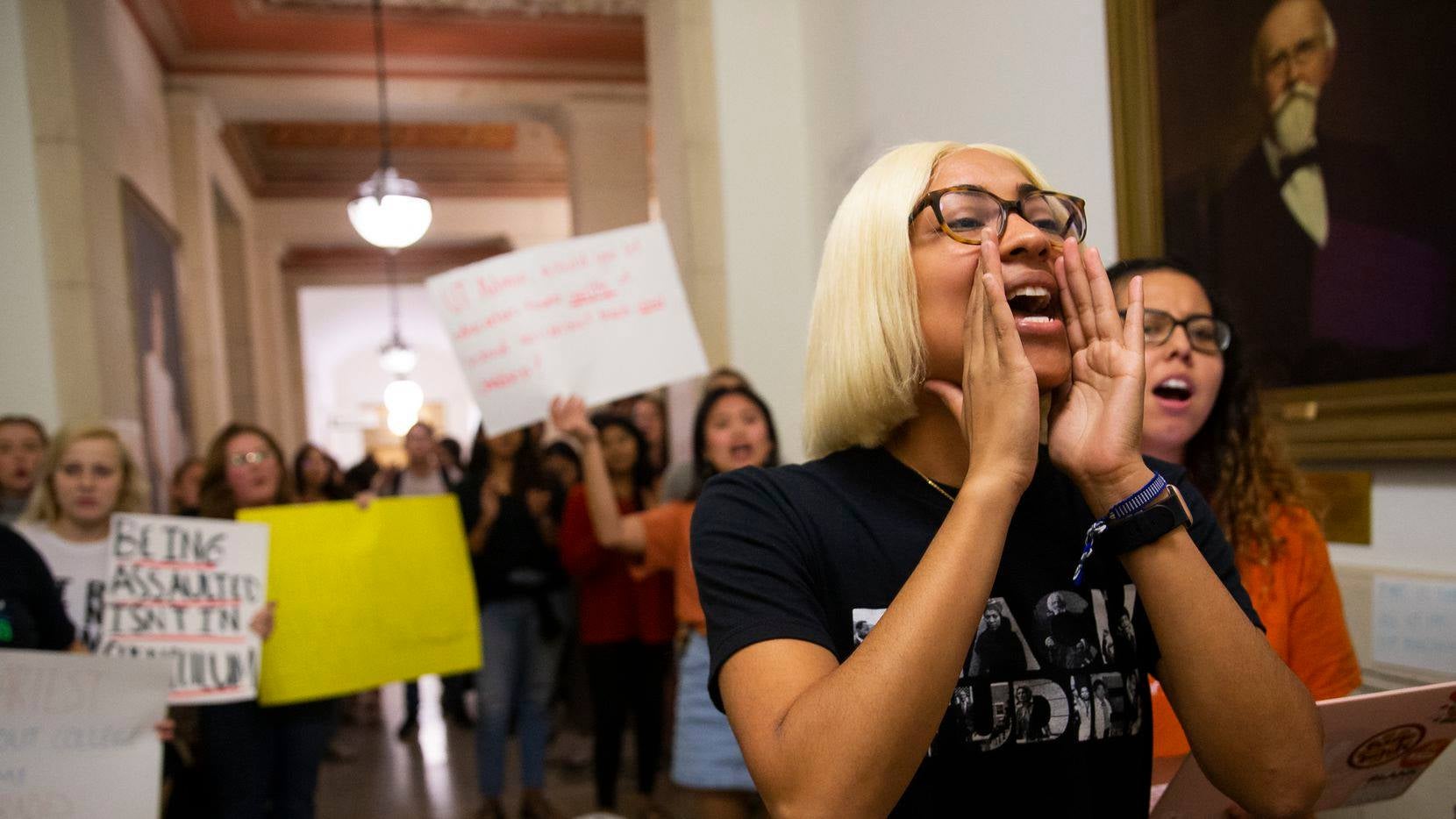 F. Mutual aid during the winter storm, COVID Mutual Aid ATX
During the historic February 2021 Texas Snow Storm, hundreds of thousands of students and families in Austin were displaced and left without power, water and food for days & weeks on end. With the use of social platforms (Twitter & Instagram) as a way for students to connect and find resources and places to warm up, Mutual Aid ATX, "a digital community center building solidarity and practicing collective care", rose to the occasion and provided endless resources for warming shelters for the homeless community, free meals from local restaurants and vital information for the well-being and safety of UT Austin Students. Beyond the need for a collective for available resources in Austin, Mutual Aid ATX was founded by UT Austin students in March of 2020 and was created in light of the impact of COVID-19 on students and the BLM frontline protests resources. The community serves as a means to amplify the organization of efforts through emergency funds, political education workshops/webinars and resource compilation.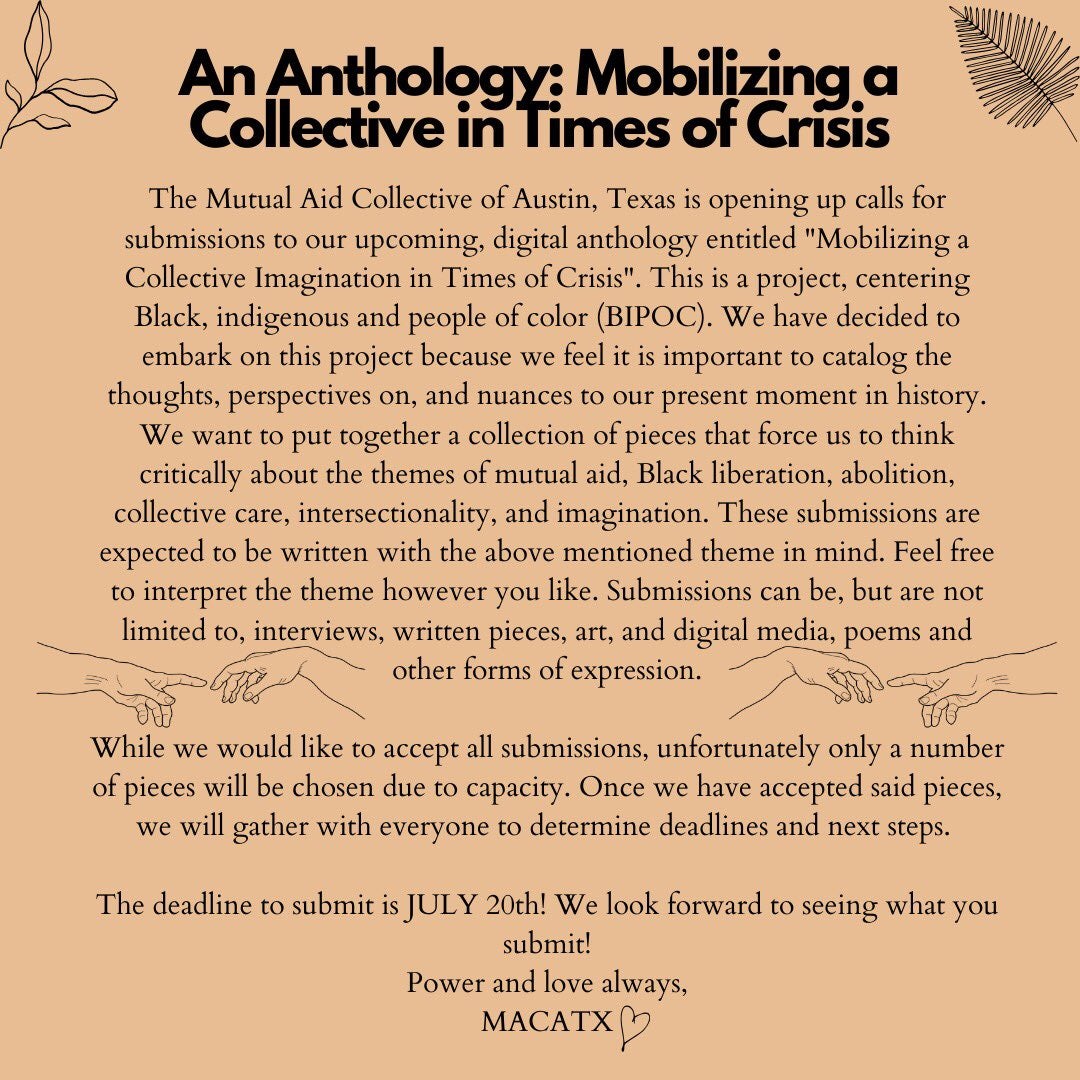 G. Lawsuits against UT & Affirmative Action
SFFA vs UT Austin

2019 (Angela Kang)
Despite the implementation of Affirmative Action at The University of Texas at Austin as a means to propel the need for diversity amongst students, there has been a simultaneous pushback and support for the policy. On October 10, 2012, Abigail Fisher, a white student, challenged UT Austin's consideration of race within the admission process for undergraduate students. Due to her admission denial from UT, Fisher argued that the university's implementation of race within the admission decisions went against her right to equal protection under the Fourteenth Amendment. With Hopwood v. Texas in 1996 ceasing race-conscious admissions, the Top 10 percent rule was implemented. After a Supreme Court case 2003 (Grutter v. Bollinger), the consideration of race was reinstated, and the use of race in admissions was permitted. In consideration of all of this, the question Fisher brought to the Supreme Court was if the Court's interpretation of the Fourteenth Amendment, including Grutter, allowed the use of race in undergraduate admission decisions. The denied student claimed that the use of race in UT's context didn't fall into the parameters of Grutter OR Grutter should be overturned. After a series of oral arguments, the Supreme Court ruled on June 23, 2016 by a vote of 4 to 3 affirming the Circuit Court's decision to uphold the consideration of race in admissions. More recently, UT students of color have had to defend affirmative action-based policies along with the Lawyers' Committee for Civil Rights under Law. Testifying against Students for Fair Admissions, a national organization fighting against affirmative action, Angela Kang, former President of UT spirit group Texas Orange Jackets stated that she has "a more informed view of what ethics looks like in biology with the voice of people who have been traditionally impacted by these decisions", referring to marginalized minority groups & families.
Fisher V UT Austin explained: Daily Texan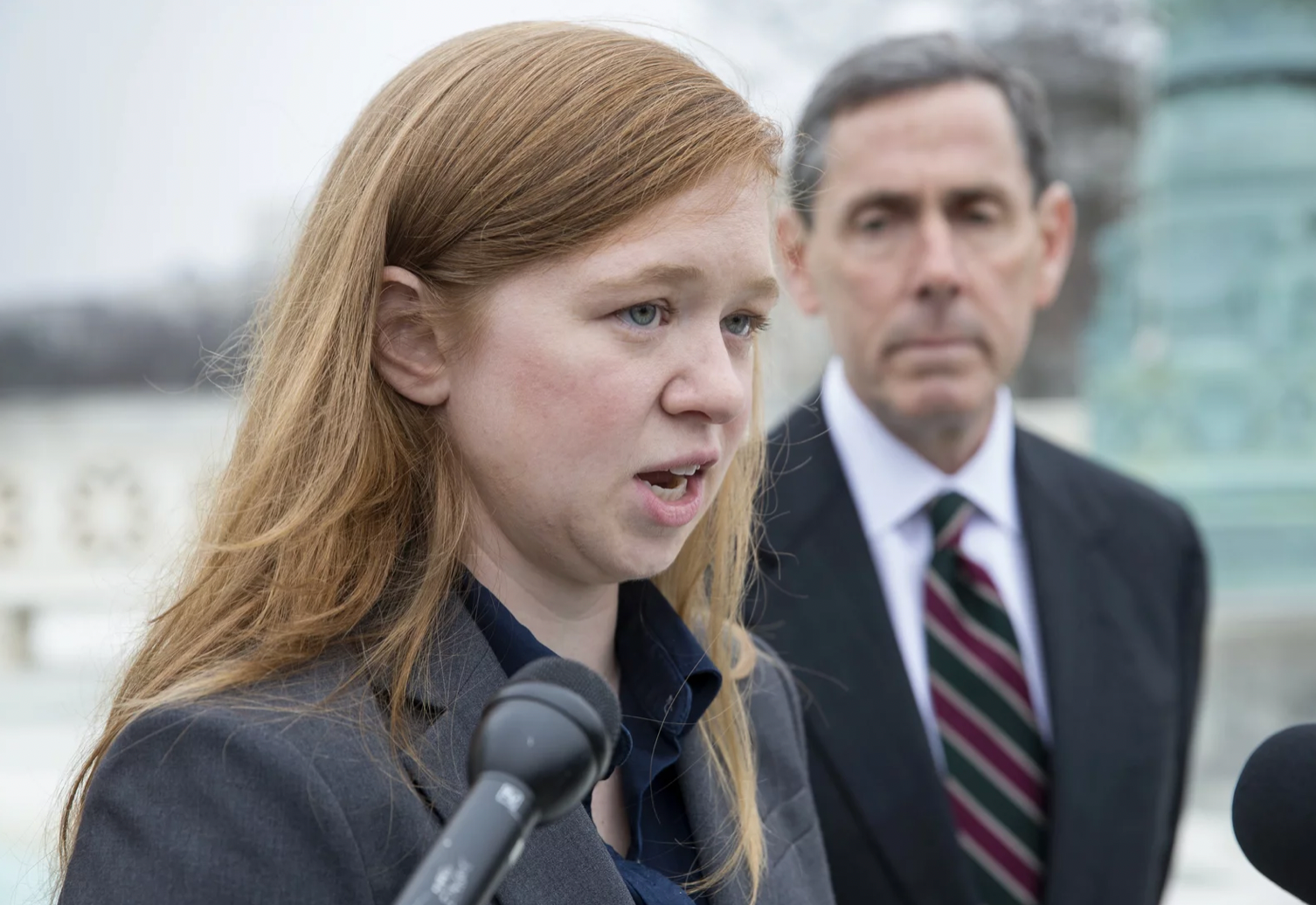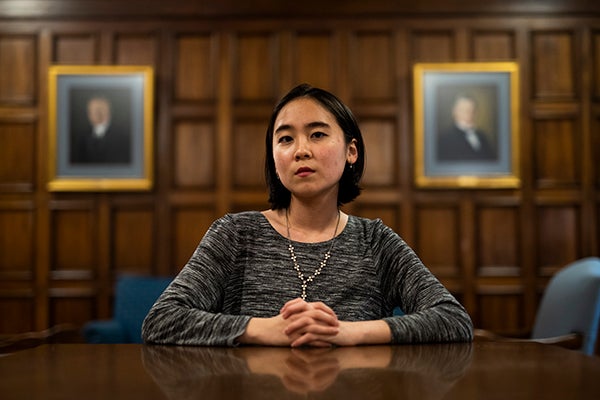 A list of organizations you can participate in: