This conference explored how educators can leverage student proficiency with new literacies for learning in formal and informal educational environments. It also investigated critical literacy practices that can best respond to the proliferation of new media in society. Topics included what sorts of media education are needed to deal with the rapid influx of intellectual and communication resources and how media professionals, educational theorists, and literacy scholars help youth understand the possibilities in this era.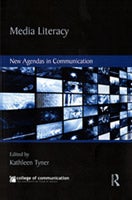 Offering contributions from scholars on the forefront of media literacy scholarship, this conference provided valuable insights into the issues of literacy and the new forms of digital communication now being utilized in schools. This study is highly recommended for media literacy scholars and students in communication, education, and media.
Publication: Media Literacy - Nov. 11, 2009
Editor: Kathleen Tyner is an associate professor in the Department of Radio-Television-Film at The University of Texas at Austin. She is author, editor, producer and co-editor of numerous books, articles, documentaries, and curricular materials related to literacy and new media, including "Literacy in a Digital World: Teaching and Learning in the Age of Information" (Earlbaum, 1998) and "A Closer Look: Media Arts 2003" (NAMAC, 2004) and the award-winning "Scanning Television II" (Jesuit Communication Project, 2002). Tyner conducts research and evaluation projects internationally about the uses of digital media for analysis and production in formal and informal learning environments.