Journalism and Citizenship
July 13-14, 2007
Journalism is in the middle of sweeping changes in its relationships with the communities it serves, and the audiences for news and public affairs it seeks to address. Changes in technology have blurred the lines between professionals and citizens, and partisan and objective bystanders, particularly in the emerging public zones of Internet blogs. This conference examined these changes and the new concepts needed to understand them in the days and years ahead.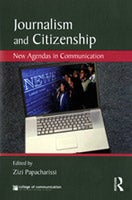 Publication: Journalism and Citizenship - July 14, 2009
Editor: Zizi Papacharissi (Ph.D., The University of Texas at Austin) is professor and head of the Communication Department, University of Illinois-Chicago. Her research focuses on the social and political uses of new media, and has appeared in New Media & Society, Harvard Journal of International Press & Politics, and The Journal of Broadcasting and Electronic Media, among others. She has two books including "A Networked Self: Identity, Community, and Culture on Social Network Sites" (Routledge, 2010) and "A Private Sphere: Democracy in a Digital Age" (Polity Press, 2010).