2504 Whitis Ave., CMA 5.102, Austin, TX 78712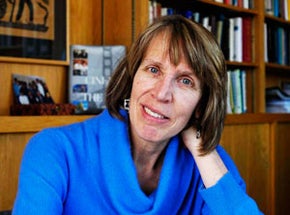 Sharon Strover is the Philip G. Warner Regents Professor in Communication and former Chair of the Radio-TV-Film Department at the University of Texas, where she teaches communications and telecommunications courses and directs the Telecommunications and Information Policy Institute. As of 2012, her externally funded research projects examine (1) the use of so-called "second screens" including laptop computers, smart phones, and other devices, with a view to understanding how people interact with new media as well as how the industry is adjusting its content and distribution strategies; (2) policy responses to the digital divide, internationally as well as domestically; (3) the economic benefits of broadband, particularly in rural areas. 
Recent Projects & Reports
Scholars' Roundtable
The Effects of Expanding Broadband to Rural Areas
This forum conversation occurred in December and January of 2009-2010. The impetus for the dialogue was twofold: First, in 2009, the Obama Administration made major commitments through its programs at NTIA and the Rural Utilities Service (RUS) to enhance broadband for populations lacking adequate service; second, as a nation we continue to debate whether the market will, in fact, deliver adequate Internet services and whether government investment is required. With the recent mid-term elections and the prospect of renewed scrutiny of federal investments, the significance of the following conversation is greater than ever.
America's Forgotten Challenge: Rural Access
Roughly 17% of the U.S. population lives in what is usually called rural America. Numbering approximately 50 million people, most live near a larger town or even within an hour of a major city, but many also may live in far more remote regions with limited driving access, much less access to air transportation. In spite of stereotypes surrounding the farming-based rural economy, in fact only about one percent of the American population actually lives on a farm, and as of 2004 only 6.2% of nonmetro jobs were in the agricultural sector. The occupations of the rural population, spread over roughly 80% of the land area of the U.S., are diverse, with about 12% of the rural population working in manufacturing, and a growing percentage working in retirement-destination and recreation-related industries. Nevertheless, people in rural regions share certain challenges. For some – such as people living in colonias on the border with Mexico - even having access to running water or sewage treatment facilities is a distant promise. Having access to basic infrastructure such as water, sewage, electricity, and telecommunications is taken for granted in most cities across the country, but in rural areas those facilities and their attendant capabilities have come later (or not at all), and they may be inadequate.
ImTV: Towards an Immersive TV experience
The media marketplace has witnessed an increase in the amount and types of viewing devices available to consumers. Moreover, a lot of these are portable, and offer tremendous personalization opportunities. Technology, distribution, reception and content developments all influence new "television" viewing/using habits. In this paper, we report results and findings of a transnational three year research project on the Future of TV. Our main contributions are organized into three main dimensions: (1) a user survey concerning behaviors associated with media engagement; (2) technologies driving the social and personalized TV of the 21st century, e.g. crowdsourcing and recommendation systems; and (3) technologies enabling interactions and visualizations that are more natural, e.g. gestures and 360º video.
Immersive television and the on-demand audience
The concept of "television," as Lynn Spigel pointed out in 2004, has changed to encompass viewing, using and sharing content on multiple screens. Alterations in media industry approaches to cross-platform content and entirely new opportunities for people to themselves generate content have joined with highly tailorable and mobile platforms to upset the norms of television viewing characteristic of the 1990s. Based on a binational survey of collegeage students, our research investigates the role of Internet-based content or application sources, alongside various user-owned technologies (e.g., mobile devices and laptop computers), in order to map the new dynamics of entertainment media, attending specifically to how viewers/users engage with "television" or visual entertainment, particularly with respect to the role of user generated content. This research has implications for how content industries will respond to the new preferences of people for "on-demand" media.
The bumpy path of technological transformation: digital inclusion
As social media, massively multiplayer online games, and a networked way of life become increasingly common components of daily life, it may be worthwhile to look back at how the research community initially framed ideas about the challenges of the Internet and convergence in order to diagnose not just our processes of investigation, but the manner in which we conceptualize new technologies. Moral panics and moral imperatives attach themselves easily to material artifacts and new technological systems. While these might seem like extreme ways of characterizing the response to the Internet, in fact they are entirely in keeping with how prior technologies have been incorporated into social life, and how the research community and governments have addressed technological transformations.