Answering Your Most Pressing Civics Questions
In May and June of 2016 and 2017, researchers at The University of Texas at Austin conducted the Texas Media & Society Survey (TMASS) to understand Texan and American views on the media, civic engagement, and politics. The results of these surveys generally pointed to an air of mistrust of journalists, the media, and elected officials. However, survey answers also indicated that Texans and Americans are misled about some civics basics like how to vote. In light of this revelation, the Annette Strauss Institute for Civic Life has provided some useful tips and tricks!
Keep up with current events and elected officials. Keeping up with local, national, and international news can be difficult. According to the TMASS, more than one-fifth of Americans do not follow local news closely or at all, and fewer people pay attention to national and international news. While the task can seem daunting, you can make following the news easier by incorporating it into your routine. If you use social media commonly, follow some news sources that you enjoy so that your news feed is peppered with local or national stories among your friends' life updates and instagram pictures of tacos. If you need a physical reminder, subscribe to get a local newspaper delivered, it's often cheaper than you would think! Business Insider has provided a list of most trusted news sources to get you started.
Keeping up with elected officials also can be time consuming. Just 14 percent of Texans and 18 percent of Americans reported that they had contacted a politician, with fewer people reported that they had participated in political activities over the internet. If you are unsure of who your state and national elected officials are, check out Who Represents Me. The USA.gov site also can help you contact elected officials from country and city officials to the president. Another easy way to keep up with your representatives is to follow them on social media sites.
Learn how to spot fake news. Digesting news is an important part of civic engagement - how else would you know your stance on local issues? Unfortunately, we have seen a spike in "fake news" spread online and according to the TMASS 28 percent of Texans are not confident in their ability to recognize news that is made up. About one-fifth reported that it was not easy to tell the difference between hard news and opinion in the media.
Spotting fake news takes vigilance and knowledge of valid news sources. Below are some pointers for how to identify false stories. When you encounter an article you suspect to be fake, make sure to scrutinize the headline, parse out the language, examine the source, watch out for op-eds and satire, and check your politics. Finally you can help to keep your friends and family accountable for sharing only verified stories.
Register to vote (a month) before Election Day. If you are not sure how to register to vote in the state of Texas, know that you are not alone. 22 percent of TMASS respondents said that it was possible to register on Election Day. However, according to the Texas Secretary of State, the last day to register is 30 days before the election date. You can register by filling out and mailing a voter registration application to the voter registrar in your county (what is this?). Note that in most counties, the tax assessor-collector is also the voter registrar. You will also have to use this form in order to change your address after moving.
Don't know if you are already registered? Check with the Secretary of State by using your driver's license. (If you do not have a license, you can also use your name, county, and date of birth). The site also will display upcoming elections and nearby polling places.
Show your photo ID at the polls. Ten percent of TMASS participants from Texas responded that it is not necessary to show photo ID on Election Day, and 13 percent were unsure. Voters in the state must present photo identification that is no more than 4 years expired at the polls. The following forms of ID are accepted:
Texas driver's license;
Texas Election Identification Certificate; (what is this?)
Texas personal identification card; (what is this?)
Texas license to carry a handgun;
U.S. military identification card;
U.S. citizenship certificate; or
U.S. passport.
If you do not possess one of the above documents due to a "reasonable impediment" (what is this?), you may submit a Reasonable Impediment Declaration and present an alternative form of identification, including:
Valid voter registration certificate;
Certified birth certificate (the original);
Current utility bill (a copy or the original);
Bank statement (a copy or the original);
Government check (a copy or the original);
Paycheck (a copy or the original); or
Government document containing your name and address (the original if it contains a photo).
If you possess an acceptable form of photo ID but do not have it at the polling place, you can vote provisionally. You will have six days to present your identification to the county voter registrar.
Vote early or by absentee ballot. The Texas Media & Society Survey also revealed some confusion surrounding early voting and voting by mail: 13 percent and 24 percent of respondents, respectively were unsure of these voting methods. Early voting is often available for statewide elections in Texas, which you can check on this site, and usually lasts for two weeks before the election date.
Texans also may apply to vote early by mail, a.k.a. by "absentee ballot," if you are:
65 years or older;
Disabled;
Out of the county during early voting and on election day; or
Confined in jail (but otherwise eligible).
Get involved with volunteer opportunities. The majority of both Texas and US TMASS respondents reported that they found being active in voluntary organizations to be at least somewhat important. If you are lost on where to begin looking for volunteer work, there are several websites dedicated to doing just this! Try out VolunteerMatch or Create the Good to explore local volunteer opportunities given your own interests, experience, and abilities.
Besides volunteering, donations are also incredibly important to support good charity work that you may not be able to participate in yourself. Charity Navigator evaluates charities to ensure that you are giving to a worthwhile cause. Use the search function to donate to causes you care about.
If public service seems to be calling you, look up your city's website to find city-affiliated organizations that you can join to support your community. Local governments often need warm bodies to run polls on election day, provide input on government services, or for tasks like park clean-ups.
How To Spot Fake News
In light of the recent revelations on Capitol Hill that Russian actors actively planted false news stories online in an effort to sway the 2016 national election, it is more important than ever that citizens learn how to defend themselves. According to the Texas Media & Society Survey, conducted by researchers at the Annette Strauss Institute for Civic Life, about one in every seven people believe they have shared a political news story online that they later found out was made up. Furthermore, nearly 30 percent of respondents reported that they were "not very" or "not at all" confident in their ability to recognize fake news.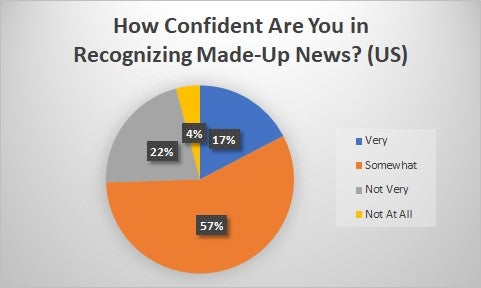 Texas Media and Society Survey
In the age of social networking where we are flooded by information, it is easy and natural for our brains to pick out news stories that we already agree with or that provoke a sense of righteous anger. This is because, psychologically, we work in the frame of heuristics: mental shortcuts people use to form judgments. Heuristics encourage biases because they allow people to make snap decisions by focusing on only one part of a complex problem.
For example, you often see hyper-fit, beautiful, and successful people in gym membership advertisements. Our initial reaction to seeing that ad is to associate the gym with improved looks or a better life. This method is also how political parties create their frameworks: just by seeing a candidate on the ballot is a Republican, you should immediately associate that person with certain beliefs and policies. But marketers and political parties are not the only people who use heuristics to their advantage; clearly the purveyors of fake news stories have caught on as well.
Often times, a fake news story will look upon first glance like any other story: a flashy headline meant to grab your attention, an eye-catching picture, and some brief informational blurb meant to make you click the link.  For example, this article which claims that Stephen Hawking was accused of sexual assault is leveraging recent high profile sexual misconduct allegations to make a plausible-sounding story. However, this article is not based in any real fact. Fake news authors rely on the fact that we will make snap judgments and believe the story to be true without doing further research into its reliability.
Around 45 percent of TMASS respondents said that they only check the accuracy of the news they consume either "some of the time" or never. The real fight against fake news begins here: citizens must check the accuracy of the news they consume to verify its authenticity. Question why you think a story could be credible, whether anyone would benefit or be harmed by the message, and whether a second source can back up the information.
So how do we fight our own natural tendencies? Here are some tips and tricks:
Scrutinize the headline. The first thing you can judge a story by is its headline, and perhaps an accompanying title picture. Be careful of sensationalized or "click bait" phrases that are meant to trigger heuristics and cause a quick emotional reaction.
Parse out the language. Oftentimes, stories that provide just the news (not opinion pieces) steer clear from using inflammatory language and instead tend towards more dry-sounding and straightforward information.
Examine the source. You should look more closely at the website by visiting the "about" or "contact us" page. Googling the author or any sources quoted in the article also may be a good idea if you still are not sure.
Watch out for op-eds & satire. While opinion pieces can often be illuminating, you should read them with a grain of salt given that the author is trying to sway you towards a certain perspective and could be manipulated data to do so. Satire, like the New Yorker's Borowitz Report, can also be confusing to spot if you just read the headline.
Check your politics. News stories come with a range of perspectives, with some having a more left- or right-leaning bias. However, just because a story confirms or refutes the claims of one political party does not make it fake news. Check your own political beliefs to make sure you do not believe a story simply because you want to believe it, or disbelieve a story that sounds bad to you.
Keep each other accountable. Just like with any security matter, if you see something, say something. Ask hard questions about the source of stories your friends or family post on Facebook. Keep up the conversation so that everyone has the same toolset and can check each other's information.
If you are still unsure of whether a story is real, you can consult Snopes.com, FactCheck.org, or other trusted experts as well.