2504 A Whitis Avenue (R2000), Austin, TX 78712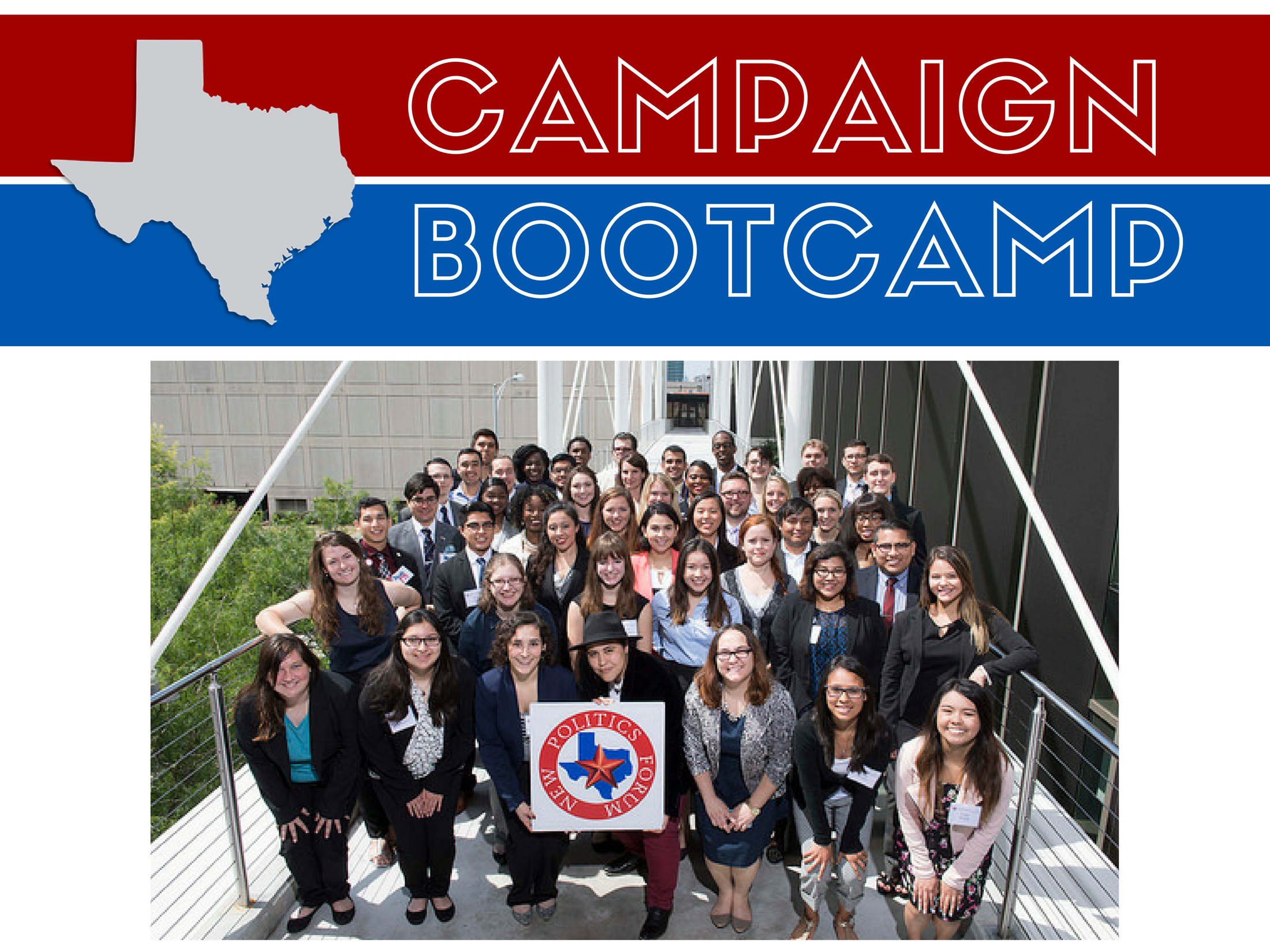 Campaign Bootcamp is a three-day nonpartisan training that gives young people the opportunity to experience a practical introduction to what it's like to work on and run a political campaign.
Hands-on workshops are taught by active political professionals on topics such as campaign management, finding your campaign narrative, crafting your field plan, volunteer management, fundraising, and more.
The New Politics Forum's Campaign Bootcamp also features a unique, interactive component where participants work together on mock campaign teams to craft a real-life campaign plan for their candidate. At the end of the weekend, teams present their plans to our mock "Texas Campaign Commission" of political professionals to try and win their endorsement.
Campaign Bootcamp from Annette Strauss Institute on Vimeo.
Comments from program participants
"The speakers were engaging, funny, and incredibly informative. I was not sure what to expect, but even today has given me a much-needed boost of confidence that I can apply to not only my opportunity as a legislative intern, but other aspects of my life--had a great time!"
"The personal perspective and opinion of the guest speakers helped give an inside and realistic view of the political process."
"I was challenged to accept that other people, even on my team, would have vastly different views than me; but the Bootcamp gave me the opportunity to find out how to communicate my views and reach a compromise that was ultimately beneficial for my team."
2017 Campaign Bootcamp Mentors and Trainers
Luke Marchant
Luke Marchant (R), currently Vice President at Hill+Knowlton Strategies, has served as president at 365 Strategies, political director for U.S. Senator Marco Rubio and campaign manager for Pete Olson for Congress. Luke is dedicated to helping the next generation get into the political game and has served as the Campaign Bootcamp Republican Mentor since 2013.
Matt Glazer
Matt Glazer (D), currently director of the Austin Young Chamber of Commerce, has over 10 years experience in online organizing, political consulting, and public relations. To date, Matt has worked for nearly 50 political campaigns and nonprofits. Previously, he served as executive director of the Texas Research Institute and executive director of Progress Texas. Matt is a New Politics Forum alumnus and has served as a trainer and speaker at numerous NPF events.
Liz Chadderdon
Liz Chadderdon (D) is president of Chadderdon Lestingi Creative Strategies and former President of the Chadderdon Group, the first solely female-owned Democratic direct mail firm in the country. During her time as a direct mail consultant, Liz has created messaging, strategy, and persuasion mail for presidential, congressional, legislative, and municipal races in 25 states.
Monica Gomez
Monica Gomez (D) was born in El Paso, Texas and grew up in New Mexico politics. Monica volunteered on her first political campaign as a 16 year-old freshman in college. She has been actively involved with the New Mexico Democratic Party since the 2004 Presidential Election, serving as a state central committee member, chair and vice-chair of the New Mexico College Democrats and a committee member of the Hispanic Caucus of the College Democrats of America. One of her most notable wins was the defeat of an eighteen-year incumbent to elect her father to the New Mexico House of Representative in 2014. In 2016, she moved into Texas politics, serving as the campaign manager for State Rep. Lina Ortega's primary race (HD-77). She later returned for the general election to manage State Rep. Victoria Neave's successful campaign in Dallas (HD-107), one of the closest races in the state.
Chris Perkins
Chris Perkins (R) currently serves as partner at Ragnar Research Partners and former partner at WPA Opinion Research. With over 10 years experience in quantitative and qualitative analysis, Chris is an expert in formulating winning campaigns. In the 2010-2012 election cycles, Perkins polled for 44 winning Republican candidates for the state legislatures, U.S. House of Representatives, U.S. Senate and statewide offices and was awarded a "Pollie" Award for Best Polling Technique for a successful U.S. Senate election.
Joe Deshotel Jr.
Joe Deshotel (D) is originally from Beaumont, Texas, but a combination of live music, politics and natural beauty brought him to Austin in 2010. After realizing Austin faced its own growing pains, he developed a passion for finding solutions to improving urban transportation and creating a more equitable community by addressing the city's affordability crisis. He has built a career in Public Relations that began with successful local political campaigns and led to altering the national narrative on ridesharing in his current role as Director of Community Engagement for RideAustin. Joe has had the honor of introducing President Barack Obama on stage, receiving awards for his political commentary and has been quoted in dozens of local and national publications.
Pasha Moore
Pasha Moore (R) is the founder of Holland Taucher Consulting Group (HTCG), a full-service political and nonprofit fundraising and event planning firm. Pasha also serves as administrator of Maverick PAC. During the 2004 presidential election, Pasha served as finance director for the Bush-Cheney campaign in Arkansas. She has worked with over 3 dozen campaigns, political organizations, and non-profits in various fundraising roles.
Meagan Gardner
Meagan Gardner (D) was the National Voter Outreach and Mobilization Program Director of Hillary for America. Previously, she was an associate director of public engagement and intergovernmental affairs at the White House. She also acted as the Iowa field director on the Obama campaign in Fall 2012 after serving as a national regional field director in Chicago from June 2011. Other positions of Meagan's include national regional director at Organizing for America-DNC, WV state director for Organizing for America, and regional field director on Obama's Campaign for Change in Ohio.
Taylor Holden
Taylor Holden (D) is the Development Director for ProgressNow Colorado and the former Development Director at New Era Colorado. A Texas Hill Country native, she previously served as Executive Director of the Dallas County Democratic Party, as Regional Field Director for President Obama's reelection campaign, and she's spent thousands of hours organizing communities in support of various issues and candidates. Taylor is deeply passionate about election access, racial and gender justice, and believes democracy is best when more people participate. Returning for her second year as a Campaign Bootcamp speaker, she's thrilled to dive in on fundraising and strategic capacity building.
Tyler Norris
Tyler Norris (R) has spent the first decade of his professional life in Austin and Houston working for conservative candidates and becoming one of the most experienced legislative staffers under the age of 30. Now working his 5th legislative session, Tyler has done two tours of duty in both the House and Senate, working his way up from intern to Chief of Staff. Tyler joined Public Blueprint after working on the Cruz for President Campaign as Texas Director. From Houston, Tyler directed the vaunted "Iowa Strike Force" – an unprecedented grassroots effort that housed and utilized over 1500 volunteers to help Sen. Cruz win first at the Iowa Caucus.
Enrique Marquez
Enrique Marquez (R) serves as the Director of External Relations for the Texas Health and Human Services System. In this capacity, he oversees the divisions of Government Affairs and Media Relations.
Marquez previously served as communications director for the Texas Health and Human Services Commission, the Texas Commission on Environmental Quality, and the Texas Association of Business. He also was a senior adviser to Lt. Governor David Dewhurst during the 83rd Legislative Session and press secretary for Speaker of the House Joe Straus from 2010-2011.
Marquez is a campaign veteran who held the roles of Campaign Manager for Dan Branch's 2014 campaign for Attorney General, and Deputy Campaign Manager of David Dewhurst's 2012 campaign for US Senate.
Marquez is a graduate of The University of Texas at Austin, and lives in Sunset Valley with his wife Brandy and their three-year old son Max.
Rob Johnson
Rob Johnson (R)is the founder of Johnson Strategies, LLC. He most recently worked as an advisor on Carly Fiorina's presidential campaign, and in the 2010 gubernatorial election, he served as campaign manager for Governor Rick Perry's successful re-election campaign. He has also served as Chief of Staff to Texas Lieutenant Governor David Dewhurst and ran Dewhurst's successful 2002 campaign. He is an SMU graduate and lives in Austin with his wife, two kids, and a dog.
Eliza Vielma
Eliza Vielma (R) is the founder and CEO of ESV Creative, LLC. She recently concluded her tenure as Digital Artist-in-Residence for Overflow Communications, during which she supported political and corporate clients in leading fruitful conversations with their target audiences. As Director of Communications for Texas State Senator Brandon Creighton (R-Conroe), Eliza excelled at the full range of legislative communications. Prior to that, she won acclaim for her work as Director of Digital Media for Lt. Governor David Dewhurst on both his campaign and stateside teams. Previously, she spent six years as the Director of New Media and Legislative Affairs for Americans for Prosperity – Texas. She has happily shared her social media wisdom with conservative communicators at every skill level as one of the original founders AFP Foundation's first RightOnline Conference.
Priscila Martinez
Priscila Martinez (D) Priscila Martinez is originally from Mexico but grew up in Michigan where she attended college at the University of Michigan, Ann Arbor with with degrees in Sociology and Political Science. As an undergraduate, Priscila was active in the national immigrant rights movement as an organizer of the first Movement Building Training in Michigan preparing undocumented students and as a planner for the first civil disobedience action in Arizona by undocumented students. After graduation, she organized immigrant fruit-packing workers in their fight for back wages. In 2012, she was selected as a Field Organizer for the Obama Presidential Campaign. That experience led her to Texas to continue to organize and mobilize Latinos with Battleground Texas. Priscila worked on the border for the Wendy Davis Campaign managing a team of 10 and eventually a team of 50 towards the end of the campaign. She later became the Training Director for the organization running the Texas Future Leadership Program that trained 100 people of color to run for office and eventually became the State Field Director. Currently, Priscila is working as a Training & Program Director for the Texas Democratic Party.
Maegan Stephens
Maegan Stephens (Ph.D, UT-Austin) is an Executive Communication Coach at Quantified Communications, where she uses the latest research in communication science to help Fortune 100 leaders, TED speakers, and government officials develop and deliver their key messages. Her work has been featured in such publications as Journal of Information Technology and Politics, ABC News, and Bloomberg. Maegan is also a lecturer in the McCombs School of Business at The University of Texas at Austin.
Anthony Gutierrez
Anthony Gutierrez's first campaign job was in 2002 - working as a canvasser going door to door for a gubernatorial candidate who would go on to lose by an amazingly embarrassing margin. Since then Anthony has gone on to do literally every job a person can do on a campaign including managing races at the congressional, legislative and local levels. Among the candidates he helped elect to office were Congressmen Marc Veasey, Pete Gallego and Ciro Rodriguez.
Anthony has also spent considerable time training and mentoring candidates and campaign staffers during stints with the Democratic National Committee and the Texas Democratic Party.
In June of 2016, Anthony took over as Executive Director at the Texas chapter of Common Cause - a nonpartisan organization that is currently running several advocacy campaigns in Texas aimed on achieving various democracy reforms.