The Electorally Speaking Project features a set of studies addressing how people talk about voting in the United States and why it matters. The research has embraced longitudinal, content analytic, experimental, elite interview, and survey methodologies. A book, reports, and articles appear below. 
How to Talk About Threats to Elections in Ways That Won't Dampen People's Desire to Vote
This report offers two findings to consider when talking about voting. When discussing threats to elections in or in interviews with journalists or on Twitter, it is important to address threats (and solutions to those threats) surrounding the mechanics of elections. 
Read the Electorally Speaking Report:
Coming soon:
What Does Rigged Mean? Perceptions of Threats to Elections in the United States (Full Report)
Voting > Elections (Full Report)
Votes That Count and Voters Who Don't: How Journalists Sideline Electoral Participation Without Even Thinking About It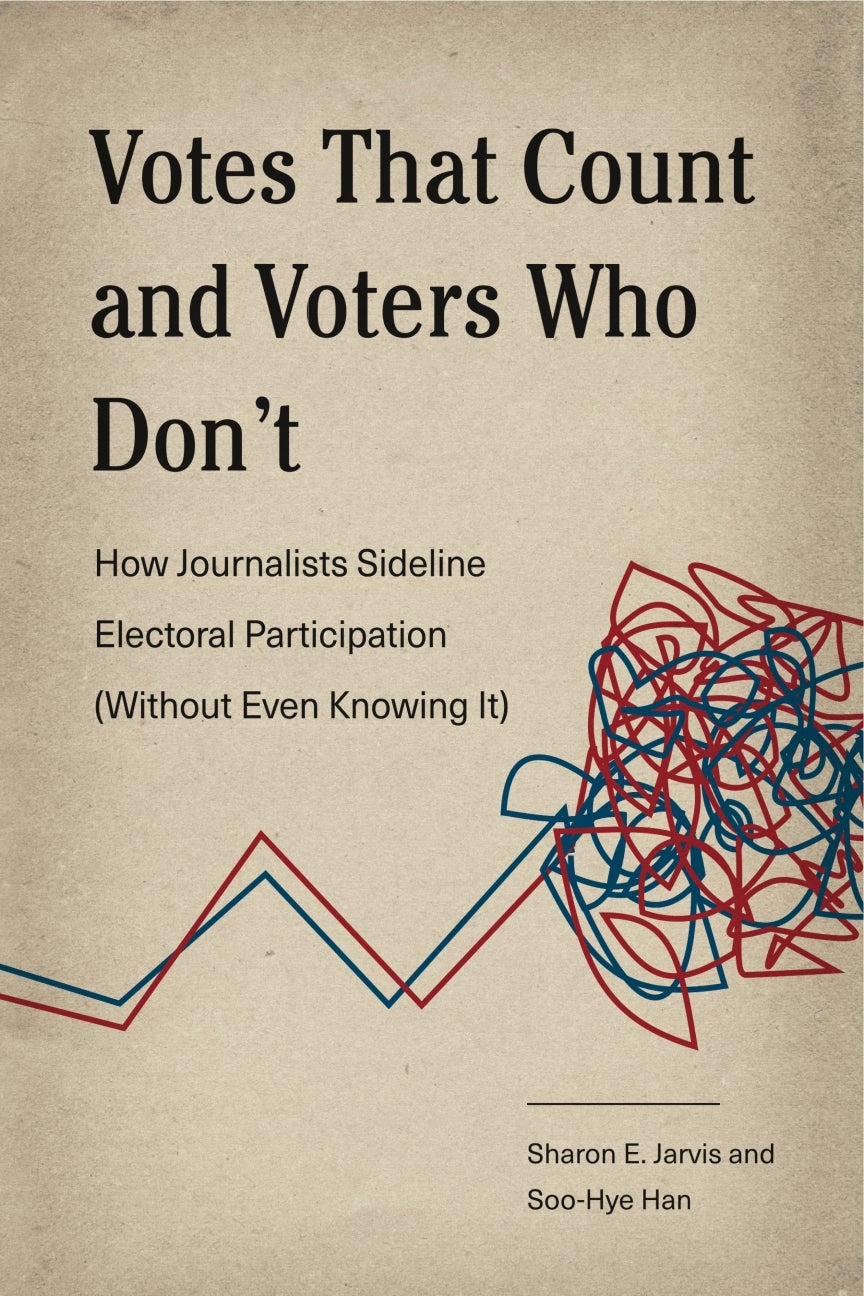 This book reveals how the words vote, voter, and voting have appeared in print news coverage of presidential elections (1948-2016), what types of stories make people want to vote (versus make them angry at the media), and why journalists write the stories they do. The research combines an extensive content analysis, experiments and focus groups, and interviews with over 50 reporters.
---
Published by Pennsylvania State Press
Award and press:
Related publications:
Jarvis, S. E., & Jennings, J. (2017). Republicans should vote: Partisan conceptions of electoral participation. American Behavioral Scientist, 61(6), 633-644.
Jarvis, S. E., & Jennings, J. (2017). Trump supporters versus Republican voters: How frustration with the media separated the GOP in 2016. In D. Schill and J. Hendricks (Eds.), The presidency and social media: Discourse, disruption, and digital democracy in the 2016 Presidential election (pp. 56-71). New York: Routledge.
Jarvis, S. E., & Han, S. (2013). From an honored value to a harmful choice: How presidential candidates have discussed electoral participation (1948-2012). American Behavioral Scientist, 57(12), 1650-1662.
Jarvis, S. E., & Han, S. (2011). The mobilized voter: Portrayals of electoral participation in print news coverage of campaign 2008. American Behavioral Scientist, 55(4), 419-436.
Contact
Sharon Jarvis
2504 A Whitis Avenue (R2000)
Electorally Speaking Project
Annette Strauss Institute for Civic Life
University of Texas at Austin