2504 A Whitis Avenue (R2000), Austin, TX 78712
512-471-1959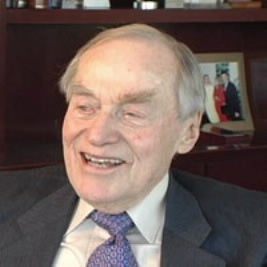 Bernard Rapoport believes in the power of love and education to transform society. The son of Russian Jewish immigrants, Rapoport's father escaped Siberian exile and ultimately settled in San Antonio, Texas in the early 1900's. Rapoport learned the lessons of social responsibility and justice first hand. As a young man, Rapoport was given three pieces of advice by his father, protect your name, read a book everyday and always have a sense of outrage at injustice. With those guiding principles, Rapoport has achieved great things both in the business world and as a philanthropist. Starting out with a $25,000 loan, Rapoport built a life insurance company, American Income Life Insurance, into a business worth $1 billion! Most people would stop there but Rapoport has taken his material success and shared it generously. His contributions range widely providing grants to Senior Services, service scholarship monies to the University of Texas, assistance to the Jewish community centers and public television. Last year his foundation contributed over $2.5 million dollars to the community. As seen in his video he also supports the Rapoport Academy a charter school in East Waco that educates economically disadvantaged children with a commitment to high academic standards.
Bernard Rapoport from Annette Strauss Institute on Vimeo.
Lessons for Bernard Rapoport
Charting Social Responsibility
Trustee: Bernard Rapoport
Grade Level: 9-12
Time: 90 minutes
Description: Students will learn about social responsibility and evaluate the concepts of "self-made" and corporate responsibility.
---
Business vs. Public Good
Trustee: Bernard Rapoport
Grade Level: 9-12
Time: 45 minutes
Description: Students will research a foundation and its founding member.
---
A Country of Immigrants, More or Less
Trustees: Amy Wong Mok and Bernard Rapoport
Grade: 6-12
Time: 90 minutes
Description: Students compare and contrast notions of citizenship and non citizenship and examine patterns of immigration in the US.