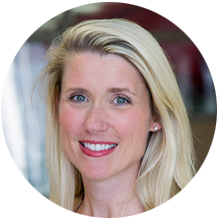 Courtney Byrd
Founding Director
We welcome you to the Michael and Tami Lang Stuttering Institute where we strive to further our understanding of stuttering and to use that new knowledge to enhance our treatment and advance clinical competencies. Translating theory to practice was instilled in me by my mentor during my master's degree program Dr. Jennifer Watson and my doctoral studies mentor Dr. Edward Conture. I will be forever indebted to them for their exceptional examples and contributions to the field.
Stuttering is a communication difference characterized by an atypical disruption in the forward flow of speech. Without adequate treatment for and/or understanding of the complex nature of stuttering, this difference can and often does impact the academic, emotional, social, and vocational achievements, development, and potential of individuals who stutter1. Within the field of speech-language pathology, receipt of the Certificate of Clinical Competence (CCC) is dependent on the student clinician's understanding of and ability to provide evidence-based practice2. This particular competency requirement is critically related to the student clinician's ability to translate research to practice. Researchers have demonstrated that the earlier students are exposed to translational research in the academic setting and the earlier they are exposed to clinical cases, the more likely they will become respected experts in their area of study3. Unfortunately, among the communication differences considered to be fundamental to the scope of practice for speech-language pathologists, stuttering has historically been and continues to be the difference for which most speech-language pathologists report minimal to no clinical or academic exposure and/or competency 4. Yaruss and Quesal (2002) reported that of 159 accredited graduate programs across the U.S., 23% allowed students to graduate without any formal course in stuttering. Additionally, recent survey data 5 indicate 97% of undergraduate programs (of 115 accredited programs across the nation) allowed students to graduate with no exposure to fluency differences.
Given the documented lack of adequate academic and clinical training in stuttering, it is not surprising that speech-language pathologists report stuttering as the difference they feel least comfortable assessing and/or treating6. In fact, a recent review of membership rosters from three prominent stuttering-based organizations (i.e., ASHA Special Interest Group 4 – Fluency and Fluency Differences [SIG-4], Stuttering Foundation of America [SFA], and Specialty Board on Fluency Differences [SBFD]) indicate as low as 1,250 professionals who self-identify as experts in fluency differences. These numbers suggest less than 1% of clinicians practicing in the U.S. (n = 135,948)7 consider themselves to be willing and competent service providers for approximately 15 million children and 3 million adults who stutter8. It follows that persons who stutter more than persons with any other communication difference have been exposed to assessment and treatment practices that are not evidence-based9.
Yet an additional clinical roadblock for persons who stutter is the struggle to achieve third party reimbursement10. Many persons who stutter are unable to receive services because the related cost is too steep and their requests and appeals for insurance support have been repeatedly denied. As would be expected, persons who stutter also often report anger, frustration, and disappointment regarding the deficient (and expensive) services that they have received11. This substandard cycle of poor training, compromised, costly services, and low client satisfaction has undoubtedly contributed to the significant decrease in the number of speech-language pathologists who specialize in stuttering12.
Taken together, the lack of adequate training, reported client dissatisfaction as well as the subsequent decline in specialization, further emphasizes the need for a means to expose students to the principles of evidence-based practice for stuttering at the earliest possible stage in their academic career. However, given the relatively few persons available who specialize in stuttering, most students will not have the opportunity to assess and/or treat persons who stutter until they are licensed Speech-Language Pathologists; thus, the substandard cycle of clinical practice continues. The Michael and Tami Lang Stuttering Institute has been established to provide our students with the early academic and clinical exposure needed to make significant, lasting contributions to the field. Through volunteer efforts and tax-deductible donations, we have and will continue to develop innovative treatment methodologies and clinical training tools. As a result, a growing number of persons who stutter and their loved ones will be provided the assessment and treatment services that are both needed and deserved. These evidence based services are offered at no charge; thus, the struggle to secure reimbursement is no longer a roadblock.
In closing, it is our sincere hope that the research and clinical outcomes of the Michael and Tami Lang Stuttering Institute will further our understanding of the multiple factors that contribute to the onset, development, and persistence of stuttering as well as clinician comfort and competency in working with children and adults who stutter. We also hope that the persons who stutter, their loved ones, and the student clinicians who participate in our program will be inspired to pursue their dreams, to speak from their hearts with no hesitation, and to live their lives to the fullest. With these goals in mind, together we can ensure our university's mission that what starts here changes the world.
Hook 'em Horns
Dream. Speak. Live.
Courtney Byrd
Founding Director
Michael and Tami Lang Stuttering Institute