Challenges in Teaching Large Classes 
---

Participation: engagement during class
Decades of research says lecturing is one of the least effective teaching methods. Focus on individual or group activities you can do in class, such as the following:
Entry/exit ticket

Think-pair-share

Polls

Minute paper

Chat

Collaborative documents such as Google Docs or Jamboards 
Check out this resource from University of Waterloo on Activities for Large Classes. 
---
Content Retention: engagement with course materials
"Muddiest point" minute paper

In-class exam reviews and essay preparation

Create class-wide study guide using a Google Doc or a Wiki page

Quescussions

(U. Waterloo)

Record student questions to check for retention or gaps

One-sentence summaries

Hand out index cards for note-taking
---
Personalization: engagement with professor and other students 
Survey/questionnaire

Find commonalities in the class and use those in your examples

Use survey data to help form groups based on similarities or differences 

See video below from Dr. Jennifer McClearen and feel free to download and use her sample student questionnaire. 

Student introductions

Have student introduce themselves using asynchronous tools, such as a discussion board or Flipgrid

Office hours

Consider hosting group office hours or encourage students to bring a friend

Have themes (bring a photo of your pet, share your favorite recipe) to encourage attendance

Group projects

Group projects (and peer review) can help reduce your grading workload 

Decide if it would be best to group students randomly, based on similar interests, or based on different skills (e.g., each group should have a writer, a videographer, and an editor)

Provide some time in class for group work

See video to the right 

Pods

Break the class into informal groups of 10-20 people so they can get to know a subset of the class 
Structured Group Projects 
---
The Art of the PowerPoint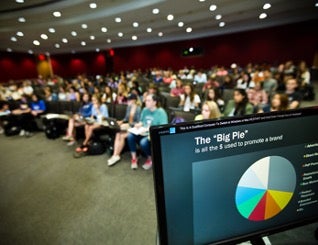 Keep your slides sleek and streamlined. It should not be so detailed that it can replace your presentation.
Limit text on slides

Use images appropriately

Leverage supplemental materials

Provide guidance on how to take notes

Use handouts during videos (e.g., worksheet)

Provide a 'skeleton' of your lecture, rather than full slides, to encourage engagement with the class video and other materials
The Teaching Team
Define clear roles and responsibilities for all member of the teaching team (instructor, TAs, AIs, ULAs)

Set clear expectations for the students in the class, including:

Preferred mode of communication

Availability, and times when not available (e.g., nights and weekends)

Expected turnaround time for responding to questions and posting grades

Schedule regular check-ins with the teaching team

Considering cultural differences that may affect how individuals interact within the teaching team and with students
Read more about 
Grading Workload
Balance individual and group assignments

Provide clear 

rubrics

for every assignment 

Incorporate peer evaluation into group assignments

Have group members evaluate each other based on a rubric

Peer evaluation helps students develop critical thinking and improve communication skills

Use the Canvas peer review tool for more efficient grading

Provide guidance on giving actionable feedback

Don't just agree or "like" parts of the assignment

Students should identify areas that can be improved and concrete suggestions for how to improve
Contact Us
Email us with questions, to request a training, or to make an appointment.