Examples and Resources
On this page you'll find: 
Inclusive teaching examples from Moody College faculty 
Faculty Feature: Speech, Language, and Hearing Sciences Inclusive Teaching Learning Community
Select One Thing That Works videos 
A range of inclusive teaching resources
Add a Resource!
If you know of or come across resources you think might be a good addition to this site, please let us know so that we can include them! Message us at MoodyCATE@austin.utexas.edu. 
Inclusive Teaching Examples from Moody College Faculty

Ivy Ashe, Journalism and Media
It can be challenging to build social presence in an online classroom. Using the built-in features of Canvas' discussion boards is one way of helping students get to know their classmates as well as their classmates' work.
Dawna Ballard, Communications Studies
The process of "ungrading" provides an opportunity for students to take a temporal approach to learning. The class content lends itself to this type of approach and supports "whole answers to problems. It puts theory into practice in the classroom." The approach was intended to open up a dialogue as a more holistic approach to evaluating student progress.

Meme Drumwright, Advertising & Public Relations
This exercise helps students examine the effect of group memberships on individual experiences, reflect on similarities and differences, and develop skill in talking about these differences. Before class, students identify a time they were a minority in a group and a time they were part of the majority. They answer questions about how they reacted, perceived others, and felt others perceived them. In class, students discuss their answers in small groups and think about the similarities and differences that they observe. Afterward, students share their observations with the class and discuss ways to create inclusive environments where all people can do their best work and be their best selves. Adapted from Mary. C Gentile's exercise, used with permission.
Communicating About Group Identities and Differences
Giving Voice To Values sketch
Jennifer Jones Barbour, Communication Studies
About 6-8 weeks into the semester, I ask my students to complete a course feedback survey "How is Class Going?". Once I have analyzed the student responses and figured out what things I need to celebrate, highlight and change I prepare and present to the class the results of the survey with actionable things that I and the instructional team will be doing to respond to their feedback. And then we make those changes.

Lee Ann Kahlor, Advertising & Public Relations
In my research class I always pick topics that push students to consider marginalized or underserved audiences so we've researched things like dating apps that serve same sex couples and BIPOC; cosmetics for Black consumers; athletic wear for Latinx consumers; Asian fast casual dining for Latinx consumers; Black Lives Matter partnering with corporations; etc. In my Psychology of Advertising class, I select examples of various psychological phenomena that prioritize BIPOC researchers, consumers and disparities.

Jennifer McClearen, Radio-Television-Film
One of the goals of all my graduate courses is to make the academy more transparent. Transparency is key to inclusivity because there are so many unwritten rules of how the academy operates and inconsistencies around what metrics academics are judged by. As a result, I devote a small section of each of my seminar classes to professionalization and navigating the academy. One of the things I want my students to learn is that it is okay to let go of things that are having a negative impact on their overall wellbeing. In fact, it's a key practice for navigating our profession.

Curran Nault, Radio-Television-Film
I picked this one because I know that many faculty members now teach the "Puppy Episode" of Ellen. So, I thought it might be particularly relevant to a variety of folx. Also, I imagine that folx believe that including this text is already an example of inclusive teaching (which, to an extent, it is). But, this assignment shows how we might take a discussion of this text (and its aftermath) a step further in terms of inclusivity. Perhaps this provides a useful example of how we might all push ourselves to be ever more inclusive and intersectional.
Adrien Sebro, Radio-Television-Film
In groups of four or five, you will conduct a research project related to race, class, gender, or sexual orientation and television in the last half of the semester. Over a period of a month, your group will explore a research question of your choosing; each person in the group will focus on one aspect of the topic. This project will entail either historical research, taking as a jumping off point one or more readings for this class, or a critique of a television network or television series, with a focus on race, ethnicity, class, gender, or sexual orientation. Other options could be a study of audience response to a television series or network, an exploration of media advocacy focused on television network or series, or research on web-based series production.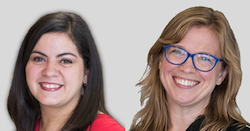 The Department of Speech, Language, and Hearing Sciences launched its Inclusive Teaching Learning Community this semester under the guidance of assistant professor Liberty Hamilton and clinical assistant professor Mirza Lugo-Neris. The community brings together faculty, staff, and doctoral students in a space to plan, practice, and engage with inclusive teaching strategies.
One Thing That Works
Hear from a sample of Moody faculty about how they are using small, easily implementable, and inclusive improvements to their classes to really make a difference in the learning experience for their students.
Open Educational Resources
Joshua Barbour
Communication Studies
Ashley Morrison
UT Libraries
Flexibility for Students
Natalie Czimskey
Speech, Language, and Hearing Sciences
Levity in Online Courses
Lee Ann Kahlor
Advertising & Public Relations
Establishing Intimacy and Belonging in the Classroom
Curran Nault
Radio-Television-Film
Inclusive Teaching Resources
UT's Center for Teaching and Learning
Inclusive Teaching Works!
Student comments from the Moody Shout Outs:
You made us feel heard and, more so than any other class, you reminded us to take care of ourselves. You gave us room to mess up, and I can't tell you how much that meant this semester.
He was engaging, funny, and incredibly flexible about making changes to his syllabus to accommodate students' heavy work load and genuinely cares about their well-being.
Thank you for seeing something in me, that I have not seen in myself. I was not the best student, but your recognition of my abilities made me feel better about myself.