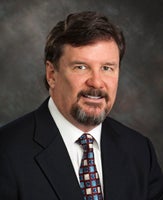 Victor Bray, dean of the George S. Osborne College of Audiology at Salus University in Pennsylvania, has been named the 2010-11 College of Communication Outstanding Alumnus.
Bray graduated from The University of Texas at Austin with a doctorate in speech and hearing science. He also earned a master's degree in audiology from Auburn University and a bachelor's degree in biochemistry from the University of Georgia.
Bray began his career in direct patient care, having served as director of audiology for the Austin Ear Clinic. Observing the dramatic changes in patient satisfaction that could be produced by technology, specifically from advanced hearing aid signal processing, he transitioned into working with industry and co-developed approximately 20 hearing aid brands that are now sold worldwide. In 2004 Bray received the Hearing Industries Association Volunteerism Award in recognition of his dedication, expertise and effort in creating a "structure that ensures the substance and the science that supports hearing aid marketing and advertising in America."
Prior to his decision to impact the audiology profession through education Bray was vice president and chief audiology officer for Sonic Innovations. Before joining Sonic he was director of clinical research for ReSound Corp. Now, in addition to his duties as a dean at Salus University, Bray also serves as vice president and chief audiology officer at OtoKinetics, which develops implantable hearing aids.
"Victor's commitment to the college through student scholarships and his outstanding career as a communication professional have brought distinction to the college," said Roderick P. Hart, dean of the college.