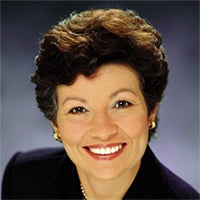 Sara Martinez Tucker earned both a journalism degree and MBA from UT, and her communicator's mindset – the willingness to listen, the presence to think and solve – has served her well in all capacities of her professional work. First, she ascended to Vice President of Consumer Relations at AT&T, and then moved on to lead the Hispanic Scholarship Fund, which grew from $3M to $25M under her direction.
In 2006, she was appointed the Under Secretary of Education, the nation's top higher education official.
Since being appointed by the governor to the UT System Board of Regents in 2015, and later unanimously elected chairman, she has brought an attentive ear, strategy and resources to enable the leadership at each of UT's learning institutions the very best avenues to prioritize students and their educational investments.