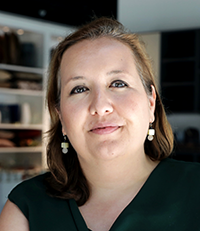 Photo courtesy:
Keiran Kesner
Monica Talán is executive vice president of Corporate Communications and Public Relations at Univision Communications, Inc., the leading media company serving Hispanic America. In this position, she is responsible for overseeing corporate and internal communications as well as programming public relations leading teams in New York and Miami. Talán is also a part of the steering committee for Univision's Women's Leadership Council, an employee resource group organized to help advance women at Univision and prepare the next generation of women leaders.
Since joining Univision in 2008, she has been instrumental in helping drive coverage of Univision to enhance the company's visibility in the media landscape. She created the Corporate Communications department and has since effectively transformed the company's relations with key media, stakeholders and influencers. Her strategic approach and distinct experience in media relations have helped further elevate the Univision brand.
Prior to joining the company, she spent more than 10 years at Fleishman-Hillard, most recently as senior vice president/partner, and senior counselor and strategist for general and Hispanic market initiatives for several key clients, including AT&T, the Department of Homeland Security and Procter & Gamble. Earlier in her career, she served in public relations and communications roles at Enron Latin America and the Texas Department of Commerce.
She has been involved in several industry organizations and previously served as vice president of the Board for the Hispanic Public Relations Association's New York Chapter.