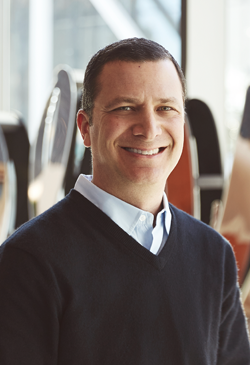 Jordan Levin, one of the youngest network presidents in the history of broadcast television, has been named the 2001-02 College of Communication Outstanding Alumnus.
Levin earned a bachelor's degree from the college's Radio-Television-Film Department. He majored in television and film theory and criticism with a special focus on the evolving role of broadcast television networks. He currently serves on the College of Communication Advisory Council.
Levin served as director of comedy development at Walt Disney/Touchstone Television where he developed series such as "Ellen," "Boy Meets World" and "Bakersfield, P.D." He was also one of the founders of the Walt Disney Writers Fellowship Program that provides opportunities to underrepresented writers and encourages diversity in staffing.
Levin joined the WB Network as its first head of comedy development and current programming and eventually became the network's president of entertainment in 2001 at the age of 33. Since the inception of the network he has been instrumental in building the WB's distinctive brand and identity. The WB has launched more big-screen careers than any other network by identifying relative unknowns who have gone on to become the next generation of motion picture stars. Levin has also been recognized industry-wide for his ability to program positive role models for young women, including an honor from Girls Inc., a non-profit organization that inspires girls to be strong, smart and bold.
Levin is on the board of the Los Angeles Free Clinic and the Entertainment Task Force of the Entertainment Industry Foundation. He is also a frequent speaker and guest panelist for several prominent groups, including the Aspen Institute, the Just For Laughs Montreal Comedy Festival and U.S. Comedy Arts Festival, numerous universities and writers workshops, the Writers Guild and the Directors Guild.