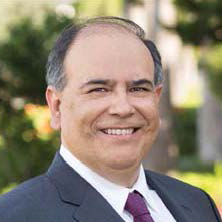 Fred Farias III is an optometrist and CEO of 20/20 Vision Care in McAllen, Texas.
He has served on the Texas Higher Education Coordinating Board since 2015; he is currently vice chairman of the board and also chairman of the academic workforce success committee. He is also a member of the Texas Higher Education Foundation, lifetime member of the UT System Chancellor's Executive Committee and UT Austin Development Board.
Farias graduated with a degree in speech communication in 1980, and went on to receive his Doctor of Optometry from Southern College of Optometry. His opened his first practice in 1988. Farias is a fellow of the American Academy of Optometry and past gubernatorial appointee to the Texas Optometry Board.