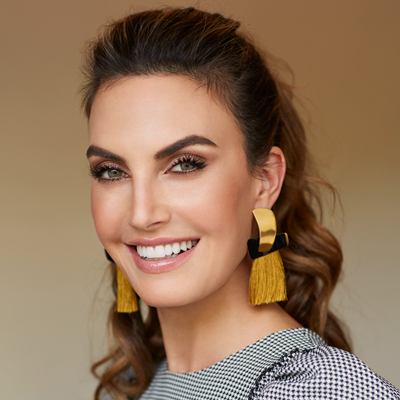 Elizabeth Chambers Hammer is an accomplished culinary entrepreneur, tastemaker, journalist, and the owner and founder of the award-winning BIRD Bakery, with locations in San Antonio and Dallas, TX.
Elizabeth has served as a guest judge on three Food Network shows including Cupcake Wars: Celebrity. She also appears regularly on the TODAY show and is known for her correspondence and hosting roles with E! News, CNBC and a variety of shows on NBC, CBS and FOX networks.
In addition to her hosting and entrepreneurial duties, Elizabeth serves as Chief Correspondent for the Human Rights Foundation, where she has interviewed influential Newsmakers such as Peruvian economist Hernando de Soto and Venezuelan opposition politician Leopoldo Lopez.
Elizabeth's passion for baking started at an early age. Learning from her grandmother, who owned an incredibly successful catering company in San Antonio, and her mother, who opened a health food shop, she realized that there was a lack of bakeries in the area that fit her standards for a delicious home-baked treat. With this, the idea for BIRD Bakery was born.
Her outgoing personality coupled with her social media savvy and realistic approach to entertaining, style, parenthood and business has earned her extraordinary praise – including Vogue exclaiming she "Leads the Pack of Cool Moms" and Vanity Fair titling her the "Emerging Lifestyle Guru for the Instagram Generation."
In 2017, Elizabeth was honored in People Magazine's coveted "World's Most Beautiful" issue as their "Most Beautiful Foodie" further cementing her influence in the world of beauty, food & entertaining.
Elizabeth currently resides in Los Angeles, CA with her husband, Armie Hammer and two children, Harper Grace, 4 and Ford Douglas Armand, 2.