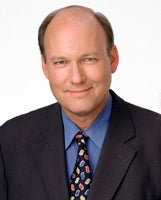 Bill Geddie, along with Barbara Walters, serves as executive producer of "The View," ABC's critically acclaimed live talk and entertainment program produced by ABC and Ms. Walter's Barwall Productions. Mr. Geddie and Ms. Walters joined creative forces over 16 years ago for "The View" and have watched their original idea evolve into one of Daytime's most popular programs.
Mr. Geddie has also partnered with Ms. Walters for the past 26 years as the executive producer of "The Barbara Walters Specials" and "The 10 Most Fascinating People," which he also co-writes and directs.
In June, 2012 The National Academy of Television Arts & Sciences (NATAS) presented the 39th Annual Daytime Entertainment Emmy® Awards Lifetime Achievement Award to Bill Geddie, executive producer of "The View," for his contributions as writer, producer and director in his more than 30-year television career. "The View" received the 2003 Daytime Emmy® Award for "Outstanding Talk Show." In 2013, Mr. Geddie was named one of Variety's Daytime TV Impact Honorees.
"The Barbara Walters Specials" are continuously the top-rated specials of the year and have included such legends as Sir Laurence Olivier, Bing Crosby, John Wayne, Bette Davis and Audrey Hepburn. More recent interviews of superstars have included Justin Bieber, Lady Gaga, George Clooney, David and Victoria Beckham and Justin Timberlake. Ms. Walters' "The Ten Most Fascinating People" special broadcast, launched in 1993, offers a year-end review of the most prominent newsmakers of the year, as well as the selection of the "most fascinating person" of the year.
Prior to Barwall Productions, Mr. Geddie produced for "Good Morning America" and began his career as a news cameraman and editor, for which he won numerous awards. He is the recipient of three Emmy® Awards, two for news and one as executive producer of "The View." He is a screenwriter in his spare time and his script, "Unforgettable," was made into a movie starring Ray Liotta and Linda Fiorentino.
Mr. Geddie and wife Barbara, who manages Bill Geddie Productions, have two daughters.