Reception celebrates first class of graduates, award winners
After two years of virtual receptions, Moody Honors students said good riddance to Zoom and gathered together on April 28 for a much anticipated in-person spring reception.
For many, it was the first time seeing honors friends face-to-face since the spring of 2020. For our first official class of honors students, who christened the new four-year program in 2018, it was a bittersweet reunion with friends they may not see again soon, as Longhorn life gives way to their post-graduation plans.  
"We needed this," said Dave Junker, Director of the Moody College Honors Program. "After two disorienting and stressful years, it felt like a homecoming. Students were so excited to get together and celebrate, and it was a joyous and meaningful event. The student council added some nice touches – like superlative awards and a photo booth – to help mark the milestone and celebrate in style."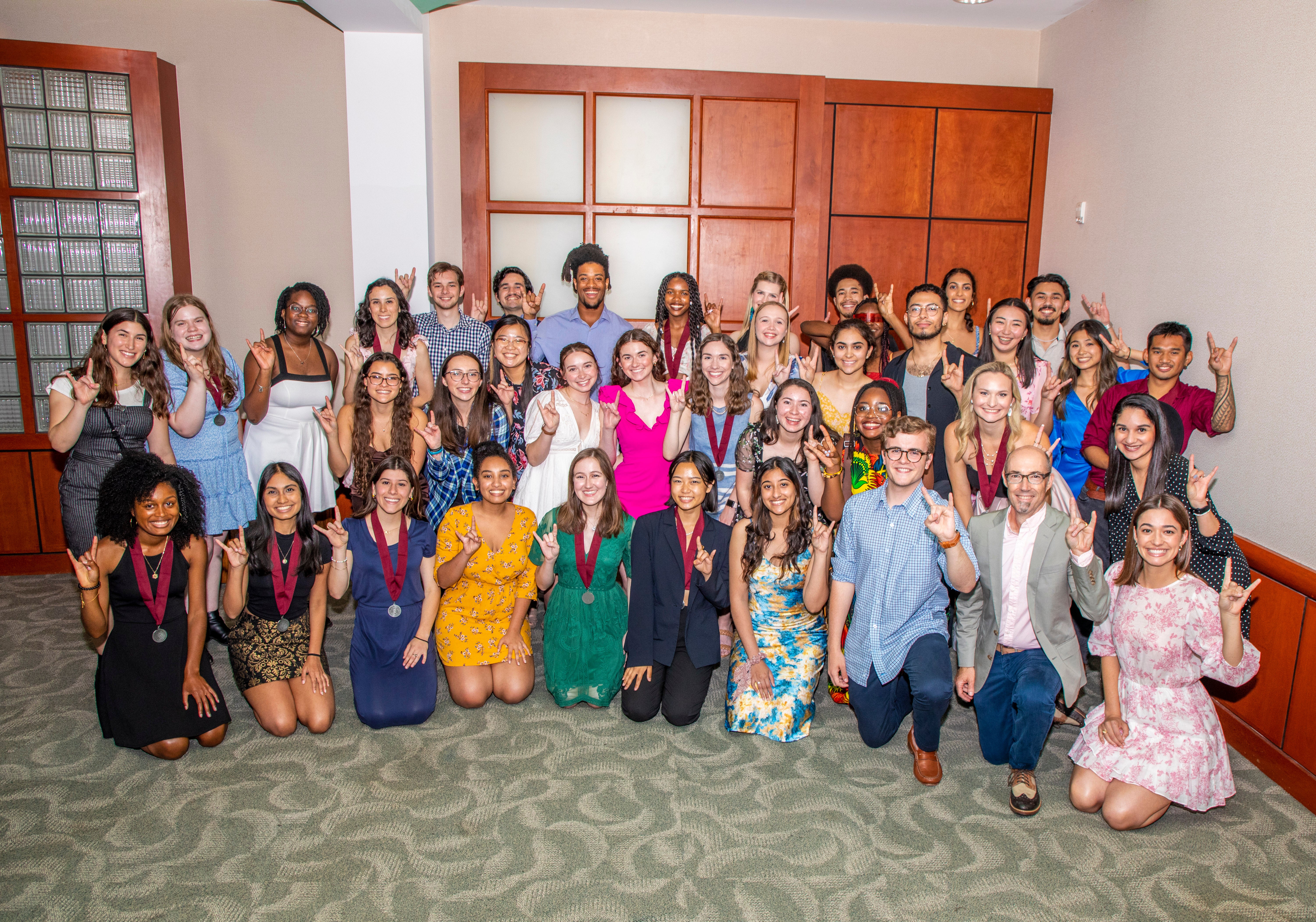 Photos by Marc Speir
Students, faculty, staff and recent alumni socialized over appetizers, refreshments, and dessert before a ceremony to recognize graduating seniors, present awards and announce the new student council officers. All graduating seniors were presented with medals to mark their successful completion of the program.
In a short speech, Junker thanked the inaugural class for creating the culture and community that were mere ideas before their arrival.
"Saying you're about fostering diversity and community in your mission statement is one thing," Junker said in a follow up. "But making it real and meaningful takes students, good will and effort. I wanted to thank students for making this supportive, inclusive community real."
Junker shared emcee duties with Jordyn Anders, president of the Honors Student Council, who announced the winners of the superlative awards. Upon reflection, Jordyn shared, "Being a part of the Moody Honors community and having served as the Student Council President fills me with so much joy and pride. The love and respect was tangible in the air during the Spring 2022 Reception and I cannot wait to see it grow in the future!" 
The "most likely to" group of winners was a long, whimsical list, all selected by peers via an anonymous vote.The more formal awards recognized achievements in the classroom and the community, with some awards selected by faculty judges and others via the nominations of faculty and peers.
Graduating senior Chantal Poitras earned the Socrates Seminar Award for her impact in a small seminar class. The award honors a student who "consistently asks interesting questions, offers important perspectives, and demonstrates critical thinking."
"Chantal is excellent at encouraging class discussion," wrote a faculty nominator. "She often speaks up when discussing difficult subjects and asks excellent questions."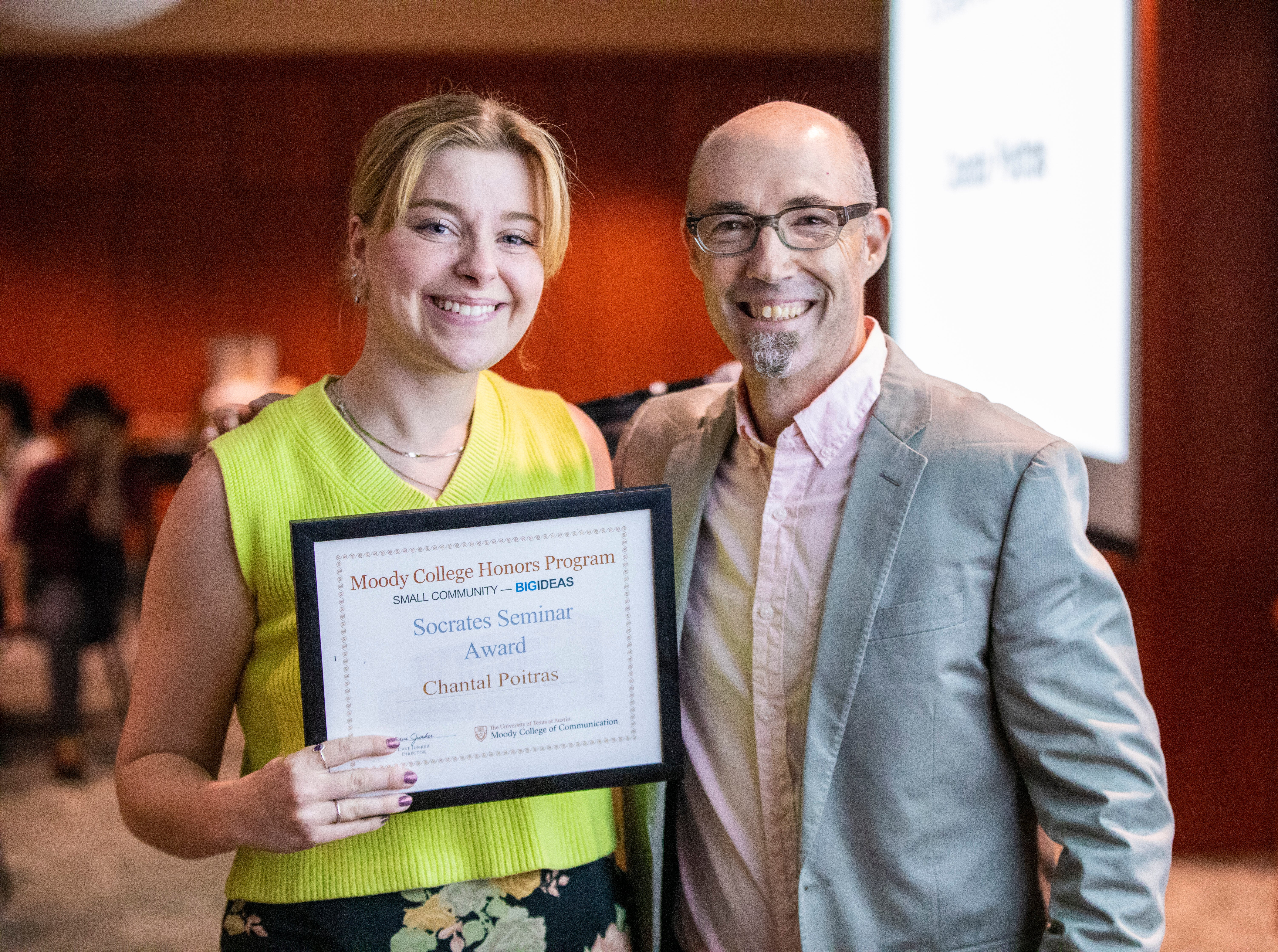 Chantal Poitras with Honors Director Dave Junker
The Service and Citizenship Award, the second of two annual awards based on student and faculty nominations, went to Will Florer, rising junior, and current Service Director of the Honors Student Council.
"Will exceeded all possible expectations by engaging the honors community with his passion for philanthropy," wrote a student in the nomination form. "He did so with an overall excitement and readiness to share his love for service with others."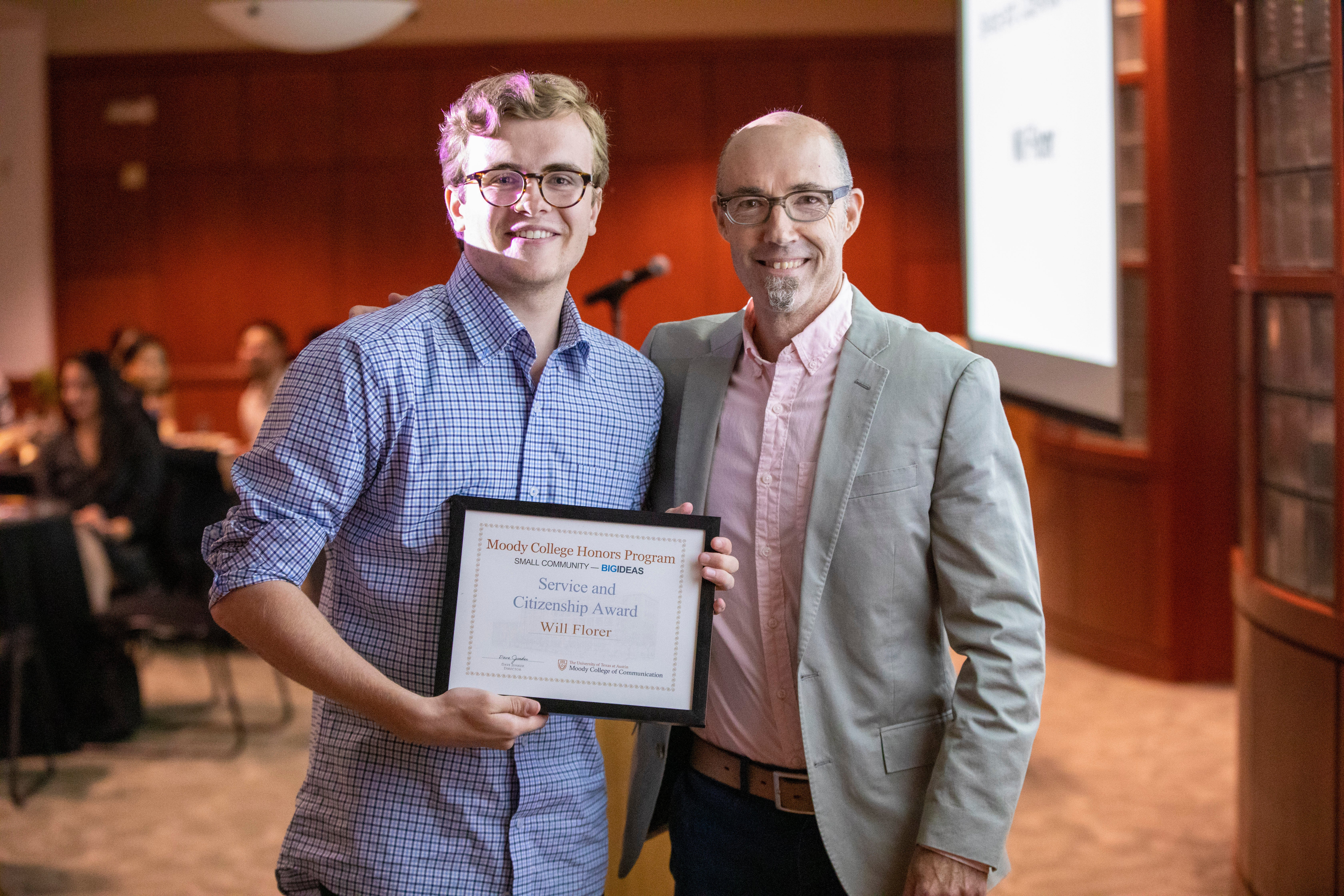 Will Florer with Honors Director Dave Junker
Honorable mention went to Munji Nfor for her dedication to making others feel welcome and accepted, both in her official role as the founding DEI (Diversity, Equity, and Inclusion) Director of student council and in her engagement in and out of class, at sponsored events and activities and in everyday life. "Her presence in class is a gift as she brings her authentic self and perspective to each conversation," one faculty nominator wrote.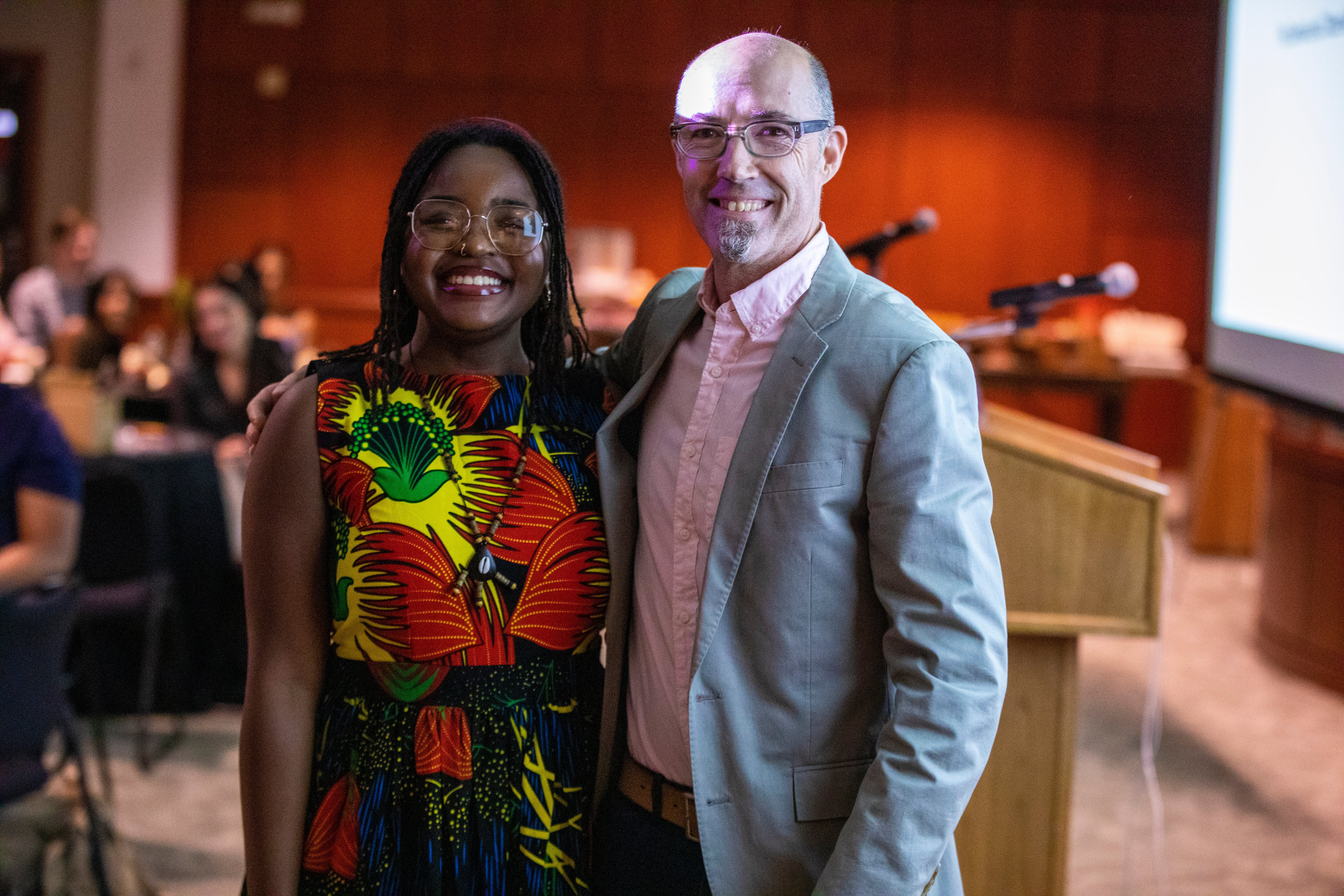 Munji Nfor with Honors Director Dave Junker 
Other students were recognized for their exceptional work in an honors course. This year's Top Life of the Mind Essay went to Teresa Ramos, who provided her own personal definition and analysis of "life of the mind," the title of the introductory class. In her essay, Teresa "shared so much about herself emotionally and personally, and integrated the [course's] books in such a thoughtful and eloquent way," the course instructor wrote.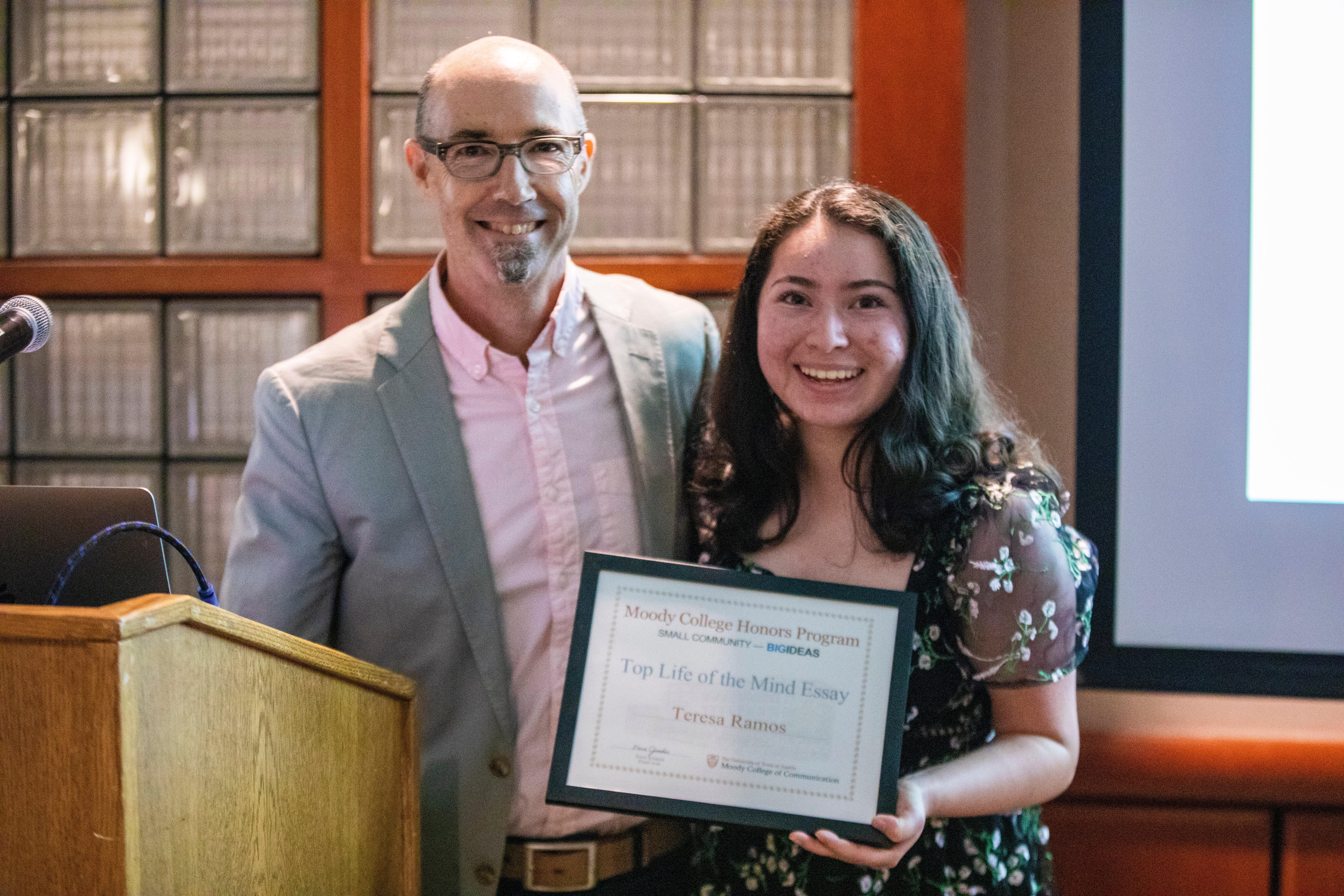 Teresa Ramos with Honors Director Dave Junker 
Graduating senior Jessica Mick, who completed the Honors Reflection Capstone option, won the Reflection Essay of Distinction. As a bookend to the "Life of the Mind" Essay, Jessica's essay was "beautifully conceived and expertly orchestrated, it was well-written, told in an engaging and authentic voice, and was full of insights about communication and the meaning of friendship and community," wrote the faculty reviewer.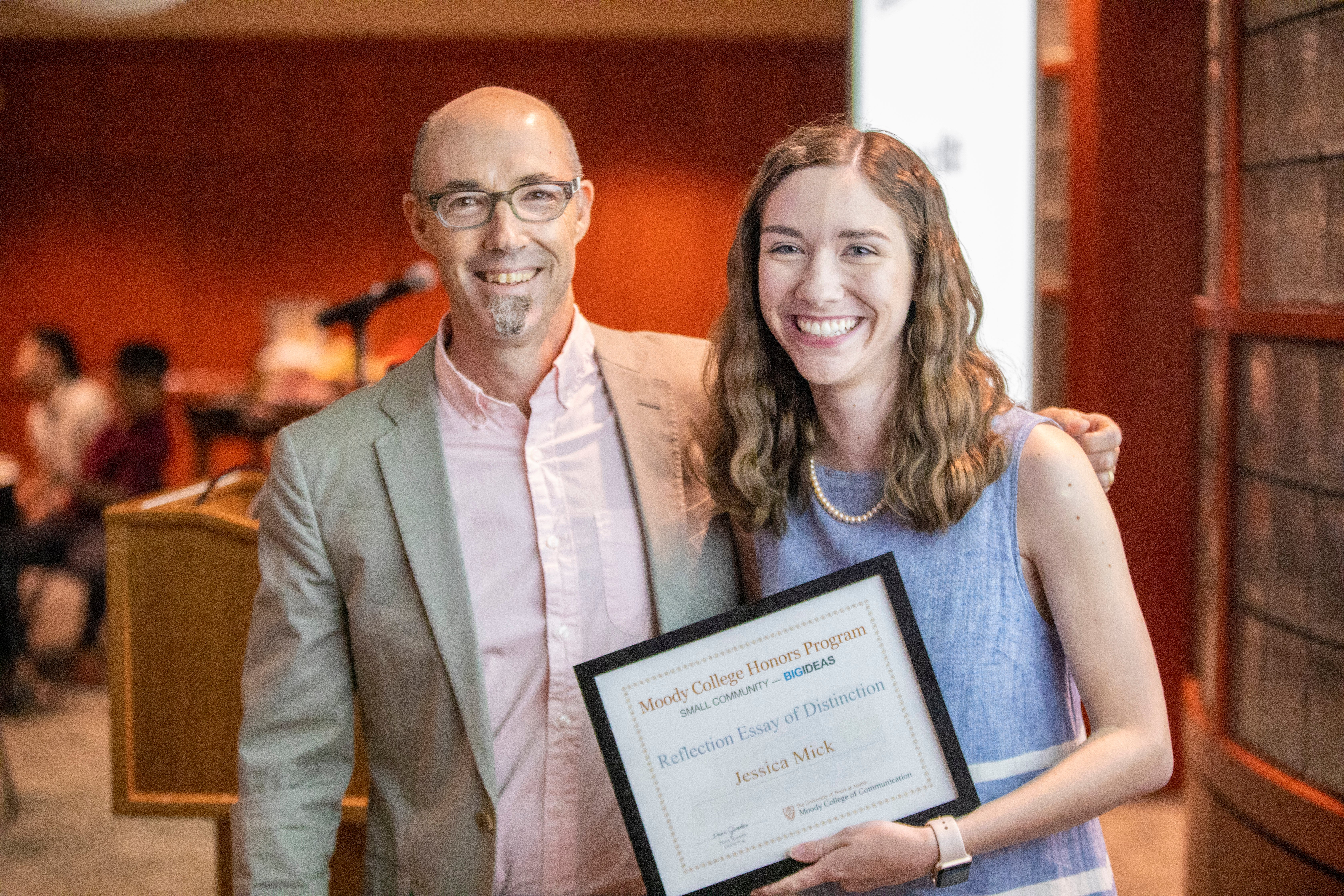 Jessica Mick with Honors Director Dave Junker 
The Honors Project of Distinction was awarded to graduating senior Jennifer Xia for the creation of her autobiographical video essay called "Inside Out, Outside In." In their nomination, the faculty supervisor wrote the following:
"It's a meditation on the self and struggles with mental health within the context of cultural taboos, particularly norms associated with Chinese and Chinese American culture. This work displays a sophisticated self-awareness and maturity along with an understanding of social/cultural issues."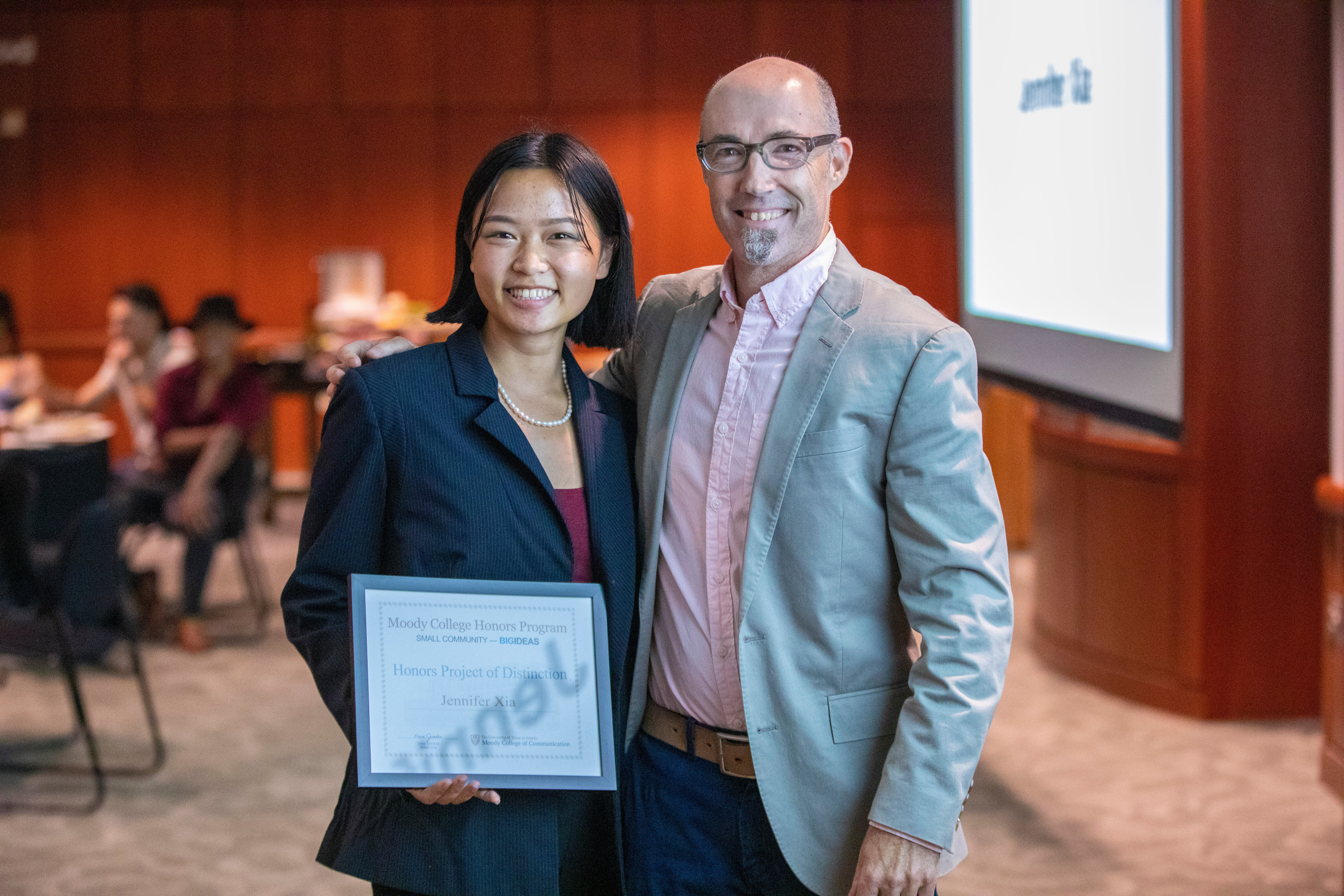 Jennifer Xia with Honors Director Dave Junker 
The last award of the evening, Honors Thesis of Distinction, was awarded to Reagan Fuller for her outstanding two-semester thesis. "Reagan's thesis is a well-conceived study on speech pathologists' perceptions of the federal child referral program called ChildFind," wrote the faculty instructor. "With Dr. Lugo-Neris, Reagan collected data from speech pathologists across Texas and will be analyzing their data and reporting their findings."
We would like to congratulate all of the talented and hard-working students in the program for a great year. Keep making us proud as you all continue your efforts to be such vibrant and thoughtful students and supportive peers within the honors community.