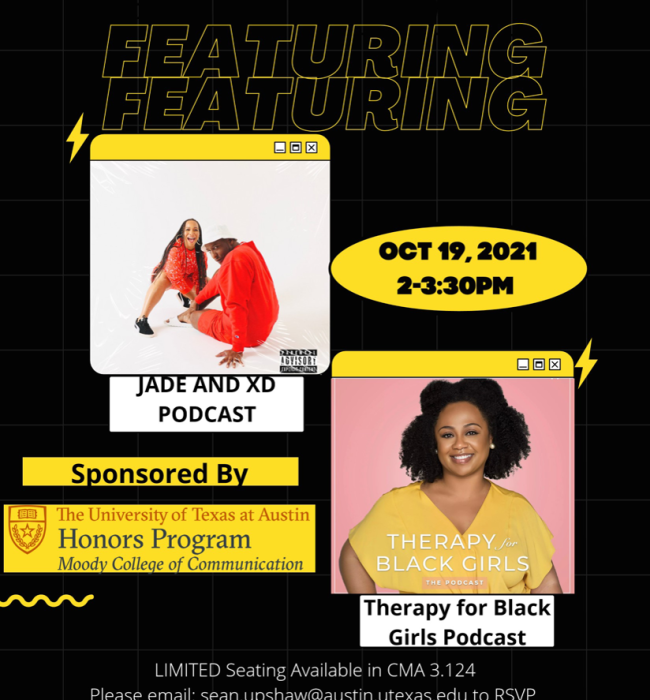 ---
A Virtual Conversation with the hosts of JADE & XD and Therapy for Black Girls
WHEN: October 19, 2 p.m. – 3:15 p.m.
WHERE: CMA 3.124 (in-person)
or
https://utexas.zoom.us/j/96351499595
Podcasting is a digital conversation space that features news, public opinion and cultural insight on various topics.  The panel guests will share how podcasting as a medium shapes their branding and visibility, and appeals to communities of color. The event will feature in-person and virtual participation options.
The Therapy for Black Girls podcast is a weekly conversation with Dr. Joy Harden Bradford, a licensed psychologist in Atlanta, Georgia, about all things mental health, personal development, and all the small decisions we can make to become the best possible version of ourselves.
Jade and X.D., co-hosts of Jade and X.D. podcast and the Jade and X.D. Variety Show. Their weekly podcast of humor and social commentary bills itself as "the blackest show about nothing."
This event is free and open to the public. It is sponsored by the Moody College Honors Program, and will be moderated by Sr. Sean Upshaw, Assistant Professor, School of Advertising and Public Relations. 
Please email: sean.upshaw@austin.utexas.edu to RSVP by Friday, October 15th before 5pm. 
CONTACTs: Sean Upshaw, sean.upshaw@austin.utexas.edu; Dave Junker, junker@austin.utexas.edu