Fall 2023 Events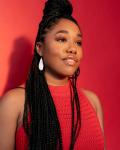 Oct. 26, 12:30 - 2:00 p.m. - Fall 2023 Keynote: NPR Host and Author Aisha Harris
Aisha Harris is a critic and host of the popular NPR podcast Pop Culture Happy Hour and author of Wannabe: Reckonings With the Pop Culture That Shapes Me, a summer reading list pick for the New York Times, USA Today and others. Her analysis of pop culture probes film, television, music and politics through a nuanced personal lens. She'll be visiting the Moody Honors Program and delivering a keynote on Oct. 26 in DMC 2.106.
Spring 2023 Events

Feb. 14, 12:30 - 2:00 p.m. - Understanding Digital Propaganda
Join us for a talk by Samuel Woolley, Assistant Professor in the School of Journalism and Media, and author of "Manufacturing Consensus: Understanding Propaganda in the Era of Automation and Anonymity." The event will take place in DMC 5.208, and a student-led panel discussion will follow Professor Woolley's presentation.
Fall 2022 Events

Oct. 5, 6:30 - 7:30 p.m. - The Art of Science Journalism featuring Ed Yong
Join us for the Distinguished Mary Alice Davis Lecture with with Pulitzer Prize Winner and Science Staff Writer with the Atlantic, Ed Yong. He will be speaking about "The Art of Science Journalism" on October 5th from 6:30 - 7:30 p.m. in DMC 2.106. This event is sponsored by the School of Journalism and Media and is co-sponsored by the Moody College Honors Program, the Center for Health Communication, and the Moody College of Communication.

Nov. 9, 6:00 - 8:00 p.m. - "Flee" Screening and Panel Discussion
Join us on November 9th in DMC 5.102 for the screening of acclaimed documentary "Flee" and engage in a panel discussion with faculty and students. With its cutting-edge storytelling and sensitive observation of pressing global issues, "Flee" is an ideal film to screen and discuss in the Moody Honors community. This event is co-sponsored by Moody's Office of Diversity, Equity, and Inclusion.